نظرة عامة
لفتح حساب حقيقي، ستحتاج لإيداع الحد الأدنى على الأقل $1. بدلا من ذلك Ayondo عرض حساب تجريبي الذي يمكنك من التدريب وأن تعود نفسك على منصتهم
نظمت بواسطة هيئة الرقابة المالية. بريطانيا (FRN: 184333). Ayondo وضع كل أموال العميل في حساب بنكي منعزل واستخدام بنوك من الدرجة الأولى لهذاالغرض. Ayondo قد أنشئت منذ 2008 , ولديها المكتب الرئيسي في .
قبل التعمق في بعض الجوانب الأكثر تفصيلاً Ayondo 's الفروقات، الرسوم، منصات التداول وميزت التداول. ربما تريد فتح Ayondo 's الموقع الالكتروني في علامة تبويب جديدة بالضغط على الزر بالأسفل للاطلاع على أحدث المعلومات مباشرةً من Ayondo.
الإفصاح الكامل: قد نتلقى عمولة إذا قمت بالتسجيل مع وسيط باستخدام أحد روابطنا.
ماذا يكونوا Ayondo's الفوارق و الرسوم ؟
مثل معظم الوسطاء, Ayondo أخذ رسوم من الفوارق، والتي هى الفرق بين سعر البيع والشراء للصك
تعتمد الفروقات المعروضة بالأسفل على الحد الأدنىfixed الفروقات مدرجة على Ayondo's موقع إلكتروني. ألوان الأعمدة تظهر مدى المنافسة Ayondo' الفروقات بالمقارنة بغيرها من الوسطاء الشائعين على BrokerNotes.
Spreads are dynamic and are for informational purposes only. Last updated: June 06, 2018.

كما يمكنك أن ترى Ayondo 's الحد الأدنى لفروقات اليورو / الدولار الأمريكي هي0.8 النقاط - وهي نسبيًامنخفض مقارنةً بمعدل فروقات اليورو / الدولار الأمريكي من 0.82 النقاط. في ما يلي تحليل كم سيكلفك لتداول جزء كبير من اليورو/الدولار الأمريكي مع Ayondo مقابل وسطاء مشابهين
أنظر جميع الفروقات
الخسائر يمكن أن تتجاوز الودائع
كم يبلغ Ayondo تكلفة تداول 1 لوت من اليورو/الدولار الأمريكي ؟
إذا كنت ستشتري 1 لوت قياسي من اليورو/الدولار ( 100 ألف وحدة ) مع Ayondo بسعر صرف 1.1719 ثم بيعها في اليوم التالي بنفس السعر الذي من المحتمل أن تدفع فيه $8. هنا تحليل تقريبي للرسوم وكيف يقارن هذا مقابل XTB & City Index .
Ayondo

XTB

City Index

الفروقات من

:
$ 8.00
$ 2.00
$ 5.00

رسوم الصفقة البائتة النموذجية

:
N/A
$ 7.94
$ 20.60

العمولات

:
0
0
0
Total cost of a 100k trade:
$ 8
$ 9.94
$ 25.6

1.94 أكثر

$17.60 أكثر

زور Ayondo
زور XTB
زور City Index
جميع الرسوم / الأسعار هي لأغراض معلوماتية وخاضعة للتغيير. آخر تحديث: 09/03/2018. الخسائر يمكن أن تتجاوز الودائع
ما يمكنك التداول به Ayondo?
Ayondo انتهت العروض 181 صكوك مختلفة للتداول، بما في ذلك 36 أذواج العملات، قمنا بعمل ملخص لكل الأنواع المختلفة من الصكوك التى تقدمهاAyondo بالأسفل، جنبًا إلى جنب مع الصكوك التى تقدمها XTB وCity Index للمقارنة
| العملات الأجنبية / العملات | Ayondo | XTB | City Index |
| --- | --- | --- | --- |
| من أذواج الفوركس المقدمة | 36 | 48 | 84 |
| أزواج العملات الرئيسية | Yes | Yes | Yes |
| أزواج العملات الصغيرة | Yes | Yes | Yes |
| أزواج العملات الغريبة | Yes | Yes | Yes |
| عملة معماة | Yes | Yes | Yes |
| سلع العقود مقابل الفروقات | Ayondo | XTB | City Index |
| --- | --- | --- | --- |
| من السلع المقدمة | 6 | 21 | 26 |
| المعادن | | Yes | Yes |
| منتجات الطاقة | | Yes | Yes |
| المنتجات الزراعية | | Yes | Yes |
الخسائر يمكن أن تتجاوز الودائع
ما هو Ayondo خبرة التداول مثل?
1)منصات التداول والتطبيقات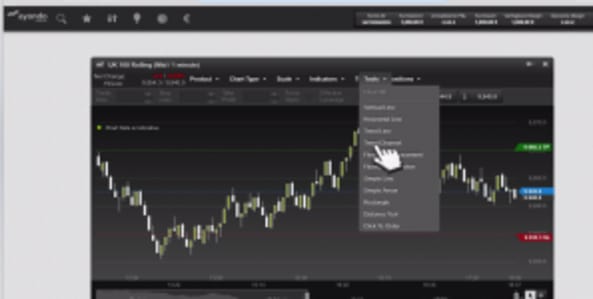 أنظرAyondo 's منصات التداول
Ayondo كما تقدم تطبيقات الجوال لنظامي Android و iOS ، مما يجعل من السهل مراقبة وتداول صفقاتك أثناء تنقلك.
أنظرAyondo 's منصات التداول
الخسائر يمكن أن تتجاوز الودائع
2)صفقات منفذة
Ayondo يسمح لك بتنفيذ حد أدنى للتداول من . هذا قد يختلف طبقًا للحساب الذي قمت بفتحه. Ayondo يسمح لك بتنفيذ حد أقصى للتداول من.
كما هو الحال مع معظم الوسطاء ، تختلف متطلبات الهامش باختلاف التاجر والحسابات والصكوك ، ولكن كدليل .
أخيرًا، قمنا بإدراج بعض طرق التمويل الشائعة Ayondo تقدم متداوليها على اليمين
3)دعم العميل
Ayondo إدعمرقم محدوديتضمن .
Ayondo حاز دعم BrokerNotes تقييم A لأنهمAyondo يقدم أكثر من ثلاث لغات ودعم عبر البريد الإلكتروني و الهاتف.
4)ما ستحتاج إليه لفتح حساب مع Ayondo
مثل Ayondo منظمة بواسطة Financial Conduct Authority , يجب على كل عميل جديد اجتياز عدد قليل من اختبارات الامتثال الأساسية لضمان فهمك لمخاطر التداول ومسموح لك بالتداول. عندما تفتح حسابًا ، من المرجح أن يُطلب منك ما يلي ، لذلك من الأفضل أن تكون ملم بها:
نسخة ملونة ممسوحة ضوئيًا لجواز سفرك أو رخصة القيادة أو بطاقة الهوية الوطنية
فاتورة مرافق أو كشف حساب مصرفي من الأشهر الثلاثة الماضية تظهر عنوانك
ستحتاج أيضًا إلى الإجابة عن بعض أسئلة التوافق الأساسية لتأكيد مدى خبرتك التجارية ، لذا من الأفضل تخصيص 10 دقائق على الأقل لإكمال عملية فتح الحساب.
على الرغم من إمكانية استكشاف Ayondo's منصة التداول، من المهم ملاحظة أنك لن تكون قادرًأ على إجراء أي صفقات إلى أن تجتاز الاختبار، الأمر الذي قد يستغرق بضعة أيام، حسب موقفك
لتبدأ عملية فتح الحساب مع Ayondo يمكنك زيارة موقعهم الإلكتروني هنا.
A Review & Guide to Trading with Ayondo
The trading platform Ayondo was initiated in 2009 out of Germany. Espousing the ever-increasing popularity of the 'social trading' system, Ayondo aims to connect small- to medium-sized investors with their top-tier traders. Thus, this can be seen as being as much of an educational platform as a simple online trading system. For anyone who may wish to join this site, it is important to take a look at some of the key metrics before fully committing.
Underlying Assets
Ayondo offers a host of different instruments to trade. These include:
More than 30 currency pairs (Forex)
CFDs
Major Asian, European and American indices
Bonds
Precious metals
Larger blue-chip companies such as Coca-Cola and Starbucks
This is notably different than some other platforms which only specialise in one field or another. Thus, the average trader has a great deal of options to suit his or her individual tastes and levels of exposure.
Educational Services
Currently, Ayondo claims to offer over 1,000 'top-level' traders. However, it is important to note that only a handful have garnered an appreciable number of followers. This therefore calls into question the efficacy of the bulk of these investors. However, those who do have followers are said to provide steady returns; many of these have been with Ayondo for over two years. These traders can be followed based upon criteria such as their profit-loss ratio, followers or their trading frequency.
The performance of these traders is graphically displayed within the Ayondo interface, so determining who is the best suited can be quite easy. A complete transaction history can likewise be viewed and their overall performance is tracked alongside the major indices. This is particularly important to observe longitudinal results. While the 'interactive' aspect is not necessarily like the forums and live communication that is seen on other sites, the hard data provided can serve to provide much clarity and insight.
Time Delays and Slippage
These factors have been a concern with other social trading sites and are therefore worth mentioning. Slippage is defined as the difference between the levels that a top trader closes at and the figures that a follower receives upon execution. As both trades will be performed through the same platform, this proportion is actually kept to a minimum. Of course, part of this will be associated with the speed of the computer in question. Succinctly, both time delays and slippage are negligible.
Commissions and Fees
One of the most interesting aspects of Ayondo is that the client will not be charged any commissions or fees when following the trades of a broker. This arises from the fact that Ayondo receives remuneration from the Forex broker in question. These fees are derived from the spread so in many ways, everyone involved benefits. Another notable feature is that any trader who moves his or her current account to Ayondo will receive a cash bonus. Certain terms and conditions will apply.
On a final note in regards to monetary concerns, many analysts have noted that the entry levels to begin trading are quite amenable when compared to similar services. These can be 100 dollars, euros or pounds.
Trading Levels
As one progresses with Ayondo, there are different trading levels which will be enjoyed. These vary from 'Street Trader' to 'Institutional'. Additionally, the commissions that the trader will be paid FROM Ayondo will increase with each level (assuming that their performance remains constant; one can also be downgraded for poor trades). Once a trader has more than 500 dollars, pounds or euros in an account, he or she will receive what is known as a 'Money Trader's Badge'.
Interface and Functionality
Billed as 'Next Generation Trading', their TradeHub system is quite streamlined and easy to work with. It should therefore not take beginning long to pick up on the basic layout and functionality. The platform can be customised to the discrete preferences of the user; affording a faster trade execution. Cash balances and margins are clearly displayed as are the trading products. Filters can be adjusted to suit specific interests. OCO orders are likewise available and importantly, guaranteed stop-loss amounts are automatically included with a position. For those who are executing multiple trades or are following the maximum number of five 'top-tier' investors, such a fluid platform is essential. This software is also available for smartphone users.
The Verdict
Overall, Ayondo seems to be one of the fairest trading systems currently available. This is in no small part due to the fact that no commissions or fees will be charged to the trader. Combined with amenable entry levels and the ability to follow up to five experts, such social trading indeed has its benefits.
There are nonetheless a few drawbacks. As the number of top traders is still limited, overall results can be skewed in either direction. Another significant disadvantage is that the client is unable to view which trader has contributed the most to their performance in either direction. This may make interpreting results a bit difficult.
Nonetheless, Ayondo is still growing. Should the number of top traders continue to increase, this platform may very well become extremely diversified. As a fully functional demo account can be activated, it will be easy for the potential client to appreciate the overall functionality before making any final decision.
العقود مقابل الفروقات هي منتجات بالرافعة المالية ويمكن أن تؤدي إلى خسارتك رأس مالك. كل التداول يشتمل على مخاطر. خاطر فقط برأس المال الذي أنت مستعد لخسارته. الأداء السابق لا يضمن النتائج المستقبلية.
هذا المنشور لأغراض تعليمية فقط ولا ينبغي اعتباره نصيحة استثمارية. جميع المعلومات تم جمعها من http://www.ayondo.com/ على أغسطس 23, 2018.