Pros
Segregates client funds
Established in 2008
Regulated by Financial Conduct Authority
Min. deposit from

$1
To open a live account, you'll need a minimum deposit of at least $1. Alternatively, Ayondo offers a demo account that you can use to practice and familiarise yourself with their platform.
Regulated by the Financial Conduct Authority, UK (FRN: 184333). Ayondo puts all client funds in a segregated bank account and uses tier-1 banks for this. Ayondo has been established since 2008, and have a head office in .
Before we dive into some of the more detailed aspects of Ayondo's spreads, fees, platforms and trading features, you may want to open Ayondo's website in a new tab by clicking the button below in order to see the latest information directly from Ayondo.
Full disclosure: We may receive a commission if you sign up with a broker using one of our links.
What are Ayondo's spreads & fees?
Like most brokers, Ayondo takes a fee from the spread, which is the difference between the buy and sell price of an instrument.
The commisions and spreads displayed below are based on the minimum spreads listed on Ayondo's website. The colour bars show how competitive Ayondo's spreads are in comparison to other popular brokers featured on BrokerNotes.
Ayondo

EUR/USD

(Average: 0.7 pips)

0.8 pips

0.7 pips

0.1 pips

GBP/USD

(Average: 1.1 pips)

1.8 pips

1.7 pips

0.1 pips

USD/JPY

(Average: 1.1 pips)

1.5 pips

0.6 pips

0.1 pips

AUD/USD

(Average: 0.8 pips)

1.5 pips

0.6 pips

0.2 pips

USD/CHF

(Average: 2.3 pips)

3.0 pips

2.3 pips

0.2 pips

USD/CAD

(Average: 2.9 pips)

2.5 pips

0.5 pips

0.3 pips

NZD/USD

(Average: 3.6 pips)

2.0 pips

2.8 pips

0.3 pips

EUR/GBP

(Average: 2.4 pips)

1.0 pips

0.5 pips

0.1 pips
Spreads are dynamic and are for informational purposes only.
As you can see, Ayondo's minimum spread for trading EUR/USD is 0.8 pips - which is relatively high compared to average EUR/USD spread of 0.70 pips. Below is a breakdown of how much it would cost you to trade one lot of EUR/USD with Ayondo vs. similar brokers.
See all Spreads
How much does Ayondo charge to trade 1 lot of EUR/USD?
If you were to buy one standard lot of EUR/USD (100k units) with Ayondo at an exchange rate of 1.1719 and then sell it the next day at the same price you would likely pay $8. Here's a rough breakdown of the fees and how this compares against IG & XTB .
Ayondo

IG

XTB

Spread from

:
$ 8.00
$ 6.00
$ 2.00

Commission

:
$0.00
$0.00
$0.00
Total cost of a 100k trade:
$ 8.00
$ 6.00
$ 2.00

$2 less

$6 less

Visit Ayondo
Visit IG
Visit XTB
All fees/prices are for informational purposes and are subject to change.
What can you trade with Ayondo?
Ayondo offers over 181 different instruments to trade, including over 36 currency pairs. We've summarised all of the different types of instruments offered by Ayondo below, along with the instruments offered by IG and XTB for comparison.
| FX / Currencies | Ayondo | IG | XTB |
| --- | --- | --- | --- |
| # of forex pairs offered | 36 | 90 | 48 |
| Major forex pairs | Yes | Yes | Yes |
| Minor forex pairs | Yes | Yes | Yes |
| Exotic forex pairs | Yes | Yes | Yes |
| Cryptocurrencies* | Yes | Yes | Yes |
| Commodity CFDs | Ayondo | IG | XTB |
| --- | --- | --- | --- |
| # of commodities offered | 6 | 34 | 21 |
| Metals | | Yes | Yes |
| Energies | | Yes | Yes |
| Agricultural | | Yes | Yes |
What's the Ayondo trading experience like?
1) Platforms and apps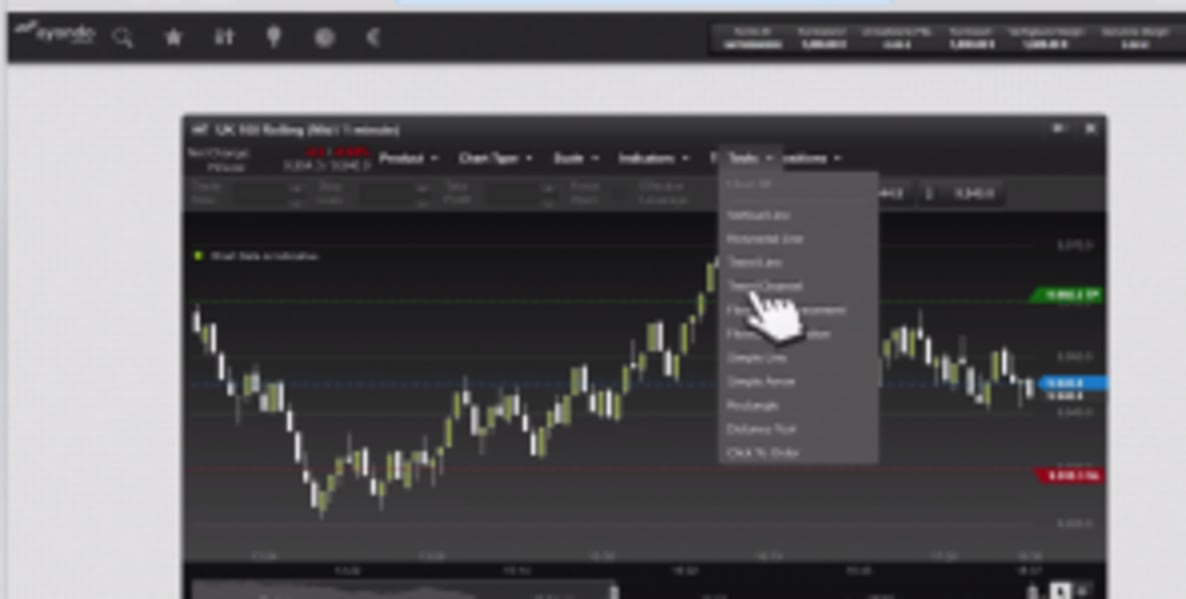 Ayondo also offer mobile apps for Android and iOS, making it easier to keep an eye on and execute your trades while you are on the move.
See Ayondo's platforms
2) Executing Trades
Ayondo allows you to execute a minimum trade of . This may vary depending on the account you open. Ayondo allows you to execute a maximum trade of .
As with most brokers, margin requirements do vary depending on the trader, accounts and instruments. You can see the latest margin requirements on their website.
Finally, we've listed some of the popular funding methods that Ayondo offers its traders below.
3) Client support
Ayondo support a limited number including .
Ayondo has a BrokerNotes A support rating because Ayondo offer over three languages and email and phone support.
4) What you'll need to open an account with Ayondo
As Ayondo is regulated by Financial Conduct Authority , every new client must pass a few basic compliance checks to ensure that you understand the risks of trading and are allowed to trade. When you open an account, you'll likely be asked for the following, so it's good to have these handy:
A scanned colour copy of your passport, driving license or national ID
A utility bill or bank statement from the past three months showing your address
You'll also need to answer a few basic compliance questions to confirm how much trading experience you have, so it's best to put aside at least 10 minutes or so to complete the account opening process.
While you might be able to explore Ayondo's platform straight away, it's important to note that you won't be able to make any trades until you pass compliance, which can take up to several days, depending on your situation.
To start the process of opening an account with Ayondo you can visit their website here.
A Review & Guide to Trading with Ayondo
The trading platform Ayondo was initiated in 2009 out of Germany. Espousing the ever-increasing popularity of the 'social trading' system, Ayondo aims to connect small- to medium-sized investors with their top-tier traders. Thus, this can be seen as being as much of an educational platform as a simple online trading system. For anyone who may wish to join this site, it is important to take a look at some of the key metrics before fully committing.
Underlying Assets
Ayondo offers a host of different instruments to trade. These include:
More than 30 currency pairs (Forex)
CFDs
Major Asian, European and American indices
Bonds
Precious metals
Larger blue-chip companies such as Coca-Cola and Starbucks
This is notably different than some other platforms which only specialise in one field or another. Thus, the average trader has a great deal of options to suit his or her individual tastes and levels of exposure.
Educational Services
Currently, Ayondo claims to offer over 1,000 'top-level' traders. However, it is important to note that only a handful have garnered an appreciable number of followers. This therefore calls into question the efficacy of the bulk of these investors. However, those who do have followers are said to provide steady returns; many of these have been with Ayondo for over two years. These traders can be followed based upon criteria such as their profit-loss ratio, followers or their trading frequency.
The performance of these traders is graphically displayed within the Ayondo interface, so determining who is the best suited can be quite easy. A complete transaction history can likewise be viewed and their overall performance is tracked alongside the major indices. This is particularly important to observe longitudinal results. While the 'interactive' aspect is not necessarily like the forums and live communication that is seen on other sites, the hard data provided can serve to provide much clarity and insight.
Time Delays and Slippage
These factors have been a concern with other social trading sites and are therefore worth mentioning. Slippage is defined as the difference between the levels that a top trader closes at and the figures that a follower receives upon execution. As both trades will be performed through the same platform, this proportion is actually kept to a minimum. Of course, part of this will be associated with the speed of the computer in question. Succinctly, both time delays and slippage are negligible.
Commissions and Fees
One of the most interesting aspects of Ayondo is that the client will not be charged any commissions or fees when following the trades of a broker. This arises from the fact that Ayondo receives remuneration from the Forex broker in question. These fees are derived from the spread so in many ways, everyone involved benefits. Another notable feature is that any trader who moves his or her current account to Ayondo will receive a cash bonus. Certain terms and conditions will apply.
On a final note in regards to monetary concerns, many analysts have noted that the entry levels to begin trading are quite amenable when compared to similar services. These can be 100 dollars, euros or pounds.
Trading Levels
As one progresses with Ayondo, there are different trading levels which will be enjoyed. These vary from 'Street Trader' to 'Institutional'. Additionally, the commissions that the trader will be paid FROM Ayondo will increase with each level (assuming that their performance remains constant; one can also be downgraded for poor trades). Once a trader has more than 500 dollars, pounds or euros in an account, he or she will receive what is known as a 'Money Trader's Badge'.
Interface and Functionality
Billed as 'Next Generation Trading', their TradeHub system is quite streamlined and easy to work with. It should therefore not take beginning long to pick up on the basic layout and functionality. The platform can be customised to the discrete preferences of the user; affording a faster trade execution. Cash balances and margins are clearly displayed as are the trading products. Filters can be adjusted to suit specific interests. OCO orders are likewise available and importantly, guaranteed stop-loss amounts are automatically included with a position. For those who are executing multiple trades or are following the maximum number of five 'top-tier' investors, such a fluid platform is essential. This software is also available for smartphone users.
The Verdict
Overall, Ayondo seems to be one of the fairest trading systems currently available. This is in no small part due to the fact that no commissions or fees will be charged to the trader. Combined with amenable entry levels and the ability to follow up to five experts, such social trading indeed has its benefits.
There are nonetheless a few drawbacks. As the number of top traders is still limited, overall results can be skewed in either direction. Another significant disadvantage is that the client is unable to view which trader has contributed the most to their performance in either direction. This may make interpreting results a bit difficult.
Nonetheless, Ayondo is still growing. Should the number of top traders continue to increase, this platform may very well become extremely diversified. As a fully functional demo account can be activated, it will be easy for the potential client to appreciate the overall functionality before making any final decision.
CFDs are leveraged products and can result in the loss of your capital. All trading involves risk. Only risk capital you're prepared to lose. Past performance does not guarantee future results. *Availability subject to regulation.
This post is for educational purposes and should not be considered as investment advice. All information collected from http://www.ayondo.com/ on 01/01/2022.