Bulbrokers three ways: Forex, CFDs, Binary Options.
To open a live account, you'll need a minimum deposit of at least $100. Alternatively, Bulbrokers offer a demo account that you can use to practice and familiarise yourself with their platform.
Regulated by . Bulbrokers puts all client funds in a segregated bank account and uses tier-1 banks for this. Bulbrokers have been established since 2000, and have a head office in Bulgaria.
Before we dive into some of the more detailed aspects of Bulbrokers's spreads, fees, platforms and trading features, you may want to open Bulbrokers's website in a new tab by clicking the button below in order to see the latest information directly from Bulbrokers.
Open a demo account Visit Bulbrokers
Full disclosure: We may receive a commission if you sign up with a broker using one of our links. Your capital is at risk. CFDs are leveraged products & 73% of traders lose money when trading CFDs.
What are Bulbrokers's spreads & fees?
Like most brokers, Bulbrokers take a fee from the spread, which is the difference between the buy and sell price of an instrument.
The spreads displayed below are based on the minimum fixed spreads listed on Bulbrokers's website. The colour bars show how competitive Bulbrokers's spreads are in comparison to other popular brokers featured on BrokerNotes.
Spreads are dynamic and are for informational purposes only. Last updated: June 06, 2018.

As you can see, Bulbrokers's minimum spread for trading EUR/USD is pips - which is relatively low compared to average EUR/USD spread of 0.82 pips. Below is a breakdown of how much it would cost you to trade one lot of EUR/USD with Bulbrokers vs. similar brokers.
See all Spreads
Your capital is at risk.
How much does Bulbrokers charge to trade 1 lot of EUR/USD?
If you were to buy one standard lot of EUR/USD (100k units) with Bulbrokers at an exchange rate of 1.1719 and then sell it the next day at the same price you would likely pay $N/A. Here's a rough breakdown of the fees and how this compares against XTB & City Index.
All fees/prices are for informational purposes and are subject to change. Last updated: 09/03/2018. Your capital is at risk.
What can you trade with Bulbrokers?
| FX / Currencies | Bulbrokers | XTB | City Index |
| --- | --- | --- | --- |
| # of forex pairs offered | | 50 | 84 |
| Major forex pairs | Yes | Yes | Yes |
| Minor forex pairs | | Yes | Yes |
| Exotic forex pairs | | Yes | Yes |
| Cryptocurrencies | No | Yes | Yes |
| Commodity CFDs | Bulbrokers | XTB | City Index |
| --- | --- | --- | --- |
| # of commodities offered | | 0 | 26 |
| Metals | Yes | Yes | Yes |
| Energies | No | Yes | Yes |
| Agricultural | No | Yes | Yes |
Your capital is at risk.
What's the Bulbrokers trading experience like?
1) Platforms and apps
Bulbrokers offer the popular MT4 forex trading platform. To see a list of the top MT4 brokers, see our comparison of MT4 brokers. Bulbrokers also offer their custom Trader Workstation platform.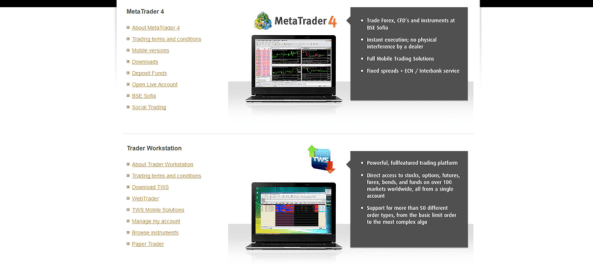 See Bulbrokers's Platforms
Bulbrokers also offer mobile apps for Android and iOS, making it easier to keep an eye on and execute your trades while you are on the move.
See Bulbrokers's platforms
Your capital is at risk.
2) Executing Trades
Bulbrokers allow you to execute a minimum of trade of 0.01 Lot. This may vary depending on the account you open. The maximum trade requirements vary depending on the trader and the instrument. As Bulbrokers offer ECN and STP execution, you can expect very tight spreads with more transparency over the price you're paying to execute your trades.
As with most brokers, margin requirements do vary depending on the trader, accounts and instruments. You can see the latest margin requirements on their website.
Finally, we've listed some of the popular funding methods that Bulbrokers offers its traders on the right.
3) Client support
Bulbrokers support a wide range of languages including English, Russian, Spanish, Italian, FR
Bulbrokers have a BrokerNotes triple AAA support rating because they offer a wide range of languages and support options.
4) What you'll need to open an account with Bulbrokers
As Bulbrokers is regulated by Financial Services Commission, every new client must pass a few basic compliance checks to ensure that you understand the risks of trading and are allowed to trade. When you open an account, you'll likely be asked for the following, so it's good to have these handy:
A scanned colour copy of your passport, driving license or national ID
A utility bill or bank statement from the past three months showing your address
You'll also need to answer a few basic compliance questions to confirm how much trading experience you have, so it's best to put aside at least 10 minutes or so to complete the account opening process.
While you might be able to explore Bulbrokers's platform straight away, it's important to note that you won't be able to make any trades until you pass compliance, which can take up to several days, depending on your situation.
To start the process of opening an account with Bulbrokers you can visit their website here.
CFDs are leveraged products and can result in the loss of your capital. All trading involves risk. Only risk capital you're prepared to lose. Past performance does not guarantee future results.
This post is for educational purposes and should not be considered as investment advice. All information collected from http://bulbrokers.com/en/ on August 23, 2018.