The cryptocurrency industry is becoming more popular, and more innovative, than ever before. To help give you an insight into this up and coming sector, we've put together more than 30 interesting facts, statistics, tables and charts covering the latest trends from the cryptocurrency market.
To help make sense of what is an extremely fast-changing market, we've attempted to present our market stats as snapshots of the performance of various cryptocurrencies and exchanges at certain points in time. However, while all financial products are subject to a degree of change and volatility, the relatively young age of cryptocurrency products means that they're subject to particularly wild fluctuations in performance and price. It's important then, to make sure that you always check the most up to date market stats before making any kind of investment decisions.
Bearing that in mind, the following market stats, facts and statistics are based around the following three areas:
Cryptocurrency Market Size Stats
When you look at the top cryptocurrencies, as of June 27, 2019, it's clear that Bitcoin is the highest performer. With a price per coin of US $10,975.08, a market capitalisation of $195.19 billion and a daily traded volume of $39.04 billion, Bitcoin is far ahead of its nearest fellow cryptocurrencies.
In fact, as of June 27, 2019, second place Ethereum was recording numbers less than a third of those achieved by Bitcoin, with $293.58, $31.32 billion and $13.64 billion respectively. However, it's important to bear in mind, that these figures don't represent the overall, or recent, trends in each cryptocurrencies' performance, and each will fall and rise in turn based on short term market fluctuations.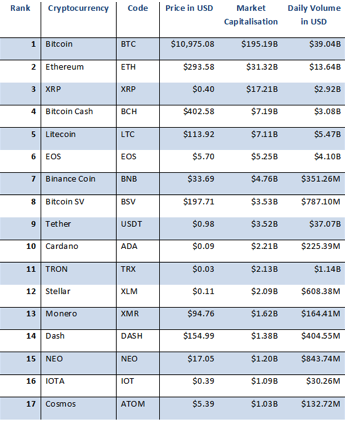 The top 17 cryptocurrencies ranked by market cap as of June 27th, 2019. Source: LiveCoinStats
Studying the figures further, a number of other facts and insights into the cryptocurrency market as of June 27, 2019 are revealed:
A total of 17 cryptocurrencies had a market capitalisation of over $1 billion.
Those same 17 cryptos had a total market capitalisation of $287.83 billion.
Bitcoin has a market cap that is 110.7% larger than the combined $92,640,000,000 market cap of the next 16 smaller cryptocurrencies.
Overall though, interest in cryptocurrency trading appears to be on the increase. In fact, Google has revealed that during 2019 the amount of worldwide web searches for "trade Bitcoin" has been rising, with it passing searches for "trade gold" in May and "trade forex" shortly afterwards in June.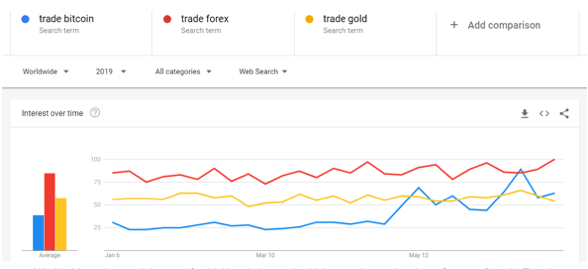 Worldwide web search interest for 2019, relative to the highest point on the chart. Source: Google Trends
Cryptocurrency Trader Facts
Awareness regarding cryptocurrency can vary substantially between individuals, while also varying on the types of cryptocurrency as well. For example, according to a Statista, in 2018 roughly 71% of US adults had some knowledge of Bitcoin, while 13% knew about Ethereum, 11% knew about Litecoin and 21% had no knowledge of any cryptocurrency at all.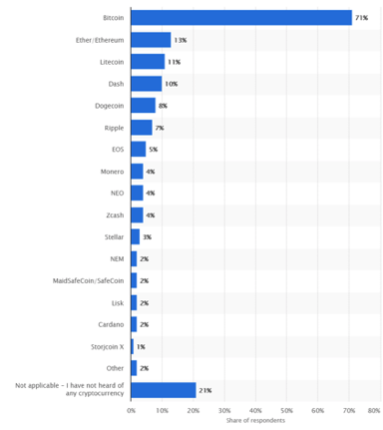 Public knowledge of various cryptocurrencies in the United States in 2018. Source: Statista
Some statistical researchers have also noted the appearance of a substantial gender gap when it comes to the awareness of cryptocurrencies. As another Statista report indicates, women tend to be less knowledgeable about individual cryptocurrencies, with 27% of those polled having not even heard of cryptocurrencies. In contrast only 16 percent of men responded stating that they had never heard of cryptocurrencies, a difference of 11% between men and women. However, the gender gap did narrow to only 6% difference when individuals were asked about the term Bitcoin, with 74% men responding that they recognised the term and 68 % women as well.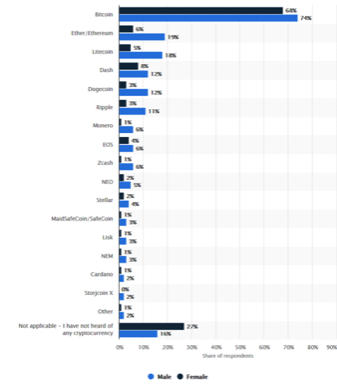 Knowledge of various cryptocurrencies in the United States by gender in 2018. Source: Statista
History of the Cryptocurrency Market
It can be argued that the history of the cryptocurrency market began with the invention of Bitcoin in 2009. The developer of Bitcoin remains unknown, hiding behind the pseudonym of Satoshi Nakamoto. Nevertheless, Bitcoin was the first decentralised digital or cryptocurrency to work using Blockchain technology.
Cryptocurrencies are intentionally structured as a peer to peer digital currency system, remaining independent from national interests and geographical locations, and operating without having a centralised server or issuing authority. Bitcoin also has a known maximum issue amount, so it cannot be issued arbitrarily, unlike fiat or national currencies issued by central banks.
As a result, Bitcoin is now the most expensive, most highly capitalised and most popular cryptocurrency, with the highest user base of any of the existing cryptocurrencies or cryptos. These currencies consist of digital or virtual money that is traded in the form of coins or tokens, typically on exchanges.
Furthermore, the Blockchain technology Bitcoin uses is a public transaction database that essentially operates as a distributed ledger to keep track of transactions and balances. Recent reports have indicated that Bitcoin's Blockchain size has been steadily increasing since 2010, reaching an approximate 210 gigabytes, as of April 2019.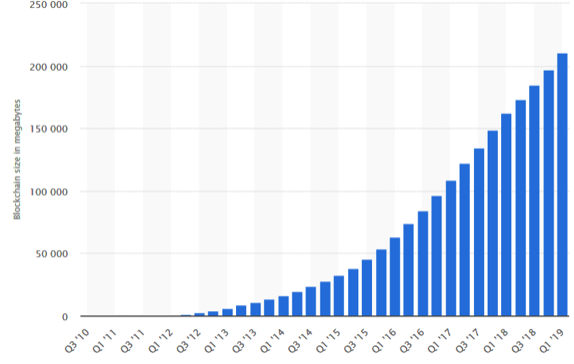 Bitcoin blockchain size in megabytes from 2010 to 2019. Source: Statista
Since Bitcoin's establishment of the market, there have been a number of other popular cryptocurrencies that have had their initial coin offerings (ICOs) such as: Litecoin (2011), Ripple's XRP (2012), Dash (2014), NEO (2014), Monero (2014), Ether/Ethereum (2015), Zcash (2016), Cardano (2017), Mixin (2017) and EOS (2018).
In the latter half of 2017 the cryptocurrency market saw a notable influx of investors, prompting a price surge. This particularly impacted Bitcoin, which also saw an increase in its market capitalisation. To give you an idea of this increase in user base growth, the number of users of the U.S. based Coinbase cryptocurrency exchange rose dramatically from only 0.4 million people as of the start of 2017, to over 5.5 million by the middle of 2018.
In fact, investing in cryptocurrencies was becoming so popular that government officials stepped in to warn investors that the digital currency markets were looking like overvalued bubbles. Some governments imposed additional regulations, while others, such as China, Russia, Vietnam, Bolivia, Ecuador and Columbia, went so far as to impose limitations on their citizens' use of the crypto market, such as outlawing making payments with cryptocurrencies.
Looking ahead, there are a number of recent developments that may continue the current levels of interest in the cryptocurrency market. For example, the markets has received strong renewed investor interest following the announcement by payments company Square that users can now deposit Bitcoin directly into its mobile Cash App.
In short, Square Inc's announcement could potentially be one of many similar developments in cryptocurrency's over the coming months and years. Developments that will further drive the evolution of this innovative financial market.