VORTEILE
Trennung der Kundengelder
Gegründet: 2008
Reguliert durch Financial Conduct Authority
Mindesteinzahlung ab

$1
Um ein Live-Konto zu eröffnen, benötigen Sie eine Mindesteinzahlung von mindestens $1. Alternativ dazu Ayondo bietet ein Demokonto, das Sie benutzen können, um sich mit der Plattform vertraut zu machen.
Reguliert durch die Financial Conduct Authority, Großbritannien (FRN: 184333). Ayondo legt alle Kundengelder auf ein separates Bankkonto und verwendet dafür Top-Banken. Ayondo besteht seit 2008, und haben den Hauptsitz in .
Bevor wir in einige der detaillierteren Aspekte von Ayondo's Spreads, Gebühren, Plattformen und Handelsfunktionen eintauchen, möchten Sie vielleicht die Webseite von Ayondo's in einem neuen Tab ansehen. Dazu müssen Sie nur weiter unten klicken, um die neuesten Informationen direkt von der Webseite zu sehen: Ayondo.
Vollständige Offenlegung: Wir können eine Provision erhalten, wenn Sie sich über einen unserer Links bei einem Broker registrieren.
Was sind Ayondo's Spreads & Gebühren?
Wie die meisten Broker erhebt, Ayondo eine Gebühr vom Spread, die sich aus der Differenz zwischen dem Kauf- und Verkaufspreis eines Instruments ergibt.
Die unten dargestellten Spreads basieren auf den minimalenfixed Spreads, gelistet auf der Ayondo's Webseite. Die farbigen Balken zeigen, wie konkurrenzfähig die Ayondo' Spreads im Vergleich zu anderen beliebten Brokern auf BrokerNotes sind.
Spreads are dynamic and are for informational purposes only.

Wie man sieht, liegen bei Ayondo 's die minimalen Spreads für den Handel EUR/USD bei0.8 Pips - das ist relativNiedrig im Vergleich zum durchschnittlichen EUR/USD Spread von 0.82 Pips. Unten finden Sie eine Aufschlüsselung, wie viel es Sie kosten würde, einen Anteil EUR/USD zu handeln mit Ayondo vs. ähnliche Broker.
Alle Spreads anzeigen
Wie viel verlangt Ayondo an Gebühr für den Handel von 1 Anteil EUR/USD?
Wenn Sie ein Standardanteil von EUR/USD (100.000 Einheiten) mit Ayondo zu einem Wechselkurs von 1,1719 kaufen würden und es dann am nächsten Tag zum gleichen Preis verkaufen, würden Sie wahrscheinlich zahlen:8. Hier ist eine grobe Aufschlüsselung der Gebühren und wie sich diese im Vergleich zu den folgenden vergleichen lassen XTB & City Index .
Alle Gebühren/Preise dienen der Information. Änderungen vorbehalten. Letzte Aktualisierung
Was man handeln kann bei Ayondo?
Ayondo bietet über 181 verschiedene Instrumente für den Handel, u.a. über 36 Währungspaare. Wir haben unten die verschiedenen Arten von Instrumenten zusammengefasst, die vonAyondo angeboten werden, zusammen mit den Instrumenten von XTB undCity Index zum Vergleich.
| FX / Währungen | Ayondo | XTB | City Index |
| --- | --- | --- | --- |
| der angebotenen Forex-Paare | 36 | 48 | 84 |
| Die wichtigsten Devisenpaare | Yes | Yes | Yes |
| Minor Devisenpaare | Yes | Yes | Yes |
| Exotische Devisenpaare | Yes | Yes | Yes |
| Kryptowährung | Yes | Yes | Yes |
| Rohstoff-CFDs | Ayondo | XTB | City Index |
| --- | --- | --- | --- |
| der angebotenen Rohstoffe | 6 | 21 | 26 |
| Metalle | | Yes | Yes |
| Energien | | Yes | Yes |
| Landwirtschaftlich | | Yes | Yes |
Wie ist die Ayondo Handelserfahrung?
1)Plattformen und Apps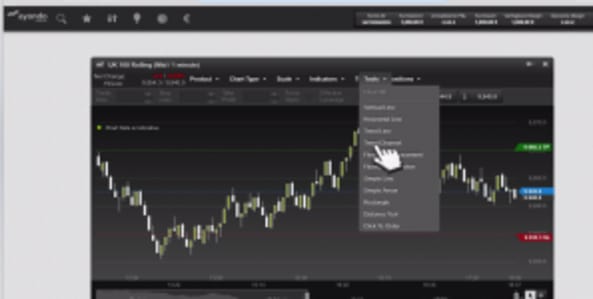 Ayondo bietet auch mobile Apps für Android und iOS, die es Ihnen erleichtern, Ihre Trades auch unterwegs im Auge zu behalten und auszuführen.
SieheAyondo 's Plattformen
2)Trades ausführen
Ayondo erlauben es Ihnen, ein Minimum an Trades auszuführen von . Dies kann je nach dem von Ihnen eröffneten Konto variieren. Ayondo erlauben es Ihnen, ein Maximum an Trades auszuführen von.
Wie bei den meisten Brokern variieren die Margen-Anforderungen je nach Händler, Konto und Instrumenten.
Schließlich haben wir auf der rechten Seite einige der beliebtesten Finanzierungsmethoden aufgelistet, die Ayondo seinen Händlern bietet.
3)Kundensupport
Ayondo unterstützt einebegrenzte Anzahleinschließlich .
Ayondo haben ein BrokerNotes A Support-Rating, weilAyondo über drei Sprachen bietet undE-Mail- und Telefon-Support.
4)Was Sie benötigen, um ein Konto zu eröffnen bei Ayondo
Da Ayondo reguliert wird durch Financial Conduct Authority, muss jeder neue Kunde einige grundlegende Compliance-Prüfungen bestehen, um sicherzustellen, dass Sie die Risiken des Handels verstehen und handeln dürfen. Wenn Sie ein Konto eröffnen, werden Sie wahrscheinlich nach folgendem gefragt. Also ist es gut, das hier zur Hand zu haben:
Eine eingescannte Farbkopie Ihres Reisepasses, Führerscheins oder Personalausweises.
Eine Stromrechnung oder ein Kontoauszug aus den letzten drei Monaten mit Ihrer Adresse
Sie müssen auch ein paar grundlegende Fragen beantworten, um zu bestätigen, wie viel Handelserfahrung Sie haben. Daher ist es am besten, sich mindestens 10 Minuten Zeit zu nehmen, um die Kontoeröffnung abzuschließen.
Während Sie vielleicht die Plattform Ayondo's sofort erkunden können, ist es wichtig zu beachten, dass Sie keine Trades ausführen können, bevor Sie die Compliance nicht bestanden haben. Das kann je nach Situation bis zu mehrere Tage dauern.
Um ein Konto zu eröffnen bei Ayondo können Sie ihre Website hier besuchen.
A Review & Guide to Trading with Ayondo
The trading platform Ayondo was initiated in 2009 out of Germany. Espousing the ever-increasing popularity of the 'social trading' system, Ayondo aims to connect small- to medium-sized investors with their top-tier traders. Thus, this can be seen as being as much of an educational platform as a simple online trading system. For anyone who may wish to join this site, it is important to take a look at some of the key metrics before fully committing.
Underlying Assets
Ayondo offers a host of different instruments to trade. These include:
More than 30 currency pairs (Forex)
CFDs
Major Asian, European and American indices
Bonds
Precious metals
Larger blue-chip companies such as Coca-Cola and Starbucks
This is notably different than some other platforms which only specialise in one field or another. Thus, the average trader has a great deal of options to suit his or her individual tastes and levels of exposure.
Educational Services
Currently, Ayondo claims to offer over 1,000 'top-level' traders. However, it is important to note that only a handful have garnered an appreciable number of followers. This therefore calls into question the efficacy of the bulk of these investors. However, those who do have followers are said to provide steady returns; many of these have been with Ayondo for over two years. These traders can be followed based upon criteria such as their profit-loss ratio, followers or their trading frequency.
The performance of these traders is graphically displayed within the Ayondo interface, so determining who is the best suited can be quite easy. A complete transaction history can likewise be viewed and their overall performance is tracked alongside the major indices. This is particularly important to observe longitudinal results. While the 'interactive' aspect is not necessarily like the forums and live communication that is seen on other sites, the hard data provided can serve to provide much clarity and insight.
Time Delays and Slippage
These factors have been a concern with other social trading sites and are therefore worth mentioning. Slippage is defined as the difference between the levels that a top trader closes at and the figures that a follower receives upon execution. As both trades will be performed through the same platform, this proportion is actually kept to a minimum. Of course, part of this will be associated with the speed of the computer in question. Succinctly, both time delays and slippage are negligible.
Commissions and Fees
One of the most interesting aspects of Ayondo is that the client will not be charged any commissions or fees when following the trades of a broker. This arises from the fact that Ayondo receives remuneration from the Forex broker in question. These fees are derived from the spread so in many ways, everyone involved benefits. Another notable feature is that any trader who moves his or her current account to Ayondo will receive a cash bonus. Certain terms and conditions will apply.
On a final note in regards to monetary concerns, many analysts have noted that the entry levels to begin trading are quite amenable when compared to similar services. These can be 100 dollars, euros or pounds.
Trading Levels
As one progresses with Ayondo, there are different trading levels which will be enjoyed. These vary from 'Street Trader' to 'Institutional'. Additionally, the commissions that the trader will be paid FROM Ayondo will increase with each level (assuming that their performance remains constant; one can also be downgraded for poor trades). Once a trader has more than 500 dollars, pounds or euros in an account, he or she will receive what is known as a 'Money Trader's Badge'.
Interface and Functionality
Billed as 'Next Generation Trading', their TradeHub system is quite streamlined and easy to work with. It should therefore not take beginning long to pick up on the basic layout and functionality. The platform can be customised to the discrete preferences of the user; affording a faster trade execution. Cash balances and margins are clearly displayed as are the trading products. Filters can be adjusted to suit specific interests. OCO orders are likewise available and importantly, guaranteed stop-loss amounts are automatically included with a position. For those who are executing multiple trades or are following the maximum number of five 'top-tier' investors, such a fluid platform is essential. This software is also available for smartphone users.
The Verdict
Overall, Ayondo seems to be one of the fairest trading systems currently available. This is in no small part due to the fact that no commissions or fees will be charged to the trader. Combined with amenable entry levels and the ability to follow up to five experts, such social trading indeed has its benefits.
There are nonetheless a few drawbacks. As the number of top traders is still limited, overall results can be skewed in either direction. Another significant disadvantage is that the client is unable to view which trader has contributed the most to their performance in either direction. This may make interpreting results a bit difficult.
Nonetheless, Ayondo is still growing. Should the number of top traders continue to increase, this platform may very well become extremely diversified. As a fully functional demo account can be activated, it will be easy for the potential client to appreciate the overall functionality before making any final decision.
CFDs sind Hebelprodukte und können zum Verlust Ihres Kapitals führen. Jeder Handel ist mit Risiken verbunden. Setzen Sie nur Kapital aufs Spiel, das Sie bereit sind zu verlieren. Die Wertentwicklung der Vergangenheit garantiert keine zukünftigen Ergebnisse.
Dieser Post ist für Bildungszwecke gedacht und sollte nicht als Anlageberatung betrachtet werden. Alle Informationen, die gesammelt wurden von http://www.ayondo.com/ am 01/04/2019.