Hargreaves Lansdown ist eine etablierte Investitionen und tradng Dienstleister. Hargreaves Lansdown bieten eine Vielzahl von Finanzdienstleistungen einschließlich ISAs, Renten, Aktien dealint, Investmentfonds, ETFs, Finanzberatung und Spread Betting und CFD-Trading-Dienstleistungen.
VORTEILE
Trennung der Kundengelder
Gegründet: 1981
Reguliert durch Financial Conduct Authority
Mindesteinzahlung ab

$200
Um ein Live-Konto zu eröffnen, benötigen Sie eine Mindesteinzahlung von mindestens $200. Alternativ dazu Hargreaves Lansdown bietet ein Demokonto, das Sie benutzen können, um sich mit der Plattform vertraut zu machen.
Reguliert durch die Financial Conduct Authority, Großbritannien (FRN: 115248). Hargreaves Lansdown legt alle Kundengelder auf ein separates Bankkonto und verwendet dafür Top-Banken. Hargreaves Lansdown besteht seit 1981, und haben den Hauptsitz in .
Bevor wir in einige der detaillierteren Aspekte von Hargreaves Lansdown's Spreads, Gebühren, Plattformen und Handelsfunktionen eintauchen, möchten Sie vielleicht die Webseite von Hargreaves Lansdown's in einem neuen Tab ansehen. Dazu müssen Sie nur weiter unten klicken, um die neuesten Informationen direkt von der Webseite zu sehen: Hargreaves Lansdown.
Vollständige Offenlegung: Wir können eine Provision erhalten, wenn Sie sich über einen unserer Links bei einem Broker registrieren.
Was sind Hargreaves Lansdown's Spreads & Gebühren?
Wie die meisten Broker erhebt, Hargreaves Lansdown eine Gebühr vom Spread, die sich aus der Differenz zwischen dem Kauf- und Verkaufspreis eines Instruments ergibt.
Die unten dargestellten Provisionen und Spreads basieren auf den minimalenSpreads, gelistet auf der Hargreaves Lansdown's Webseite. Die farbigen Balken zeigen, wie konkurrenzfähig die Hargreaves Lansdown's Spreads im Vergleich zu anderen beliebten Brokern auf BrokerNotes sind.
Hargreaves Lansdown

EUR/USD

(Average: 0.7 pips)

Not offered

0.6 pips

+ $1.00

3.0 pips

GBP/USD

(Average: 1.1 pips)

Not offered

0.9 pips

+ $1.00

4.0 pips

USD/JPY

(Average: 1.1 pips)

Not offered

0.7 pips

+ $1.00

2.0 pips

AUD/USD

(Average: 0.8 pips)

Not offered

0.6 pips

+ $1.00

1.0 pips

USD/CHF

(Average: 2.3 pips)

Not offered

1.5 pips

+ $1.00

3.0 pips

USD/CAD

(Average: 2.9 pips)

Not offered

1.7 pips

+ $1.00

3.0 pips

NZD/USD

(Average: 3.6 pips)

Not offered

2.0 pips

+ $1.00

5.0 pips

EUR/GBP

(Average: 2.4 pips)

Not offered

0.9 pips

+ $1.00

4.0 pips
Spreads are dynamic and are for informational purposes only.
Wie man sieht, liegen bei Hargreaves Lansdown's die minimalen Spreads für den Handel EUR/USD bei Pips - das ist relativNiedrig im Vergleich zum durchschnittlichen EUR/USD Spread von 0.70 Pips. Unten finden Sie eine Aufschlüsselung, wie viel es Sie kosten würde, einen Anteil EUR/USD zu handeln mit Hargreaves Lansdown vs. ähnliche Broker.
Alle Spreads anzeigen
Wie viel verlangt Hargreaves Lansdown an Gebühr für den Handel von 1 Anteil EUR/USD?
Wenn Sie ein Standardanteil von EUR/USD (100.000 Einheiten) mit Hargreaves Lansdown zu einem Wechselkurs von 1,1719 kaufen würden und es dann am nächsten Tag zum gleichen Preis verkaufen, würden Sie wahrscheinlich zahlen:0. Hier ist eine grobe Aufschlüsselung der Gebühren und wie sich diese im Vergleich zu den folgenden vergleichen lassen IG & XTB .
Hargreaves Lansdown

IG

XTB

Spread von

:
$ 0.00
$ 6.00
$ 2.00

Provision

:
$0.00
$0.00
$0.00
Total cost of a 100k trade:
$ 0.00
$ 6.00
$ 2.00

$6 mehr

$2 mehr

Besuchen HL Markets
Besuchen IG
Besuchen XTB
Alle Gebühren/Preise dienen der Information. Änderungen vorbehalten. Letzte Aktualisierung
Was man handeln kann bei Hargreaves Lansdown?
Hargreaves Lansdown bietet über verschiedene Instrumente für den Handel, u.a. über Währungspaare. Wir haben unten die verschiedenen Arten von Instrumenten zusammengefasst, die vonHargreaves Lansdown angeboten werden, zusammen mit den Instrumenten von IG undXTB zum Vergleich.
| FX / Währungen | HL Markets | IG | XTB |
| --- | --- | --- | --- |
| der angebotenen Forex-Paare | | 90 | 48 |
| Die wichtigsten Devisenpaare | Yes | Yes | Yes |
| Minor Devisenpaare | | Yes | Yes |
| Exotische Devisenpaare | | Yes | Yes |
| Kryptowährung* | Yes | Yes | Yes |
| Rohstoff-CFDs | Hargreaves Lansdown | IG | XTB |
| --- | --- | --- | --- |
| der angebotenen Rohstoffe | | 34 | 21 |
| Metalle | Yes | Yes | Yes |
| Energien | Yes | Yes | Yes |
| Landwirtschaftlich | Yes | Yes | Yes |
Wie ist die Hargreaves Lansdown Handelserfahrung?
1)Plattformen und Apps
Hargreaves Lansdown bietet eine benutzerfreundliche, maßgeschneiderte Handelsplattform, die sowohl als herunterladbares Programm, wie auch als browserbasierter WebTrader erhältlich ist. Wenn Sie auf der Suche nach einem MetaTrader-Broker sind, sehen Sie sich unseren Vergleich von MT4-Brokern hier an.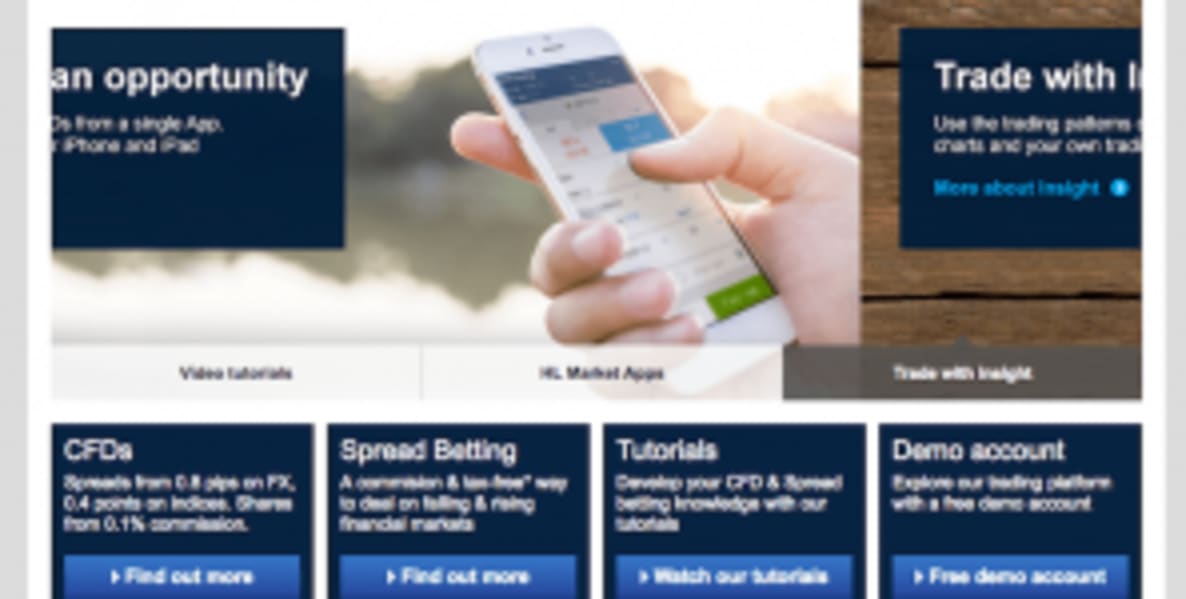 Hargreaves Lansdown bietet auch mobile Apps für Android und iOS, die es Ihnen erleichtern, Ihre Trades auch unterwegs im Auge zu behalten und auszuführen.
Siehe HL Markets's Plattformen
2)Trades ausführen
Hargreaves Lansdown erlauben es Ihnen, ein Minimum an Trades auszuführen von £1. Dies kann je nach dem von Ihnen eröffneten Konto variieren. Hargreaves Lansdown erlauben es Ihnen, ein Maximum an Trades auszuführen vonVariable.

Als Market Maker kann Hargreaves Lansdown geringere Zugangsvoraussetzungen haben, als im Vergleich zu einem ECN-Broker, der von höheren Handelsvolumen profitiert und typischerweise größere Kapital- und Mindesthandelsanforderungen hat. Market Maker haben in der Regel niedrigere Mindesteineinzahlungen, geringere Mindestanforderungen an den Handel und keine Provisionen.
Wie bei den meisten Brokern variieren die Margen-Anforderungen je nach Händler, Konto und Instrumenten.
Schließlich haben wir nachfolgend einige der beliebtesten Finanzierungsmethoden aufgelistet, die Hargreaves Lansdown seinen Händlern bietet.
Handelsfunktionen:
Ermöglicht Scalping
Ermöglicht Hedging
Niedrige Mindesteinzahlung
Finanzierungsmethoden:
Kreditkarten
Banküberweisung
3)Kundensupport
Hargreaves Lansdown unterstützt eine große Auswahl an Sprachen einschließlich English, French, German, Spanish, and Portuguese.
Hargreaves Lansdown haben ein BrokerNotes A Support-Rating, weilHargreaves Lansdown über drei Sprachen bietet.
4)Was Sie benötigen, um ein Konto zu eröffnen bei Hargreaves Lansdown
Da Hargreaves Lansdown reguliert wird durch Financial Conduct Authority , muss jeder neue Kunde einige grundlegende Compliance-Prüfungen bestehen, um sicherzustellen, dass Sie die Risiken des Handels verstehen und handeln dürfen. Wenn Sie ein Konto eröffnen, werden Sie wahrscheinlich nach folgendem gefragt. Also ist es gut, das hier zur Hand zu haben:
Eine eingescannte Farbkopie Ihres Reisepasses, Führerscheins oder Personalausweises.
Eine Stromrechnung oder ein Kontoauszug aus den letzten drei Monaten mit Ihrer Adresse
Sie müssen auch ein paar grundlegende Fragen beantworten, um zu bestätigen, wie viel Handelserfahrung Sie haben. Daher ist es am besten, sich mindestens 10 Minuten Zeit zu nehmen, um die Kontoeröffnung abzuschließen.
Während Sie vielleicht die Plattform Hargreaves Lansdown's sofort erkunden können, ist es wichtig zu beachten, dass Sie keine Trades ausführen können, bevor Sie die Compliance nicht bestanden haben. Das kann je nach Situation bis zu mehrere Tage dauern.
Um ein Konto zu eröffnen bei Hargreaves Lansdown können Sie ihre Website hier besuchen.
A Review & Guide to Trading with Hargreaves Lansdown
Hargreaves Lansdown PLC is a successful financial service company based in Bristol. It is regulated by the Financial Conduct Authority.
Hargreaves Lansdown PLC is currently the UK's largest fund supermarket. It is a constituent of the FTSE 100. It trades on the London Stock Exchange with the ticker symbol HL., under the name of HARGREAVES LANS. It specialises in fund, pension, wealth and annuity management, stock brokerage and financial advice.
Its flagship Wealth 150 funds list is attracting hoards of investors. Competitors are following in the company's footsteps, dishing out attractive lists of their own. Wealth 150 has no less than 91 funds and Wealth 150+ comprises the best 28 from the previous list.
Transaction fees
Hargreaves Lansdown currently offer execution-only online stock trading compatible with two types of accounts. You can opt for either the share account or the active trader service. The choice is not a matter of personal preferences. You should bear in mind that the two accounts are different only in regards to trade volume and associated benefits. Transaction costs start at £11.95 and decrease with the number of deals. They are calculated based on the number of online or mobile app transactions completed the previous calendar month. Shares, investment trusts and exchange traded funds fall into this category. If 10 to 19 deals were completed, the dealing charge is £8.95 per deal. Investors who trade 20 or more assets will be charged £5.95 per deal. Phone and pot dealings are charged at 1 per cent, with a threshold of £20 minimum and £50 maximum. Dividend reinvestment is charged at 1 per cent, or a minimum of £1 and a maximum of £10. When dealing in equity regular savings, a charge of £1.5 per stock will be deducted monthly.
As of April 2014, it has become illegal for platforms to charge fund providers commissions. So, Hargreaves Lansdown no longer take 0.25 per cent out of the 1.5 per cent annual management fee for advising clients. Instead, Hargreaves Lansdown now charge tiered pricing. A fee of 0.45 per cent is applicable to the investor's holdings in open-ended funds, if they amount to no more than £250,000. Holdings between £250,000 and £1 million are charged 0.25 per cent. Those reaching £2 million are charged 0.25 per cent. Fees are not applied to holdings larger than £2 million. Cash investments are also exempt from any fees. When it comes to fund and share accounts, Hargreaves Lansdown do not charge any annual management fees. However, NISA accounts incur a fee of 0.45 per cent per year, with a maximum threshold of £45 yearly. Similarly, SIPP accounts charge the same percentage, but are capped at no more than £200 a year.
Additional charges
On top of the dealing charges mentioned above, limit orders placed online are charged £10 per deal. On the other hand, those placed online are free. All deals are subject to UK Stamp duty, which amounts to 0.5 per cent. In the case of residual shares, this amount is subsequently rounded up to the nearest £5. The Panel on Takeovers and Mergers levy applies, as well, to UK share deals above £10,000, and it amounts to £1.
Registering for an online account
You should be able to appreciate the advantages of having an Active Trader account immediately or after a few weeks. Your returns depend on the volume of your transactions. Completing 20 or more transactions per month saves you £6 per deal, as compared to dealing 9 or less.
Signing up for your very own Hargreaves Lansdown account is a straightforward matter. The account sign-up page takes you through the process of registering for various types of accounts. These include a fund and share account, a stocks and shares NISA and a SIPP, or Self Invested Personal Pension account. The website is user-friendly and fully functional. The website does not disappoint, as other execution-only platform do. Users are given the necessary tools and market information to make their own trading decisions. Still, a few isolated deals per year do not justify the monthly fees payable to Hargreaves Lansdown. Having access to the online account comes at a price. When large amounts are involved, investors should consider trading regularly. Registering for the online account is straightforward. The form requires you to enter your personal information and client number. This number is provided in the account confirmation letter you receive by post.
Account features
Having an online account entitles you to many innovative website features. A stock market report and a sector report keep you up to date with the latest international influences on global stock markets.
A 'Top of the stocks' section reveals the most traded stocks in the previous week. It compares the percentage share of the deals and the value of transactions on total weekly dealings. Additionally, every registered member receives free market updates via e-mail. These include share research, broker comments and tips, as well as FTSE 100 faller and riser updates. The website also features a Knowledge Centre. This functions as a list of frequently asked questions and answers. Index tracker funds, investment trusts, split capital trusts, annuities and many other services are explained in detail.
A section of the website is dedicated to helpful investment ideas. The Wealth 150+ list and the Master Portfolios are featured heavily throughout the website. Master Portfolios are five ready-made investment portfolios dedicated to long-term investors. With funds from all the main industry sectors managed by specialists, they can suit any level of risk an investor may opt for. Five categories of portfolio style are included. The result of any query is a list of three suggestions based on investment size, risk adversity and preferred return timeframes and levels.
The live share price available on their website is free of charge and constantly updated. It gives you access to your portfolio at all times. Market cap, previous close, trade high and low and total volume are available. Alongside these figures, broker preference charts and recent graphs are at your disposal. Share prices are live, continuously updated and available for you to view and compare at any time, free of charge. Your portfolio valuation is included in the service.
The website gives you access to a wide selection of funds and it even enables you to deal in overseas shares. American, European, Canadian and British shares can be traded from the comfort of your own home. Gilts, investment trusts, corporate bonds and exchange traded funds are just some of the products you can manage online using the website.
Perhaps one of the most attractive features of the website is that you can set your own price for buying and selling particular shares as early as 30 days in advance. You will also be notified when your targeted value has been reached, so that you can limit your orders and minimise your losses.
Should you choose to opt for the automatic dividend reinvestment tool, you will have the added advantage of knowing that whenever your dividends reach your preferred level, they will be reinvested so that you may reap even larger future benefits. This is a low-cost dividend reinvestment scheme with a good deal of flexibility, which gives you peace of mind.
You can also take advantage of the Price Improvement Service, which can poll no less than thirty market markers at any one time, giving you the best price and ensuring higher revenues with considerable savings on your buys and sells.
Some of the other benefits of signing up with HL are the interactive charts, the share price alerts, the research reports, the sector reports and the free, unbiased share tips. Also, let's not forget the Shareholder Perks section, where you have a detailed account of the discounts and freebies offered to company shareholders for holding a certain amount of shares. Not only will you earn dividends for buying your shares through this award-winning stockbrokring platform, but you'll also be able to use your shareholder status to take advantage of cruise, shopping, flight and food discounts, among many others. Exhibits, company tours and shareholder meetings are also available for shareholders who own a certain amount of shares and hold certain types of shares, so browse through the section before deciding what company you'd like to invest in.
Access HL remotely
The HL Live mobile app is available for download from the company's website free of charge and is compatible with iOS and Android operated devices. It gives users free access to updated prices and indices, as well as the latest news and research available on the market. It features share, fund and ETF dealing capabilities, interactive performance charts and watchlists for personalised fund and share account users. Additionally, Vantage Account holders can login remotely at any time and securely using this app. To gain access to all these perks, simply download your HL Live app from Google Play or the App Store.
Disclaimer
Using a fund platform such as Hargreaves Lansdown allows you to hold funds managed by various fund managers in one place. Investments are held on your behalf in a 'nominee' account, meaning that you are entitled to your earnings as the beneficial owner, but are not the legal owner. Fund platform users are covered for up to £50,000 by the Financial Services Compensation Scheme, so investing any more than that will be a matter of trusting the platform.
Awards
Hargreaves Lansdown were voted 'What Investment' Reader's Award Winner for Best Share Dealing Service of 2012, 2013. The company was also recently dubbed a ISA Recommended Provider, alongside the UK's topmost Fund Supermarkets of May 2014. It was also named the Best Online Junior Stocks and Shares ISA Provider, the Best Mobile Trading Platform, the Best Financial Services Mobile Strategy/Campaign by MOMA, a Pension Adviser of the Year, and it was awarded various other prizes throughout the year. Sign up for your own account and find out why this fund supermarket is the best the industry can offer.
CFDs sind Hebelprodukte und können zum Verlust Ihres Kapitals führen. Jeder Handel ist mit Risiken verbunden. Setzen Sie nur Kapital aufs Spiel, das Sie bereit sind zu verlieren. Die Wertentwicklung der Vergangenheit garantiert keine zukünftigen Ergebnisse.
Dieser Post ist für Bildungszwecke gedacht und sollte nicht als Anlageberatung betrachtet werden. Alle Informationen, die gesammelt wurden von http://www.hlmarkets.co.uk/ am 01/01/2022.