Ventajas
Separa los fondos de los clientes
Establecido en: 2008
Regulado por Financial Conduct Authority
deposito nínimo de

$1
Para abrir una cuenta en vivo, Se requerirá que usted realice un depósito mínimo de $1. Alternativamente Ayondo ofrece una cuenta de prueba La cual usted puede usar para practicar y familiarizarse con la plataforma
Regulado por la Autoridad de Conducta Financiera del Reino Unido (UK FCA) (FRN: 184333). Ayondo coloca los fondos de todos los clientes un una cuenta bancaria separada, En un banco de primer nivel Ayondo Fue establecido en, ha estado establecido desde, 2008, y tiene su oficina principal en .
Antes de ahondar en algunos de los aspectos más detallados de Ayondo 's diferenciales, costos, plataformas, y las características de inversión, Usted puede desear abrir Ayondo 's la nueva ventana, en una nueva página, presionando el botón de abajo, para que pueda ver la última información directamente Ayondo.
Divulgación completa. Nosotros podríamos recibir una comisión, si usted se registra con algún corredor, empleando nuestros enlaces
¿Que son ? Ayondo's diferenciales y costos,
Como la mayoría de corredores., Ayondo toman una pequeña porción de la diferencia entre el precio de compra y el precio de venta de un instrumento
Los diferenciales mostrados debajo, estaban basados en los mínimosfixed ofrecidos en Ayondo's este sitio web. Las barras de colores, muestran qué tan competitivos Ayondo' son los diferenciales, en comparación con otros corredores anunciados en BrokerNotes
Spreads are dynamic and are for informational purposes only.

Como puede ver Ayondo 's el mínimo diferencial o spread entre EUR/USA es de0.8 pips, el cual es relativamentebajo comparado con los diferenciales o spreads promedios para EUR/USA 0.82 pips, Debajo está la descripción de cuanto le costaría invertir en un lote de EUR/USD en Ayondo Vs un corredor similar
Ver todos los diferenciales
¿Cuanto Ayondo cobran por invertir en un lote de EUR/USD?
si usted fuera a comprar un lote estándar de EUR/USD (de100K unidades) con Ayondo a una tasa de cambio de 1.1719 y luego vender este, al mismo precio el día siguiente usted podría tener que pagar8. Aquí encuentra un desglose rápido de los costos y cómo se comparan con City Index & XTB .
Ayondo

City Index

XTB

Diferenciales desde

:
$ 8.00
$ 5.00
$ 2.00

Comisión

:
$0.00
$0.00
$0.00
Total cost of a 100k trade:
$ 8.00
$ 5.00
$ 2.00

$3 menor

$6 menor

Visite Ayondo
Visite City Index
Visite XTB
Todos las comisiones y precios se ofrecen para su información referencial solamente, y están sujetas a cambio. Última actualización
En que puede invertir con Ayondo?
Ayondo ofrece mas de 181 diferentes instrumentos para invertir, incluyendo más de 36 pares de monedas. Nosotros hemos resumido todos los diferentes instrumentos ofrecidos porAyondo debajo, con los instrumentos ofrecidos por City Index yXTB para comparar
| FX/Monedas | Ayondo | City Index | XTB |
| --- | --- | --- | --- |
| pares de monedas ofrecidos | 36 | 84 | 48 |
| Los principales pares de divisas | Yes | Yes | Yes |
| pares de divisas menores | Yes | Yes | Yes |
| pares de divisas exóticas | Yes | Yes | Yes |
| criptomoneda | Yes | Yes | Yes |
| Productos CFDs | Ayondo | City Index | XTB |
| --- | --- | --- | --- |
| de productos ofrecidos | 6 | 26 | 21 |
| Metales | | Yes | Yes |
| Energías | | Yes | Yes |
| Agricultura | | Yes | Yes |
Cual es el. Ayondo experiencia de inversores como?
1)Plataforma y aplicaciones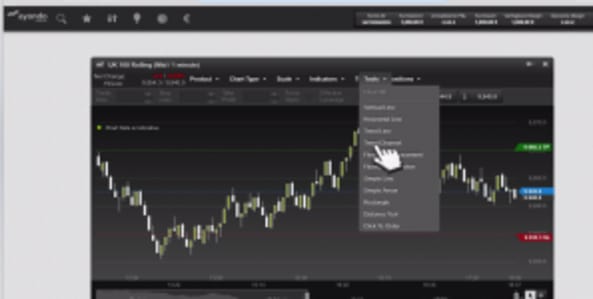 Ayondo también ofrece aplicaciones móviles para dispositivos con Android e iOS, por lo que le hace más fácil vigilar y ejecutar sus transacciones mientras está en movimiento.
VerAyondo 's plataforma
2)Ejecutar inversiones
Ayondo le permite ejecutar un número mínimo de inversiones de . Este puede variar dependiendo del tipo de cuenta que habrá. Ayondo le permite ejecutar un número máximo de inversiones de.
como con la mayoría de los corredores, los requisitos de margen varían dependiendo del inversionista, las cuentas y los instrumentos, pero a modo de guía,
Finalmente hemos creado una lista de los métodos para ingresar dinero en su cuenta Ayondo ofrece sus inversores en la derecha
3)Asistencia al cliente
Ayondo Asistencia a numero limitadoincluyendo .
Ayondo posee una calificación de asistencia de una A de parte de BrokerNotes porqueAyondo ofrece mas de tres idiomas yasistencia telefónica y asistencia por correo electrónico
4)Por que usted necesitará abrir una cuenta con? Ayondo
Como Ayondo está regulado por Financial Conduct Authority , cada nuevo cliente debe aprobar unas cuantas comprobaciones básicas de cumplimiento para asegurar que comprende los riesgos de las inversiones y que se le permita invertir. Al abrir una cuenta, es probable que se le pida los siguientes, por lo que es bueno tener estos documentos a la mano:
Una fotocopia escaneada a color de su pasaporte, licencia de conducir, o documento de identidad nacional
Un recibo de algún servicio básico, o copia del estado de cuenta bancario, en el cual se vea reflejada su dirección actual
También tendrá que responder algunas preguntas básicas de corroboración y cumplimiento para confirmar la cantidad de experiencia de inversor que usted tiene, por lo que es mejor separar al menos 10 minutos para poder completar el proceso de apertura de la cuenta.
Mientras usted puede explorar Ayondo's Emplear la plataforma de inmediato puede no ser posible, es importante que tenga en cuenta que no podrá realizar ninguna transacción, hasta que apruebe la fase de corroboración y cumplimiento, esto puede demorar algunos días dependiendo de su situación.
Para comenzar el proceso de abrir una cuenta Ayondo Usted puede Visite su sitio web.
A Review & Guide to Trading with Ayondo
The trading platform Ayondo was initiated in 2009 out of Germany. Espousing the ever-increasing popularity of the 'social trading' system, Ayondo aims to connect small- to medium-sized investors with their top-tier traders. Thus, this can be seen as being as much of an educational platform as a simple online trading system. For anyone who may wish to join this site, it is important to take a look at some of the key metrics before fully committing.
Underlying Assets
Ayondo offers a host of different instruments to trade. These include:
More than 30 currency pairs (Forex)
CFDs
Major Asian, European and American indices
Bonds
Precious metals
Larger blue-chip companies such as Coca-Cola and Starbucks
This is notably different than some other platforms which only specialise in one field or another. Thus, the average trader has a great deal of options to suit his or her individual tastes and levels of exposure.
Educational Services
Currently, Ayondo claims to offer over 1,000 'top-level' traders. However, it is important to note that only a handful have garnered an appreciable number of followers. This therefore calls into question the efficacy of the bulk of these investors. However, those who do have followers are said to provide steady returns; many of these have been with Ayondo for over two years. These traders can be followed based upon criteria such as their profit-loss ratio, followers or their trading frequency.
The performance of these traders is graphically displayed within the Ayondo interface, so determining who is the best suited can be quite easy. A complete transaction history can likewise be viewed and their overall performance is tracked alongside the major indices. This is particularly important to observe longitudinal results. While the 'interactive' aspect is not necessarily like the forums and live communication that is seen on other sites, the hard data provided can serve to provide much clarity and insight.
Time Delays and Slippage
These factors have been a concern with other social trading sites and are therefore worth mentioning. Slippage is defined as the difference between the levels that a top trader closes at and the figures that a follower receives upon execution. As both trades will be performed through the same platform, this proportion is actually kept to a minimum. Of course, part of this will be associated with the speed of the computer in question. Succinctly, both time delays and slippage are negligible.
Commissions and Fees
One of the most interesting aspects of Ayondo is that the client will not be charged any commissions or fees when following the trades of a broker. This arises from the fact that Ayondo receives remuneration from the Forex broker in question. These fees are derived from the spread so in many ways, everyone involved benefits. Another notable feature is that any trader who moves his or her current account to Ayondo will receive a cash bonus. Certain terms and conditions will apply.
On a final note in regards to monetary concerns, many analysts have noted that the entry levels to begin trading are quite amenable when compared to similar services. These can be 100 dollars, euros or pounds.
Trading Levels
As one progresses with Ayondo, there are different trading levels which will be enjoyed. These vary from 'Street Trader' to 'Institutional'. Additionally, the commissions that the trader will be paid FROM Ayondo will increase with each level (assuming that their performance remains constant; one can also be downgraded for poor trades). Once a trader has more than 500 dollars, pounds or euros in an account, he or she will receive what is known as a 'Money Trader's Badge'.
Interface and Functionality
Billed as 'Next Generation Trading', their TradeHub system is quite streamlined and easy to work with. It should therefore not take beginning long to pick up on the basic layout and functionality. The platform can be customised to the discrete preferences of the user; affording a faster trade execution. Cash balances and margins are clearly displayed as are the trading products. Filters can be adjusted to suit specific interests. OCO orders are likewise available and importantly, guaranteed stop-loss amounts are automatically included with a position. For those who are executing multiple trades or are following the maximum number of five 'top-tier' investors, such a fluid platform is essential. This software is also available for smartphone users.
The Verdict
Overall, Ayondo seems to be one of the fairest trading systems currently available. This is in no small part due to the fact that no commissions or fees will be charged to the trader. Combined with amenable entry levels and the ability to follow up to five experts, such social trading indeed has its benefits.
There are nonetheless a few drawbacks. As the number of top traders is still limited, overall results can be skewed in either direction. Another significant disadvantage is that the client is unable to view which trader has contributed the most to their performance in either direction. This may make interpreting results a bit difficult.
Nonetheless, Ayondo is still growing. Should the number of top traders continue to increase, this platform may very well become extremely diversified. As a fully functional demo account can be activated, it will be easy for the potential client to appreciate the overall functionality before making any final decision.
Los CFD son productos apalancados y pueden provocar la pérdida total de su capital. Toda inversión implica riesgos. Solo invierta o emplee el capital de riesgo que esté preparado para perder. El rendimiento que haya obtenido en el pasado no garantiza resultados futuros.
Este post es para fines educativos y no debe ser considerado como un asesoramiento de inversión. Toda la información obtenida de http://www.ayondo.com/ sobre 01/05/2019.