Hargreaves Lansdown es un proveedor de servicios de inversión y tradng establecida. Hargreaves Lansdown ofrece una multitud de servicios financieros, incluyendo las NIA, las pensiones, la cuota dealint, fondos de inversión, ETFs, asesoramiento financiero y propagación de apuestas y servicios de comercio de CFD.
Ventajas
Separa los fondos de los clientes
Establecido en: 1981
Regulado por Financial Conduct Authority
deposito nínimo de

$200
Desventajas
Tarifa de inactividad
Gama limitada de instrumentos
No está regulado por la ASIC (Ver alternativas)
Para abrir una cuenta en vivo, Se requerirá que usted realice un depósito mínimo de $200. Alternativamente Hargreaves Lansdown ofrece una cuenta de prueba La cual usted puede usar para practicar y familiarizarse con la plataforma
Regulado por la Autoridad de Conducta Financiera del Reino Unido (UK FCA) (FRN: 115248). Hargreaves Lansdown coloca los fondos de todos los clientes un una cuenta bancaria separada, En un banco de primer nivel Hargreaves Lansdown Fue establecido en, ha estado establecido desde, 1981, y tiene su oficina principal en .
Antes de ahondar en algunos de los aspectos más detallados de Hargreaves Lansdown's diferenciales, costos, plataformas, y las características de inversión, Usted puede desear abrir Hargreaves Lansdown's la nueva ventana, en una nueva página, presionando el botón de abajo, para que pueda ver la última información directamente Hargreaves Lansdown.
Divulgación completa. Nosotros podríamos recibir una comisión, si usted se registra con algún corredor, empleando nuestros enlaces
¿Que son ? Hargreaves Lansdown's diferenciales y costos,
Como la mayoría de corredores., Hargreaves Lansdown toman una pequeña porción de la diferencia entre el precio de compra y el precio de venta de un instrumento
Las comisiones y diferenciales mostrados debajo, estaban basados en los mínimosofrecidos en Hargreaves Lansdown's este sitio web. Las barras de colores, muestran qué tan competitivos Hargreaves Lansdown's son los diferenciales, en comparación con otros corredores anunciados en BrokerNotes
Hargreaves Lansdown

EUR/USD

(Average: 0.7 pips)

Not offered

0.6 pips

+ $1.00

3.0 pips

GBP/USD

(Average: 1.1 pips)

Not offered

0.9 pips

+ $1.00

4.0 pips

USD/JPY

(Average: 1.1 pips)

Not offered

0.7 pips

+ $1.00

2.0 pips

AUD/USD

(Average: 0.8 pips)

Not offered

0.6 pips

+ $1.00

1.0 pips

USD/CHF

(Average: 2.3 pips)

Not offered

1.5 pips

+ $1.00

3.0 pips

USD/CAD

(Average: 2.9 pips)

Not offered

1.7 pips

+ $1.00

3.0 pips

NZD/USD

(Average: 3.6 pips)

Not offered

2.0 pips

+ $1.00

5.0 pips

EUR/GBP

(Average: 2.4 pips)

Not offered

0.9 pips

+ $1.00

4.0 pips
Spreads are dynamic and are for informational purposes only.
Como puede ver Hargreaves Lansdown's el mínimo diferencial o spread entre EUR/USA es de pips, el cual es relativamentebajo comparado con los diferenciales o spreads promedios para EUR/USA 0.70 pips, Debajo está la descripción de cuanto le costaría invertir en un lote de EUR/USD en Hargreaves Lansdown Vs un corredor similar
Ver todos los diferenciales
¿Cuanto Hargreaves Lansdown cobran por invertir en un lote de EUR/USD?
si usted fuera a comprar un lote estándar de EUR/USD (de100K unidades) con Hargreaves Lansdown a una tasa de cambio de 1.1719 y luego vender este, al mismo precio el día siguiente usted podría tener que pagar0. Aquí encuentra un desglose rápido de los costos y cómo se comparan con IG & XTB .
Hargreaves Lansdown

IG

XTB

Diferenciales desde

:
$ 0.00
$ 6.00
$ 2.00

Comisión

:
$0.00
$0.00
$0.00
Total cost of a 100k trade:
$ 0.00
$ 6.00
$ 2.00

$6 mayor

$2 mayor

Visite HL Markets
Visite IG
Visite XTB
Todos las comisiones y precios se ofrecen para su información referencial solamente, y están sujetas a cambio. Última actualización
En que puede invertir con Hargreaves Lansdown?
Hargreaves Lansdown ofrece mas de diferentes instrumentos para invertir, incluyendo más de pares de monedas. Nosotros hemos resumido todos los diferentes instrumentos ofrecidos porHargreaves Lansdown debajo, con los instrumentos ofrecidos por IG yXTB para comparar
| FX/Monedas | HL Markets | IG | XTB |
| --- | --- | --- | --- |
| pares de monedas ofrecidos | | 90 | 48 |
| Los principales pares de divisas | Yes | Yes | Yes |
| pares de divisas menores | | Yes | Yes |
| pares de divisas exóticas | | Yes | Yes |
| criptomoneda* | Yes | Yes | Yes |
| Productos CFDs | Hargreaves Lansdown | IG | XTB |
| --- | --- | --- | --- |
| de productos ofrecidos | | 34 | 21 |
| Metales | Yes | Yes | Yes |
| Energías | Yes | Yes | Yes |
| Agricultura | Yes | Yes | Yes |
Cual es el. Hargreaves Lansdown experiencia de inversores como?
1)Plataforma y aplicaciones
Hargreaves Lansdown ofrece una plataforma de inversión personalizada fácil de usar, disponible como un programa descargable o puede usarse en línea con cualquier buscador como una WebTrader. Si usted es comparación de corredores con MT4 aquí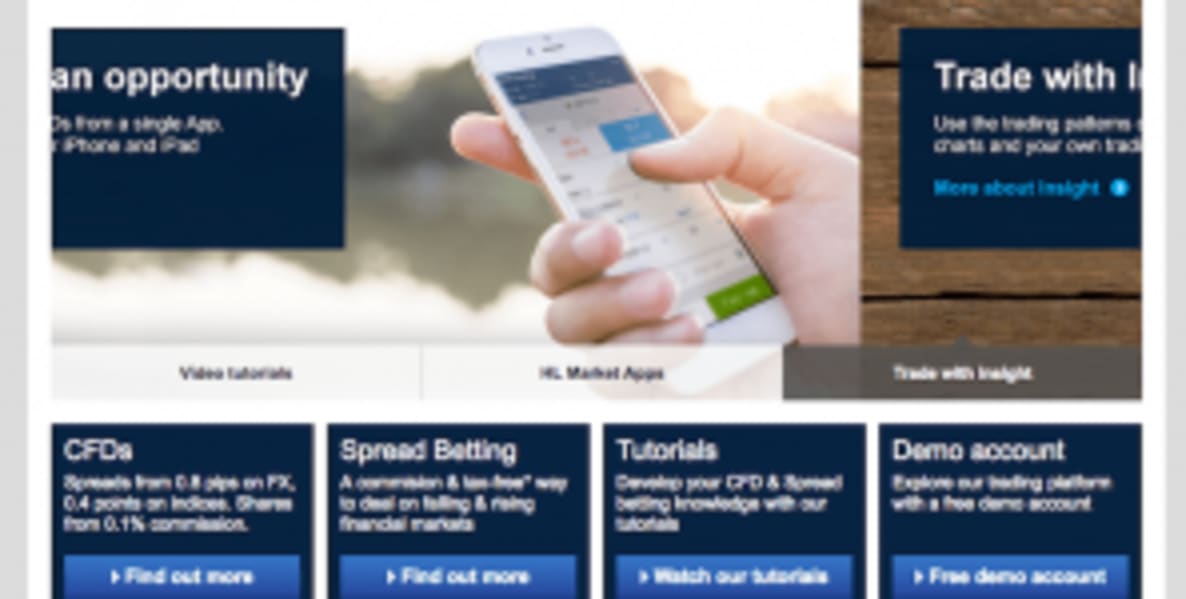 Hargreaves Lansdown también ofrece aplicaciones móviles para dispositivos con Android e iOS, por lo que le hace más fácil vigilar y ejecutar sus transacciones mientras está en movimiento.
Ver HL Markets's plataforma
2)Ejecutar inversiones
Hargreaves Lansdown le permite ejecutar un número mínimo de inversiones de £1. Este puede variar dependiendo del tipo de cuenta que habrá. Hargreaves Lansdown le permite ejecutar un número máximo de inversiones deVariable.

Como un creador de mercado Hargreaves Lansdown puede tener requisitos de entrada más bajos en comparación con un intermediario de ECN, que se beneficia de un mayor volumen de operaciones y, por lo general, tiene mayores requisitos de capital mínimo de inversión. Los creadores de mercado suelen exigir un depósito mínimo
como con la mayoría de los corredores, los requisitos de margen varían dependiendo del inversionista, las cuentas y los instrumentos, pero a modo de guía,
Finalmente hemos creado una lista de los métodos para ingresar dinero en su cuenta Hargreaves Lansdown ofrece sus inversores a continuación
Características de inversión:
Permite especulación
Permite protección o Permite Hegging
Depósito mínimo bajo
Métodos de ingresar dinero
Tarjetas de crédito
Transferencia bancaria
3)Asistencia al cliente
Hargreaves Lansdown Asistencia a Amplio rango de idiomas incluyendo English, French, German, Spanish, and Portuguese.
Hargreaves Lansdown posee una calificación de asistencia de una A de parte de BrokerNotes porqueHargreaves Lansdown ofrece más de tres idiomas
4)Por que usted necesitará abrir una cuenta con? Hargreaves Lansdown
Como Hargreaves Lansdown está regulado por Financial Conduct Authority , cada nuevo cliente debe aprobar unas cuantas comprobaciones básicas de cumplimiento para asegurar que comprende los riesgos de las inversiones y que se le permita invertir. Al abrir una cuenta, es probable que se le pida los siguientes, por lo que es bueno tener estos documentos a la mano:
Una fotocopia escaneada a color de su pasaporte, licencia de conducir, o documento de identidad nacional
Un recibo de algún servicio básico, o copia del estado de cuenta bancario, en el cual se vea reflejada su dirección actual
También tendrá que responder algunas preguntas básicas de corroboración y cumplimiento para confirmar la cantidad de experiencia de inversor que usted tiene, por lo que es mejor separar al menos 10 minutos para poder completar el proceso de apertura de la cuenta.
Mientras usted puede explorar Hargreaves Lansdown's Emplear la plataforma de inmediato puede no ser posible, es importante que tenga en cuenta que no podrá realizar ninguna transacción, hasta que apruebe la fase de corroboración y cumplimiento, esto puede demorar algunos días dependiendo de su situación.
Para comenzar el proceso de abrir una cuenta Hargreaves Lansdown Usted puede Visite su sitio web.
A Review & Guide to Trading with Hargreaves Lansdown
Hargreaves Lansdown PLC is a successful financial service company based in Bristol. It is regulated by the Financial Conduct Authority.
Hargreaves Lansdown PLC is currently the UK's largest fund supermarket. It is a constituent of the FTSE 100. It trades on the London Stock Exchange with the ticker symbol HL., under the name of HARGREAVES LANS. It specialises in fund, pension, wealth and annuity management, stock brokerage and financial advice.
Its flagship Wealth 150 funds list is attracting hoards of investors. Competitors are following in the company's footsteps, dishing out attractive lists of their own. Wealth 150 has no less than 91 funds and Wealth 150+ comprises the best 28 from the previous list.
Transaction fees
Hargreaves Lansdown currently offer execution-only online stock trading compatible with two types of accounts. You can opt for either the share account or the active trader service. The choice is not a matter of personal preferences. You should bear in mind that the two accounts are different only in regards to trade volume and associated benefits. Transaction costs start at £11.95 and decrease with the number of deals. They are calculated based on the number of online or mobile app transactions completed the previous calendar month. Shares, investment trusts and exchange traded funds fall into this category. If 10 to 19 deals were completed, the dealing charge is £8.95 per deal. Investors who trade 20 or more assets will be charged £5.95 per deal. Phone and pot dealings are charged at 1 per cent, with a threshold of £20 minimum and £50 maximum. Dividend reinvestment is charged at 1 per cent, or a minimum of £1 and a maximum of £10. When dealing in equity regular savings, a charge of £1.5 per stock will be deducted monthly.
As of April 2014, it has become illegal for platforms to charge fund providers commissions. So, Hargreaves Lansdown no longer take 0.25 per cent out of the 1.5 per cent annual management fee for advising clients. Instead, Hargreaves Lansdown now charge tiered pricing. A fee of 0.45 per cent is applicable to the investor's holdings in open-ended funds, if they amount to no more than £250,000. Holdings between £250,000 and £1 million are charged 0.25 per cent. Those reaching £2 million are charged 0.25 per cent. Fees are not applied to holdings larger than £2 million. Cash investments are also exempt from any fees. When it comes to fund and share accounts, Hargreaves Lansdown do not charge any annual management fees. However, NISA accounts incur a fee of 0.45 per cent per year, with a maximum threshold of £45 yearly. Similarly, SIPP accounts charge the same percentage, but are capped at no more than £200 a year.
Additional charges
On top of the dealing charges mentioned above, limit orders placed online are charged £10 per deal. On the other hand, those placed online are free. All deals are subject to UK Stamp duty, which amounts to 0.5 per cent. In the case of residual shares, this amount is subsequently rounded up to the nearest £5. The Panel on Takeovers and Mergers levy applies, as well, to UK share deals above £10,000, and it amounts to £1.
Registering for an online account
You should be able to appreciate the advantages of having an Active Trader account immediately or after a few weeks. Your returns depend on the volume of your transactions. Completing 20 or more transactions per month saves you £6 per deal, as compared to dealing 9 or less.
Signing up for your very own Hargreaves Lansdown account is a straightforward matter. The account sign-up page takes you through the process of registering for various types of accounts. These include a fund and share account, a stocks and shares NISA and a SIPP, or Self Invested Personal Pension account. The website is user-friendly and fully functional. The website does not disappoint, as other execution-only platform do. Users are given the necessary tools and market information to make their own trading decisions. Still, a few isolated deals per year do not justify the monthly fees payable to Hargreaves Lansdown. Having access to the online account comes at a price. When large amounts are involved, investors should consider trading regularly. Registering for the online account is straightforward. The form requires you to enter your personal information and client number. This number is provided in the account confirmation letter you receive by post.
Account features
Having an online account entitles you to many innovative website features. A stock market report and a sector report keep you up to date with the latest international influences on global stock markets.
A 'Top of the stocks' section reveals the most traded stocks in the previous week. It compares the percentage share of the deals and the value of transactions on total weekly dealings. Additionally, every registered member receives free market updates via e-mail. These include share research, broker comments and tips, as well as FTSE 100 faller and riser updates. The website also features a Knowledge Centre. This functions as a list of frequently asked questions and answers. Index tracker funds, investment trusts, split capital trusts, annuities and many other services are explained in detail.
A section of the website is dedicated to helpful investment ideas. The Wealth 150+ list and the Master Portfolios are featured heavily throughout the website. Master Portfolios are five ready-made investment portfolios dedicated to long-term investors. With funds from all the main industry sectors managed by specialists, they can suit any level of risk an investor may opt for. Five categories of portfolio style are included. The result of any query is a list of three suggestions based on investment size, risk adversity and preferred return timeframes and levels.
The live share price available on their website is free of charge and constantly updated. It gives you access to your portfolio at all times. Market cap, previous close, trade high and low and total volume are available. Alongside these figures, broker preference charts and recent graphs are at your disposal. Share prices are live, continuously updated and available for you to view and compare at any time, free of charge. Your portfolio valuation is included in the service.
The website gives you access to a wide selection of funds and it even enables you to deal in overseas shares. American, European, Canadian and British shares can be traded from the comfort of your own home. Gilts, investment trusts, corporate bonds and exchange traded funds are just some of the products you can manage online using the website.
Perhaps one of the most attractive features of the website is that you can set your own price for buying and selling particular shares as early as 30 days in advance. You will also be notified when your targeted value has been reached, so that you can limit your orders and minimise your losses.
Should you choose to opt for the automatic dividend reinvestment tool, you will have the added advantage of knowing that whenever your dividends reach your preferred level, they will be reinvested so that you may reap even larger future benefits. This is a low-cost dividend reinvestment scheme with a good deal of flexibility, which gives you peace of mind.
You can also take advantage of the Price Improvement Service, which can poll no less than thirty market markers at any one time, giving you the best price and ensuring higher revenues with considerable savings on your buys and sells.
Some of the other benefits of signing up with HL are the interactive charts, the share price alerts, the research reports, the sector reports and the free, unbiased share tips. Also, let's not forget the Shareholder Perks section, where you have a detailed account of the discounts and freebies offered to company shareholders for holding a certain amount of shares. Not only will you earn dividends for buying your shares through this award-winning stockbrokring platform, but you'll also be able to use your shareholder status to take advantage of cruise, shopping, flight and food discounts, among many others. Exhibits, company tours and shareholder meetings are also available for shareholders who own a certain amount of shares and hold certain types of shares, so browse through the section before deciding what company you'd like to invest in.
Access HL remotely
The HL Live mobile app is available for download from the company's website free of charge and is compatible with iOS and Android operated devices. It gives users free access to updated prices and indices, as well as the latest news and research available on the market. It features share, fund and ETF dealing capabilities, interactive performance charts and watchlists for personalised fund and share account users. Additionally, Vantage Account holders can login remotely at any time and securely using this app. To gain access to all these perks, simply download your HL Live app from Google Play or the App Store.
Disclaimer
Using a fund platform such as Hargreaves Lansdown allows you to hold funds managed by various fund managers in one place. Investments are held on your behalf in a 'nominee' account, meaning that you are entitled to your earnings as the beneficial owner, but are not the legal owner. Fund platform users are covered for up to £50,000 by the Financial Services Compensation Scheme, so investing any more than that will be a matter of trusting the platform.
Awards
Hargreaves Lansdown were voted 'What Investment' Reader's Award Winner for Best Share Dealing Service of 2012, 2013. The company was also recently dubbed a ISA Recommended Provider, alongside the UK's topmost Fund Supermarkets of May 2014. It was also named the Best Online Junior Stocks and Shares ISA Provider, the Best Mobile Trading Platform, the Best Financial Services Mobile Strategy/Campaign by MOMA, a Pension Adviser of the Year, and it was awarded various other prizes throughout the year. Sign up for your own account and find out why this fund supermarket is the best the industry can offer.
Los CFD son productos apalancados y pueden provocar la pérdida total de su capital. Toda inversión implica riesgos. Solo invierta o emplee el capital de riesgo que esté preparado para perder. El rendimiento que haya obtenido en el pasado no garantiza resultados futuros.
Este post es para fines educativos y no debe ser considerado como un asesoramiento de inversión. Toda la información obtenida de http://www.hlmarkets.co.uk/ sobre 01/10/2021.