Visión de conjunto
Plus500 es un corredor de comercio de CFD. Los individuos pueden comerciar con los principales mercados, como las divisas, índices, materias primas y comparte con su plataforma de CFD. Para los comerciantes interesados ​​en cryptocurrencies como Bitcoin, Plus500 es uno de los pocos corredores que también ofrecen CFD criptomoneda.
Para abrir una cuenta en vivo, Se requerirá que usted realice un depósito mínimo de $100. Alternativamente Plus500 ofrece una cuenta de prueba La cual usted puede usar para practicar y familiarizarse con la plataforma
Regulado por la Autoridad de Conducta Financiera del Reino Unido (UK FCA) (FRN: 509909), CySEC (Licence: 250/14), ASIC (AFSL #417727), and Emisor de Licencias de derivativos de Nueva Zelanda FSP N° (FSP #486026). Plus500 coloca los fondos de todos los clientes un una cuenta bancaria separada, En un banco de primer nivel Plus500 Fue establecido en, ha estado establecido desde, 2008 , y tiene su oficina principal en Israel .
Antes de ahondar en algunos de los aspectos más detallados de Plus500 's diferenciales, costos, plataformas, y las características de inversión, Usted puede desear abrir Plus500 's la nueva ventana, en una nueva página, presionando el botón de abajo, para que pueda ver la última información directamente Plus500.
Abra una cuenta de práctica Visite Plus500
Full disclosure: We may receive a commission if you sign up with a broker using one of our links. Your capital is at risk. CFDs are leveraged products & 80.6% of traders lose money when trading CFDs.
¿Que son ? Plus500's diferenciales y costos,
Como la mayoría de corredores., Plus500 toman una pequeña porción de la diferencia entre el precio de compra y el precio de venta de un instrumento
Los diferenciales mostrados debajo, estaban basados en los mínimosfixed ofrecidos en Plus500's este sitio web. Las barras de colores, muestran qué tan competitivos Plus500' son los diferenciales, en comparación con otros corredores anunciados en BrokerNotes
Spreads are dynamic and are for informational purposes only. Last updated: June 06, 2018.

Como puede ver Plus500 's el mínimo diferencial o spread entre EUR/USA es de0.60 pips, el cual es relativamentebajo comparado con los diferenciales o spreads promedios para EUR/USA 0.82 pips, Debajo está la descripción de cuanto le costaría invertir en un lote de EUR/USD en Plus500 Vs un corredor similar
Ver todos los diferenciales
O seu capital esté em risco
¿Cuanto Plus500 cobran por invertir en un lote de EUR/USD?
si usted fuera a comprar un lote estándar de EUR/USD (de100K unidades) con Plus500 a una tasa de cambio de 1.1719 y luego vender este, al mismo precio el día siguiente usted podría tener que pagar15.4. Aquí encuentra un desglose rápido de los costos y cómo se comparan con XTB & City Index .
Plus500

XTB

City Index

Diferenciales desde

:
$ 6.00
$ 2.00
$ 5.00

Comisión overnight típica

:
$ 9.40
$ 7.94
$ 20.60

Comisión

:
0
0
0
Total cost of a 100k trade:
$ 15.4
$ 9.94
$ 25.6

-5 menor

$10.20 mayor

Visite Plus500
Visite XTB
Visite City Index
Todos las comisiones y precios se ofrecen para su información referencial solamente, y están sujetas a cambio. Última actualización: 09/03/2018. O seu capital esté em risco
En que puede invertir con Plus500?
Plus500 ofrece mas de 2,000 diferentes instrumentos para invertir, incluyendo más de 61 pares de monedas. Nosotros hemos resumido todos los diferentes instrumentos ofrecidos porPlus500 debajo, con los instrumentos ofrecidos por XTB yCity Index para comparar
| FX/Monedas | Plus500 | XTB | City Index |
| --- | --- | --- | --- |
| pares de monedas ofrecidos | 61 | 48 | 84 |
| Los principales pares de divisas | Yes | Yes | Yes |
| pares de divisas menores | Yes | Yes | Yes |
| pares de divisas exóticas | Yes | Yes | Yes |
| criptomoneda | Yes | Yes | Yes |
| Productos CFDs | Plus500 | XTB | City Index |
| --- | --- | --- | --- |
| de productos ofrecidos | 17 | 21 | 26 |
| Metales | Yes | Yes | Yes |
| Energías | Yes | Yes | Yes |
| Agricultura | Yes | Yes | Yes |
O seu capital esté em risco
Cual es el. Plus500 experiencia de inversores como?
1)Plataforma y aplicaciones
Plus500 ofrece una plataforma de inversión personalizada fácil de usar, disponible como un programa descargable o puede usarse en línea con cualquier buscador como una WebTrader. Si usted es comparación de corredores con MT4 aquí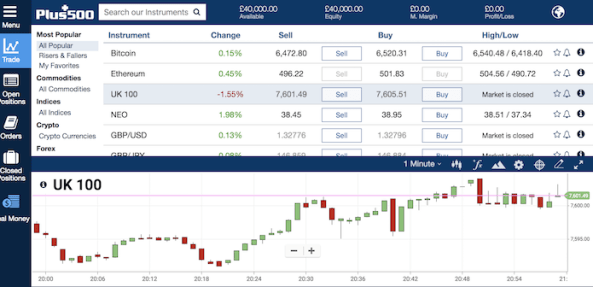 VerPlus500 's Plataforma
Plus500 también ofrece aplicaciones móviles para dispositivos con Android e iOS, por lo que le hace más fácil vigilar y ejecutar sus transacciones mientras está en movimiento.
VerPlus500 's plataforma
O seu capital esté em risco
2)Ejecutar inversiones
With Plus500,tanto los requisitos de inversión mínimo como máximo varían según el inversionista y el instrumento.

Como un creador de mercado Plus500 puede tener requisitos de entrada más bajos en comparación con un intermediario de ECN, que se beneficia de un mayor volumen de operaciones y, por lo general, tiene mayores requisitos de capital mínimo de inversión. Los creadores de mercado suelen exigir un depósito mínimo
como con la mayoría de los corredores, los requisitos de margen varían dependiendo del inversionista, las cuentas y los instrumentos, pero a modo de guía,
Plus500además ofrece un número de características útiles para el manejo de riesgo, tales comodetección de pérdidas (con detección de pérdidas por porcentaje o trelling stop), limite de ordenes protección contra saldos negativos alerta de precios y mucho más, Puede ver todas las características de la cuenta ofrecida porPlus500 aquí.
Finalmente hemos creado una lista de los métodos para ingresar dinero en su cuenta Plus500 ofrece sus inversores en la derecha
3)Asistencia al cliente
Plus500 Asistencia a Amplio rango de idiomas incluyendo English, French, Italian, Spanish, Portuguese, German, Dutch, Polish, Arabic, Hebrew, Danish, Norwegian, Czech, Slovak, Bulgarian and Chinese.
Plus500 posee una calificación de asistencia triple AAA de parte de BrokerNotes porque ofrece una amplia gama de idiomas, chat en vivo, asistencia telefónica y asistencia por correo electrónico.
4)Por que usted necesitará abrir una cuenta con? Plus500
Como Plus500 está regulado por Financial Conduct Authority (FRN 509909) and Cyprus Securities and Exchange Commission (License No. 250/14) , cada nuevo cliente debe aprobar unas cuantas comprobaciones básicas de cumplimiento para asegurar que comprende los riesgos de las inversiones y que se le permita invertir. Al abrir una cuenta, es probable que se le pida los siguientes, por lo que es bueno tener estos documentos a la mano:
Una fotocopia escaneada a color de su pasaporte, licencia de conducir, o documento de identidad nacional
Un recibo de algún servicio básico, o copia del estado de cuenta bancario, en el cual se vea reflejada su dirección actual
También tendrá que responder algunas preguntas básicas de corroboración y cumplimiento para confirmar la cantidad de experiencia de inversor que usted tiene, por lo que es mejor separar al menos 10 minutos para poder completar el proceso de apertura de la cuenta.
Mientras usted puede explorar Plus500's Emplear la plataforma de inmediato puede no ser posible, es importante que tenga en cuenta que no podrá realizar ninguna transacción, hasta que apruebe la fase de corroboración y cumplimiento, esto puede demorar algunos días dependiendo de su situación.
Para comenzar el proceso de abrir una cuenta Plus500 Usted puede Visite su sitio web.
An insider look at trading with Plus500
If you're wondering how Plus500 works or just want to see inside their platform, you can watch the following video by Plus500.
What trading platforms do Plus500 offer?
Plus500 offers its clients access to several trading platform applications, compatible with different dekstop, smartphone and tablet devices. These are as follows:
Plus500 Webtrader (web-based trading application). This can run on Google Chrome, Internet Explorer and Mozilla Firefox.
iOS Trading application for iPhones and iPads
Android Trader for Android-based devices
Windows trader, which is the desktop application that can be downloaded onto computers that run on Microsoft Windows.
Windows 10 Trader, specifically built to run on Windows computers that run on Windows 10 software.
Windows phone app.
Plus500 WebTrader Interface
The Plus500 Webtrader has a simplified interface which features the asset groups, which can be accessed by the Trade button on the top of the page. It is also possible to view active and closed positions on the navigation bar, just to the right of the Trade button.
The assets that the trader can trade are listed, with each listing showing the Bid and Ask prices as well as the highest and lowest prices for the day. Traders can choose to Buy or Sell an asset by clicking the respective buttons located beside the Bid and Ask prices. The chart for the selected asset is shown below the asset prices. Traders can switch between line charts, bar charts or candlestick charts using the appropriate buttons just located above the chart window.
How to trade on Plus500
To trade an asset, simply click Buy next to the ask price, or Sell next to the bid price (the prices listed to the left). When these buttons are clicked, a small window opens which shows the asset, the current price, the amount to be invested in the trade, the required margin as well as the stop loss and take profit prices.
Each of these settings can be adjusted, after which the trader can click the trade execution button (which in this snapshot is SELL).
What risk management tools do Plus500 offer?
The following are the risk management tools available on the platforms of Plus500.
Account Leverage
With Plus500, the trader can adjust the leverage as desired. So it is possible to use a leverage of 1:20 in one trade, and 1:50 in another.
'Close at Profit' [Limit] or 'Close at Loss' [Stop loss] rates
These are basically instructions to close out trades at the stop loss or take profit levels which have been pre-defined during trade setup.
Guaranteed Stop
A guaranteed stop loss protects the trader's capital in the event of a large market gap or a massive slippage. On Plus500, you can use a guaranteed stop only for certain assets. A checkbox will be displayed beside any instrument that supports this facility. A Guaranteed Stop must be selected while setting up a new trade. It cannot be used for active positions.
Price alerts
It is possible to set price alerts to provide notifications when the asset has hit a certain buy or sell price. This function can be seen in the instrument list as a bell icon. Click on this bell open a "Price Alert" screen. The price alert is given to the trader in the form of an SMS, email or push notification.
For instance, if gold is trading at $1205 an ounce, and you think there will be a trade re-entry opportunity at a price of $1,050, you can set a price alert for this price. If the price of gold retreats to this level, you get a notification on the new price. This can be a useful facility for those trading with limit orders.
Trailing Stop
A trailing stop is a trade protection facility that automatically protects a position from reverse movements while locking in profits when the price moves in the direction of the trade. It is not guaranteed.
A trailing stop moves with the trade when it is in profit territory. In other words, it chases the trade. If the market reverses against the position, it freezes and can also close out the position when the market price hits the trailing stop level.
Los CFD son productos apalancados y pueden provocar la pérdida total de su capital. Toda inversión implica riesgos. Solo invierta o emplee el capital de riesgo que esté preparado para perder. El rendimiento que haya obtenido en el pasado no garantiza resultados futuros.
Este post es para fines educativos y no debe ser considerado como un asesoramiento de inversión. Toda la información obtenida de http://www.plus500.co.uk/ sobre agosto 20, 2018.
Our trust rating is calculated as follows:
To achieve a B rating:
The broker must be regulated
To achieve an A rating:
Everything above, plus:

The broker must have been established for more than 10 years
Must use segregated bank accounts to hold client funds
Must use Tier-1 bank accounts to hold client funds
To achieve an AA rating:
Everything above, plus:
Must be in the top 100,000 most popular websites according to Alexa
To achieve an AAA rating:
Everything above, plus:
Must not have received any fines in the past five years
Standard accounts typically allow you to trade in standard lots (100,000 unites of the base currency).
This is the minimum amount of money you have to deposit to open an account.
A stop loss is an order to sell a security when it reaches a certain price, and is designed to help traders manage risk. Stop losses are not guaranteed.
Negative balance protection prevents your account balance from going below zero by closing your losing trades automatically.
Micro accounts allow you to trade micro lots (1,000 units of the base currency).
Mini accounts allow you to trade mini lots (10,000 units of the base currency).
A zero spread account allows you to trade by paying only a commission per trade rather than paying a spread.
Scalping is a trading strategy whereby a trader attempts to profit from small price changes.
Not all brokers allow hedging (opening two or more positions with negative correlations with the aim of offsetting your risk) as this can increase the broker's risk.
Brokers that offer STP (Straight Through Processing) execution route their clients' orders directly to their liquidity providers who have access to the interbank market (and the most competitive spreads).
Expert advisors (sometimes called 'EAs' for short or robo advisors) are software algorithms that enable traders to automate research and trading on the MetaTrader platforms.
An ECN broker (electronic communications network broker) connects buy/sell orders with a network of liquidity providers, banks, and other brokerages. ECN brokers typically offer variable spreads and have the added benefit of tolerating most trading strategies, including scalping.
Multi account manager (MAM) accounts are suitable for money managers that manage multiple client accounts.
Managed accounts allow you to instruct a manager to trade on your behalf and are designed for those who want to participate in the markets but don't have the time to do so.
Paying interest is forbidden according to islam. As such, islamic trading accounts do not allow the account owner to earn/pay interest. These accounts are sometimes referred to as swap-free accounts.
Spreads are indicative only. Visit Broker website for more details.
MetaTrader 4 is a popular platform used for trading Forex, analysing financial markets and using Expert Advisors.
WebTrader enables you to trade online through your web browser on any computer without having to download any software.
Micro accounts allow you to trade micro lots (1,000 units of the base currency).
VIP accounts are designed for the most active traders, and typically include perks like lower spreads, a virtual private server (VPS) and a dedicated account manager. VIP accounts typically require a deposit size above $10,000
If a broker offers fixed spreads this means that their spreads will remain constant regardless of trading conditions.
If a broker offers variable spreads this means that their spreads will vary depending on trading conditions.
A market maker broker will buy/sell the opposite position of your trades. In other words, when you sell a position, the broker will buy it, and vis versa. Market maker brokers typically offer fixed spreads and have a better range of support and platform options.
Direct market access (sometimes called level 2 trading or DMA) allows you to submit buy or sell orders directly to the order book of an exchange. The main advantage of this is that you can achieve a slightly better price on your orders as there is no market maker involved to take a cut.
Between 54-87% of retail CFD accounts lose money. Based on 69 brokers who display this data.