Pros
Segregates client funds
Established in 2010
Regulated by Financial Conduct Authority, CySEC and ASIC
Min. deposit from

$500
To open a live account, you'll need a minimum deposit of at least $500. Alternatively, IronFX offers a demo account that you can use to practice and familiarise yourself with their platform.
Regulated by the Financial Conduct Authority, UK (FRN: 585561), CySEC (Licence: 125/10), and ASIC (AFSL #417482). IronFX puts all client funds in a segregated bank account and uses tier-1 banks for this. IronFX has been established since 2010, and have a head office in Cyprus.
Before we dive into some of the more detailed aspects of IronFX's spreads, fees, platforms and trading features, you may want to open IronFX's website in a new tab by clicking the button below in order to see the latest information directly from IronFX.
Full disclosure: We may receive a commission if you sign up with a broker using one of our links.
What are IronFX's spreads & fees?
Like most brokers, IronFX takes a fee from the spread, which is the difference between the buy and sell price of an instrument.
The commisions and spreads displayed below are based on the minimum spreads listed on IronFX's website. The colour bars show how competitive IronFX's spreads are in comparison to other popular brokers featured on BrokerNotes.
IronFX

EUR/USD

(Average: 0.7 pips)

Not offered

0.7 pips

0.1 pips

GBP/USD

(Average: 1.1 pips)

Not offered

1.7 pips

0.1 pips

USD/JPY

(Average: 1.1 pips)

Not offered

0.6 pips

0.1 pips

AUD/USD

(Average: 0.8 pips)

Not offered

0.6 pips

0.2 pips

USD/CHF

(Average: 2.3 pips)

Not offered

2.3 pips

0.2 pips

USD/CAD

(Average: 2.9 pips)

Not offered

0.5 pips

0.3 pips

NZD/USD

(Average: 3.6 pips)

Not offered

2.8 pips

0.3 pips

EUR/GBP

(Average: 2.4 pips)

Not offered

0.5 pips

0.1 pips
Spreads are dynamic and are for informational purposes only.
As you can see, IronFX's minimum spread for trading EUR/USD is pips - which is relatively low compared to average EUR/USD spread of 0.70 pips. Below is a breakdown of how much it would cost you to trade one lot of EUR/USD with IronFX vs. similar brokers.
See all Spreads
How much does IronFX charge to trade 1 lot of EUR/USD?
If you were to buy one standard lot of EUR/USD (100k units) with IronFX at an exchange rate of 1.1719 and then sell it the next day at the same price you would likely pay $16.71. Here's a rough breakdown of the fees and how this compares against IG & XTB .
IronFX

IG

XTB

Spread from

:
$ 10.00
$ 6.00
$ 2.00

Commission

:
$0.00
$0.00
$0.00
Total cost of a 100k trade:
$ 10.00
$ 6.00
$ 2.00

$4 less

$8 less

Visit IronFX
Visit IG
Visit XTB
All fees/prices are for informational purposes and are subject to change.
What can you trade with IronFX?
IronFX offers over 256 different instruments to trade, including over 120 currency pairs. We've summarised all of the different types of instruments offered by IronFX below, along with the instruments offered by IG and XTB for comparison.
| FX / Currencies | IronFX | IG | XTB |
| --- | --- | --- | --- |
| # of forex pairs offered | 120 | 90 | 48 |
| Major forex pairs | Yes | Yes | Yes |
| Minor forex pairs | Yes | Yes | Yes |
| Exotic forex pairs | Yes | Yes | Yes |
| Cryptocurrencies* | Yes | Yes | Yes |
| Commodity CFDs | IronFX | IG | XTB |
| --- | --- | --- | --- |
| # of commodities offered | 0 | 34 | 21 |
| Metals | Yes | Yes | Yes |
| Energies | Yes | Yes | Yes |
| Agricultural | No | Yes | Yes |
What's the IronFX trading experience like?
1) Platforms and apps
IronFX offers the popular MT4 forex trading platform. To see a list of the top MT4 brokers, see our comparison of MT4 brokers. The combination of downloadable platforms for both Mac and Windows allows traders to trade with their device of choice.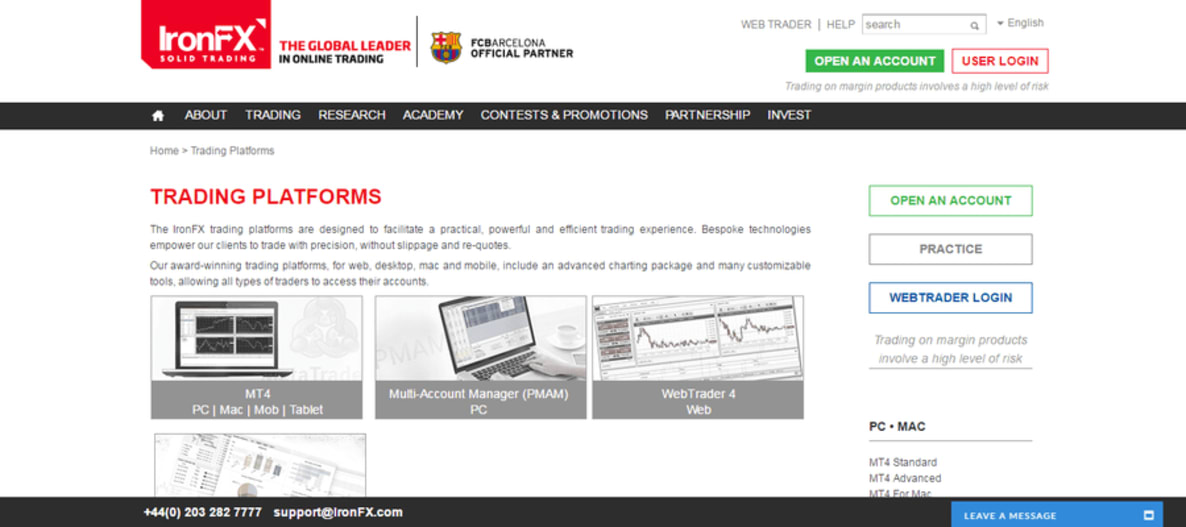 IronFX also offer mobile apps for Android and iOS, making it easier to keep an eye on and execute your trades while you are on the move.
See IronFX's platforms
2) Executing Trades
IronFX allows you to execute a minimum trade of 0.01 Lot. This may vary depending on the account you open. The maximum trade requirements vary depending on the trader and the instrument. As IronFX offer ECN and STP execution, you can expect very tight spreads with more transparency over the price you're paying to execute your trades.

As a market maker, IronFX may have lower entry requirements compared to an ECN broker who benefits from a higher volume of trades and typically has larger capital and minimum trade requirements. Market makers typically have a lower minimum deposit, smaller minimum trade requirements and no commission on trades.
As a nice bonus, IronFX are one of very few brokers that claim to have no requotes, so you don't have to worry about slippage (your trades being ordered at a different price to what you executed them at).
As with most brokers, margin requirements do vary depending on the trader, accounts and instruments. You can see the latest margin requirements on their website.
IronFX also offers a number of useful risk management features, such as stop losses (with trailing stops), limit orders negative balance protection price alerts and much more. You can see all of the account features offered by IronFX here.
Finally, we've listed some of the popular funding methods that IronFX offers its traders below.
Trading Features:
Allows scalping
Allows hedging
Offers STP
Low min deposit
Offers Negative Balance Protection
Accounts offered:
Demo account
Micro account
Mini account
Standard account
Zero spread account
ECN account
Islamic account
Funding methods:
Credit cards
Bank Transfer
Payoneer
Neteller
3) Client support
IronFX support a wide range of languages including English, Bulgarian, Chinese, French, German, Greek, Hebrew, Hindi, Hungarian, Indonesian, Italian, Japanese, Korean, Malay, Polish, Portuguese, Romanian, Russian, Spanish, Thai, Vietnamese, Arabic, Bengali, Urdu, Czech, Farsi, and Slovak.
IronFX has a BrokerNotes A support rating because IronFX offer over three languages and email support.live chat support.phone support.
4) What you'll need to open an account with IronFX
As IronFX is regulated by Financial Conduct Authority, CySEC and ASIC , every new client must pass a few basic compliance checks to ensure that you understand the risks of trading and are allowed to trade. When you open an account, you'll likely be asked for the following, so it's good to have these handy:
A scanned colour copy of your passport, driving license or national ID
A utility bill or bank statement from the past three months showing your address
You'll also need to answer a few basic compliance questions to confirm how much trading experience you have, so it's best to put aside at least 10 minutes or so to complete the account opening process.
While you might be able to explore IronFX's platform straight away, it's important to note that you won't be able to make any trades until you pass compliance, which can take up to several days, depending on your situation.
To start the process of opening an account with IronFX you can visit their website here.
A Review & Guide to Trading with IronFX
Founded in 2010, IronFX is considered to be one of the leading online Forex trading platforms. The first primary benefit of this firm is that more than 60 offices are located around the world and no less than 45 different languages are spoken. IronFX is also regulated by a number of governmental agencies such as:
Financial Conduct Authority (United Kingdom)
CySEC (Cyprus)
ASIC (Australia)
FSP (New Zealand)
Additionally, IronFX is a full member of the Eurex exchange and likewise complies with the MiFID. What are some of the most important features to consider when examining this platform in a bit more detail?
Platforms Used
IronFX is seen as one of the most versatile Forex portals in existence. This arises from the fact that numerous trading platforms are available. These include their own proprietary Web Trader system, the respected Meta Trader 4, A Personal Multiple Account manager (PMAM) and a multiple terminal system for those who wish to oversee several trading accounts within a single screen. It should also be noted that IronFX provides services for mobile devices. The systems that are currently accommodated include:
Blackberry
Android
iOS
PDA devices
These levels of versatility are indeed impressive and are some of the primary reasons why Forex traders are attracted to this portal.
Leverages
The ability to leverage one's position is an obvious benefit to any Forex trader. It must be noted here that high leverage carries a great deal of financial risk and should only be undertaken by those with a considerable amount of experience within the industry.
Trading Amenities
IronFX offers a handful of benefits to clients of all sizes. Besides the previously mentioned mobile trading capabilities, customers can also enjoy one-click trades, automated orders, swaps (overnight interest rates) and hedging. For those who are interested, this is one of a handful of portals where scalping IS allowed. Both fixed and variable spreads can be chosen while there are five digits quoted 'after the dot' (many brokers only offer four).
Trading Platform Options
Many users will choose to employ the clarity and insight provided by Meta Trader 4. This system is highly intuitive, executes orders with negligible lag time and provides online news, charts and activity reports.
However, a powerful (and nearly equal) alternative can be seen in the proprietary WebTrader software package developed by IronFX themselves. Note that the WebTrader is based within the browser; there is no need for it to be downloaded.
Finally, their smartphone trading variant directly mirrors the WebTrader system designed for the PC. It needs to be remembered that the efficacy of any of these platforms will also depend upon one's available system memory as well as the Internet connection speed.
For those who are interested in trying out IronFX before making a final decision, another massive benefit is that a free demo account is available. Unlike some other competitors, this account can be used for an unlimited amount of time and all trading platforms can be accessed. This will enable a novice to accurately discover which system may be the most appropriate for him or her.
Account Types
IronFX provides users with the choice of four different accounts. These are known as:
An ECN account requires a minimum of $500 dollars to be activated. Variable spreads are used and the average spread offers 1.7 pips. The minimum position size is 0.1 lots.
Their Premium variant requires $2,500 dollars as an initial outlay. The spreads here are fixed while being narrowed to 0.7 pips (worth noting).
VIP accounts can be obtained with $20,000 dollars or more. The spreads here have been further diminished to only 0.2 pips and once again, they are fixed. The primary difference between the Premium and VIP accounts therefore revolves around the spread levels.
Finally, a Micro trading account can be opened for $500 dollars. Spreads are fixed and their levels have increased to 1.1 pips (still below the 1.7 associated with the ECN account). Scalping is encouraged within this variant.
Customer Support
IronFX is said to have one of the most robust client support databases in the industry. It is available in numerous languages and currently, these methods include:
Skype
Email
Callbacks
Live chat
Forums
Telephone
These are some of the hallmarks of IronFX. Perhaps the only noticeable drawback is that at a minimum of $500 dollars to open a basic account, those with limited funds may find the service inaccessible. Still, this is one of the leading online Forex brokers in today's competitive marketplace.
Want to see how IronFX stacks against other brokers?
See a list of brokers to compare IronFX with below:
Forex Capital Markets VS IronFX .©
CFDs are leveraged products and can result in the loss of your capital. All trading involves risk. Only risk capital you're prepared to lose. Past performance does not guarantee future results. *Availability subject to regulation.
This post is for educational purposes and should not be considered as investment advice. All information collected from www.ironfx.com on 01/01/2022.