PRO
Segrega i fondi dei clienti
Fondato il 2008
Regolamentato da Financial Conduct Authority
Deposito min. da

$1
Per aprire un conto live, è necessario un deposito minimo di almeno $1. In alternativa; Ayondo offerta un account demo che puoi usare per esercitarti e familiarizzare con la loro piattaforma.
Regolamentato da la Financial Conduct Authority, UK (FRN: 184333). Ayondo mette tutti i fondi dei clienti in un conto bancario segregato e utilizza per questo banche tier-1. Ayondo è stata fondata dal 2008, e ha la sede in .
Prima di immergerci in alcuni degli aspetti più dettagliati degli Ayondo 's spread, commissioni, piattaforme e funzionalità di trading, potresti voler aprire Ayondo 's sito web in una nuova scheda facendo clic sul pulsante qui sotto per vedere le ultime informazioni direttamente da Ayondo.
Piena divulgazione: potremmo ricevere una commissione se ti iscrivi con un broker utilizzando uno dei nostri link.
Cosa sono Ayondo's gli spread & commissioni?
Come quasi tutti i broker, Ayondo preleva una commissione dallo spread, che è la differneza tra il prezzo di acquisto e di vendita di uno strumento.
Gli spread mostrati qui di seguito sono basati sui minimifixed spread elencato sul Ayondo's sito . Le barre colorate mostrano quanto competitivi sono Ayondo' spread in confronto agli altri broker popolari presentati su BrokerNotes.
Spreads are dynamic and are for informational purposes only.

Come puoi vedere, Ayondo 's lo spread minimo per il trading EUR/USD è di0.8 pips - che è relativamentebasso confrontato allo spread medio EUR/USD di 0.82 pips. Di seguito è riportato un dettaglio di quanto ti costerebbe negoziare un lotto di EUR/USD con Ayondo vs. broker similari.
Vedi tutti gli Spread
Quanto Ayondo addebita per negoziare 1 lotto di EUR/USD?
Se dovessi comprare un lotto standard di EUR/USD (100k unità) con Ayondo ad un tasso di cambio di 1.1719 e poi venderlo il giorno successivo allo stesso prezzo, probabilmente pagherai $8. Ecco un'analisi approssimativa delle spese e in che modo si confronta City Index & XTB .
Tutte le tariffe/prezzi sono a scopo informativo e sono soggetti a modifiche. Ultimo aggiornamento
Cosa potete scambiare con Ayondo?
Ayondo offerte oltre 181 diversi strumenti da scambiare, comprese oltre 36 coppie di valute. Abbiamo riassunto i diversi tipi di strumenti offerti daAyondo sotto, insieme agli strumenti offerti da City Index eXTB per confronto.
| FX / Valute | Ayondo | City Index | XTB |
| --- | --- | --- | --- |
| delle coppie forex offerte | 36 | 84 | 48 |
| coppie forex principali | Yes | Yes | Yes |
| coppie forex minori | Yes | Yes | Yes |
| coppie forex esotici | Yes | Yes | Yes |
| criptovaluta | Yes | Yes | Yes |
| CFD su Materie Prime | Ayondo | City Index | XTB |
| --- | --- | --- | --- |
| delle materie prime offerte | 6 | 26 | 21 |
| Metalli | | Yes | Yes |
| Energie | | Yes | Yes |
| Agricoli | | Yes | Yes |
Com'è Ayondo l'esperienza di trading?
1)Piattaforme ed app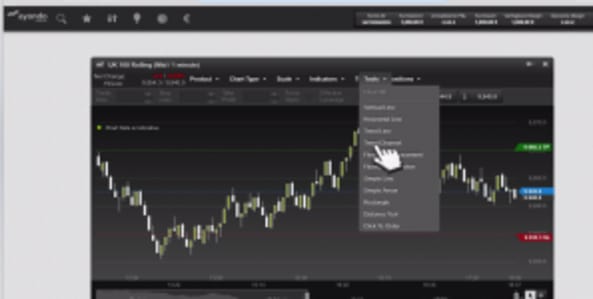 Ayondo offre anche app per dispositivi mobili per Android e iOS, rendendo più facile tenere d'occhio ed eseguire i tuoi scambi mentre sei in movimento.
VediAyondo 's piattaforme
2)Esecuzione di Scambi
Ayondo ti permettono di eseguire uno scambio minimo di . Ciò può variare a seconda del conto che apri. Ayondo ti permettono di eseguire uno scambio massimo di di.
Come con la maggior parte dei broker, i requisiti di margine variano a seconda del trader, dei conti e degli strumenti.
Infine, abbiamo&rsquo elencato alcuni dei più popolari metodi di finanziamento che Ayondo offre ai suoi trader sulla destra.
3)Assistenza clienti
Ayondo supporta unnumero limitatoinclude .
Ayondo hanno una valutazione dell'assistenza con una A di BrokerNotes perchéAyondo offrono oltre tre lingue e assistenza via mail e telefonica.
4)Di cosa avrete bisogno per aprire un conto presso Ayondo
Dato che Ayondo è regolamentato da Financial Conduct Authority , ogni nuovo cliente deve superare alcuni controlli di conformità di base, per assicurarsi che abbia compreso i rischi del trading, e che possa operare. Quando apri un conto, ti verrà chiesto probabilmente quanto segue, quindi è utile avere queste informazioni a portata di mano:
Una copia scansionata a colori del passaporto, della patente di guida o della carta di identità
Una bolletta di un'utenza domestica o un estratto conto bancario degli ultimi tre mesi che mostra il tuo indirizzo
Dovrai anche rispondere ad alcune domande di conformità di base per confermare quanta esperienza di trading hai, quindi è meglio che tu ti tenga almeno 10 minuti circa per completare la procedura di apertura del conto
Mentre potrai esplorare Ayondo's direttamente la piattaforma, è importante notare che non sarai in grado di effettuare alcuna transazione fino a quando non avrai superato il controllo di conformità, che può richiedere diversi giorni, a seconda della tua situazione.
Per avviare il processo di apertura di un conto presso Ayondo puoi visitare il suo sito web qui.
A Review & Guide to Trading with Ayondo
The trading platform Ayondo was initiated in 2009 out of Germany. Espousing the ever-increasing popularity of the 'social trading' system, Ayondo aims to connect small- to medium-sized investors with their top-tier traders. Thus, this can be seen as being as much of an educational platform as a simple online trading system. For anyone who may wish to join this site, it is important to take a look at some of the key metrics before fully committing.
Underlying Assets
Ayondo offers a host of different instruments to trade. These include:
More than 30 currency pairs (Forex)
CFDs
Major Asian, European and American indices
Bonds
Precious metals
Larger blue-chip companies such as Coca-Cola and Starbucks
This is notably different than some other platforms which only specialise in one field or another. Thus, the average trader has a great deal of options to suit his or her individual tastes and levels of exposure.
Educational Services
Currently, Ayondo claims to offer over 1,000 'top-level' traders. However, it is important to note that only a handful have garnered an appreciable number of followers. This therefore calls into question the efficacy of the bulk of these investors. However, those who do have followers are said to provide steady returns; many of these have been with Ayondo for over two years. These traders can be followed based upon criteria such as their profit-loss ratio, followers or their trading frequency.
The performance of these traders is graphically displayed within the Ayondo interface, so determining who is the best suited can be quite easy. A complete transaction history can likewise be viewed and their overall performance is tracked alongside the major indices. This is particularly important to observe longitudinal results. While the 'interactive' aspect is not necessarily like the forums and live communication that is seen on other sites, the hard data provided can serve to provide much clarity and insight.
Time Delays and Slippage
These factors have been a concern with other social trading sites and are therefore worth mentioning. Slippage is defined as the difference between the levels that a top trader closes at and the figures that a follower receives upon execution. As both trades will be performed through the same platform, this proportion is actually kept to a minimum. Of course, part of this will be associated with the speed of the computer in question. Succinctly, both time delays and slippage are negligible.
Commissions and Fees
One of the most interesting aspects of Ayondo is that the client will not be charged any commissions or fees when following the trades of a broker. This arises from the fact that Ayondo receives remuneration from the Forex broker in question. These fees are derived from the spread so in many ways, everyone involved benefits. Another notable feature is that any trader who moves his or her current account to Ayondo will receive a cash bonus. Certain terms and conditions will apply.
On a final note in regards to monetary concerns, many analysts have noted that the entry levels to begin trading are quite amenable when compared to similar services. These can be 100 dollars, euros or pounds.
Trading Levels
As one progresses with Ayondo, there are different trading levels which will be enjoyed. These vary from 'Street Trader' to 'Institutional'. Additionally, the commissions that the trader will be paid FROM Ayondo will increase with each level (assuming that their performance remains constant; one can also be downgraded for poor trades). Once a trader has more than 500 dollars, pounds or euros in an account, he or she will receive what is known as a 'Money Trader's Badge'.
Interface and Functionality
Billed as 'Next Generation Trading', their TradeHub system is quite streamlined and easy to work with. It should therefore not take beginning long to pick up on the basic layout and functionality. The platform can be customised to the discrete preferences of the user; affording a faster trade execution. Cash balances and margins are clearly displayed as are the trading products. Filters can be adjusted to suit specific interests. OCO orders are likewise available and importantly, guaranteed stop-loss amounts are automatically included with a position. For those who are executing multiple trades or are following the maximum number of five 'top-tier' investors, such a fluid platform is essential. This software is also available for smartphone users.
The Verdict
Overall, Ayondo seems to be one of the fairest trading systems currently available. This is in no small part due to the fact that no commissions or fees will be charged to the trader. Combined with amenable entry levels and the ability to follow up to five experts, such social trading indeed has its benefits.
There are nonetheless a few drawbacks. As the number of top traders is still limited, overall results can be skewed in either direction. Another significant disadvantage is that the client is unable to view which trader has contributed the most to their performance in either direction. This may make interpreting results a bit difficult.
Nonetheless, Ayondo is still growing. Should the number of top traders continue to increase, this platform may very well become extremely diversified. As a fully functional demo account can be activated, it will be easy for the potential client to appreciate the overall functionality before making any final decision.
I CFD sono prodotti con leva e possono comportare la perdita del capitale. Tutto il trading comporta dei rischi. Solo il capitale di rischio sei disposto a perdere. Le performance passate non garantiscono risultati futuri.
Questo post è a scopo didattico e non dovrebbe essere considerato come un consiglio di investimento. Tutte le informazioni raccolte da http://www.ayondo.com/ su 01/05/2019.