panoramica
Hargreaves Lansdown è un fornitore di servizi di investimento e tradng stabilita. Hargreaves Lansdown offrono una moltitudine di servizi finanziari, comprese ISA, pensioni, quota dealint, fondi comuni di investimento, ETF, consulenza finanziaria e spread betting e CFD servizi di trading.
PRO
Segrega i fondi dei clienti
Fondato il 1981
Regolamentato da Financial Conduct Authority
Deposito min. da

$200
CONTRO
Commissione di inattività
Gamma limitata di strumenti
Non è regolamentato dall'ASIC (Vedi alternative)
Per aprire un conto live, è necessario un deposito minimo di almeno $200. In alternativa; Hargreaves Lansdown offerta un account demo che puoi usare per esercitarti e familiarizzare con la loro piattaforma.
Regolamentato da la Financial Conduct Authority, UK (FRN: 115248). Hargreaves Lansdown mette tutti i fondi dei clienti in un conto bancario segregato e utilizza per questo banche tier-1. Hargreaves Lansdown è stata fondata dal 1981, e ha la sede in .
Prima di immergerci in alcuni degli aspetti più dettagliati degli Hargreaves Lansdown's spread, commissioni, piattaforme e funzionalità di trading, potresti voler aprire Hargreaves Lansdown's sito web in una nuova scheda facendo clic sul pulsante qui sotto per vedere le ultime informazioni direttamente da Hargreaves Lansdown.
Piena divulgazione: potremmo ricevere una commissione se ti iscrivi con un broker utilizzando uno dei nostri link.
Cosa sono Hargreaves Lansdown's gli spread & commissioni?
Come quasi tutti i broker, Hargreaves Lansdown preleva una commissione dallo spread, che è la differneza tra il prezzo di acquisto e di vendita di uno strumento.
Le commissioni e gli spread mostrati qui di seguito sono basati sui minimispread elencato sul Hargreaves Lansdown's sito . Le barre colorate mostrano quanto competitivi sono Hargreaves Lansdown's spread in confronto agli altri broker popolari presentati su BrokerNotes.
Hargreaves Lansdown

EUR/USD

(Average: 0.7 pips)

Not offered

0.6 pips

+ $1.00

3.0 pips

GBP/USD

(Average: 1.1 pips)

Not offered

0.9 pips

+ $1.00

4.0 pips

USD/JPY

(Average: 1.1 pips)

Not offered

0.7 pips

+ $1.00

2.0 pips

AUD/USD

(Average: 0.8 pips)

Not offered

0.6 pips

+ $1.00

1.0 pips

USD/CHF

(Average: 2.3 pips)

Not offered

1.5 pips

+ $1.00

3.0 pips

USD/CAD

(Average: 2.9 pips)

Not offered

1.7 pips

+ $1.00

3.0 pips

NZD/USD

(Average: 3.6 pips)

Not offered

2.0 pips

+ $1.00

5.0 pips

EUR/GBP

(Average: 2.4 pips)

Not offered

0.9 pips

+ $1.00

4.0 pips
Spreads are dynamic and are for informational purposes only.
Come puoi vedere, Hargreaves Lansdown's lo spread minimo per il trading EUR/USD è di pips - che è relativamentebasso confrontato allo spread medio EUR/USD di 0.70 pips. Di seguito è riportato un dettaglio di quanto ti costerebbe negoziare un lotto di EUR/USD con Hargreaves Lansdown vs. broker similari.
Vedi tutti gli Spread
Quanto Hargreaves Lansdown addebita per negoziare 1 lotto di EUR/USD?
Se dovessi comprare un lotto standard di EUR/USD (100k unità) con Hargreaves Lansdown ad un tasso di cambio di 1.1719 e poi venderlo il giorno successivo allo stesso prezzo, probabilmente pagherai $0. Ecco un'analisi approssimativa delle spese e in che modo si confronta IG & XTB .
Hargreaves Lansdown

IG

XTB

Spread di

:
$ 0.00
$ 6.00
$ 2.00

Commissione

:
$0.00
$0.00
$0.00
Total cost of a 100k trade:
$ 0.00
$ 6.00
$ 2.00

$6 più

$2 più

Visita HL Markets
Visita IG
Visita XTB
Tutte le tariffe/prezzi sono a scopo informativo e sono soggetti a modifiche. Ultimo aggiornamento
Cosa potete scambiare con Hargreaves Lansdown?
Hargreaves Lansdown offerte oltre diversi strumenti da scambiare, comprese oltre coppie di valute. Abbiamo riassunto i diversi tipi di strumenti offerti daHargreaves Lansdown sotto, insieme agli strumenti offerti da IG eXTB per confronto.
| FX / Valute | HL Markets | IG | XTB |
| --- | --- | --- | --- |
| delle coppie forex offerte | | 90 | 48 |
| coppie forex principali | Yes | Yes | Yes |
| coppie forex minori | | Yes | Yes |
| coppie forex esotici | | Yes | Yes |
| criptovaluta* | Yes | Yes | Yes |
| CFD su Materie Prime | Hargreaves Lansdown | IG | XTB |
| --- | --- | --- | --- |
| delle materie prime offerte | | 34 | 21 |
| Metalli | Yes | Yes | Yes |
| Energie | Yes | Yes | Yes |
| Agricoli | Yes | Yes | Yes |
Com'è Hargreaves Lansdown l'esperienza di trading?
1)Piattaforme ed app
Hargreaves Lansdown offrire una piattaforma di trading personalizzata user-friendly, disponibile sia come programma scaricabile che come WebTrader basato su browser. Se stai cercando un broker MetaTrader, guarda il nostro confronto dei broker MT4 qui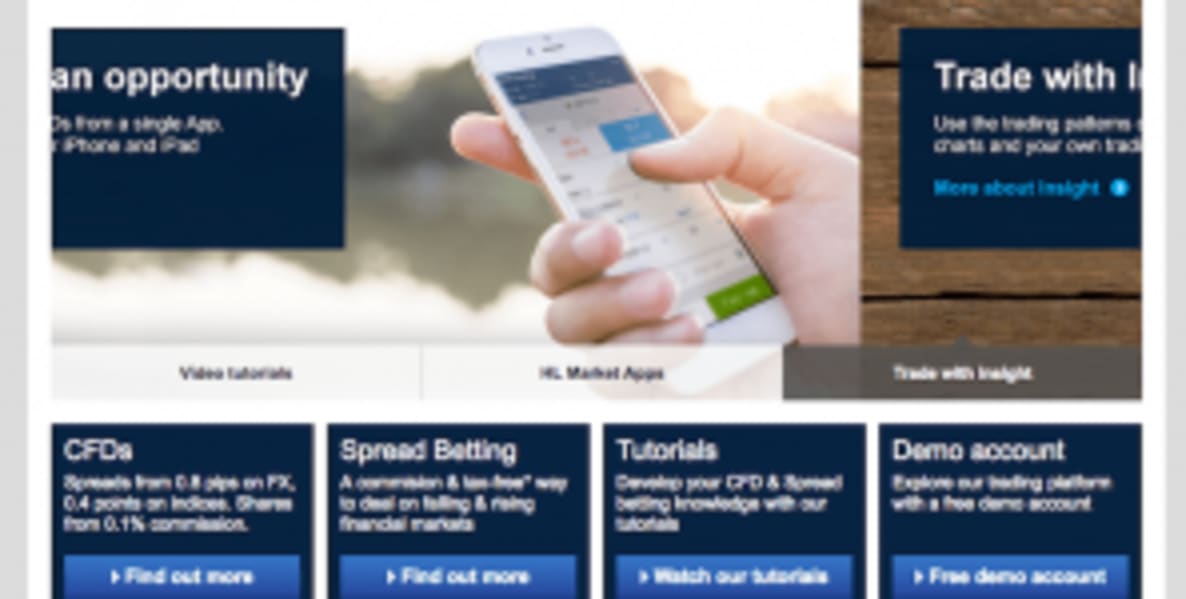 Hargreaves Lansdown offre anche app per dispositivi mobili per Android e iOS, rendendo più facile tenere d'occhio ed eseguire i tuoi scambi mentre sei in movimento.
Vedi HL Markets's piattaforme
2)Esecuzione di Scambi
Hargreaves Lansdown ti permettono di eseguire uno scambio minimo di £1. Ciò può variare a seconda del conto che apri. Hargreaves Lansdown ti permettono di eseguire uno scambio massimo di diVariable.

Essendo un market maker Hargreaves Lansdown potrebbe avere requisiti di ingresso inferiori rispetto a un broker ECN che beneficia di un volume maggiore di scambi, e che in genere ha una capitale più ampio e mini requisiti di scambio. I market maker hanno in genere un deposito minimo più basso, requisiti minimi di negoziazione più piccolo e nessuna commissione sugli scambi.
Come con la maggior parte dei broker, i requisiti di margine variano a seconda del trader, dei conti e degli strumenti.
Infine, abbiamo&rsquo elencato alcuni dei più popolari metodi di finanziamento che Hargreaves Lansdown offre ai suoi trader di seguito.
Caratteristiche di Trading:
Consente scalping
Consente hedging
Basso deposito minimo
3)Assistenza clienti
Hargreaves Lansdown supporta un ampia gamma di lingue include English, French, German, Spanish, and Portuguese.
Hargreaves Lansdown hanno una valutazione dell'assistenza con una A di BrokerNotes perchéHargreaves Lansdown offrono oltre tre lingue.
4)Di cosa avrete bisogno per aprire un conto presso Hargreaves Lansdown
Dato che Hargreaves Lansdown è regolamentato da Financial Conduct Authority , ogni nuovo cliente deve superare alcuni controlli di conformità di base, per assicurarsi che abbia compreso i rischi del trading, e che possa operare. Quando apri un conto, ti verrà chiesto probabilmente quanto segue, quindi è utile avere queste informazioni a portata di mano:
Una copia scansionata a colori del passaporto, della patente di guida o della carta di identità
Una bolletta di un'utenza domestica o un estratto conto bancario degli ultimi tre mesi che mostra il tuo indirizzo
Dovrai anche rispondere ad alcune domande di conformità di base per confermare quanta esperienza di trading hai, quindi è meglio che tu ti tenga almeno 10 minuti circa per completare la procedura di apertura del conto
Mentre potrai esplorare Hargreaves Lansdown's direttamente la piattaforma, è importante notare che non sarai in grado di effettuare alcuna transazione fino a quando non avrai superato il controllo di conformità, che può richiedere diversi giorni, a seconda della tua situazione.
Per avviare il processo di apertura di un conto presso Hargreaves Lansdown puoi visitare il suo sito web qui.
A Review & Guide to Trading with Hargreaves Lansdown
Hargreaves Lansdown PLC is a successful financial service company based in Bristol. It is regulated by the Financial Conduct Authority.
Hargreaves Lansdown PLC is currently the UK's largest fund supermarket. It is a constituent of the FTSE 100. It trades on the London Stock Exchange with the ticker symbol HL., under the name of HARGREAVES LANS. It specialises in fund, pension, wealth and annuity management, stock brokerage and financial advice.
Its flagship Wealth 150 funds list is attracting hoards of investors. Competitors are following in the company's footsteps, dishing out attractive lists of their own. Wealth 150 has no less than 91 funds and Wealth 150+ comprises the best 28 from the previous list.
Transaction fees
Hargreaves Lansdown currently offer execution-only online stock trading compatible with two types of accounts. You can opt for either the share account or the active trader service. The choice is not a matter of personal preferences. You should bear in mind that the two accounts are different only in regards to trade volume and associated benefits. Transaction costs start at £11.95 and decrease with the number of deals. They are calculated based on the number of online or mobile app transactions completed the previous calendar month. Shares, investment trusts and exchange traded funds fall into this category. If 10 to 19 deals were completed, the dealing charge is £8.95 per deal. Investors who trade 20 or more assets will be charged £5.95 per deal. Phone and pot dealings are charged at 1 per cent, with a threshold of £20 minimum and £50 maximum. Dividend reinvestment is charged at 1 per cent, or a minimum of £1 and a maximum of £10. When dealing in equity regular savings, a charge of £1.5 per stock will be deducted monthly.
As of April 2014, it has become illegal for platforms to charge fund providers commissions. So, Hargreaves Lansdown no longer take 0.25 per cent out of the 1.5 per cent annual management fee for advising clients. Instead, Hargreaves Lansdown now charge tiered pricing. A fee of 0.45 per cent is applicable to the investor's holdings in open-ended funds, if they amount to no more than £250,000. Holdings between £250,000 and £1 million are charged 0.25 per cent. Those reaching £2 million are charged 0.25 per cent. Fees are not applied to holdings larger than £2 million. Cash investments are also exempt from any fees. When it comes to fund and share accounts, Hargreaves Lansdown do not charge any annual management fees. However, NISA accounts incur a fee of 0.45 per cent per year, with a maximum threshold of £45 yearly. Similarly, SIPP accounts charge the same percentage, but are capped at no more than £200 a year.
Additional charges
On top of the dealing charges mentioned above, limit orders placed online are charged £10 per deal. On the other hand, those placed online are free. All deals are subject to UK Stamp duty, which amounts to 0.5 per cent. In the case of residual shares, this amount is subsequently rounded up to the nearest £5. The Panel on Takeovers and Mergers levy applies, as well, to UK share deals above £10,000, and it amounts to £1.
Registering for an online account
You should be able to appreciate the advantages of having an Active Trader account immediately or after a few weeks. Your returns depend on the volume of your transactions. Completing 20 or more transactions per month saves you £6 per deal, as compared to dealing 9 or less.
Signing up for your very own Hargreaves Lansdown account is a straightforward matter. The account sign-up page takes you through the process of registering for various types of accounts. These include a fund and share account, a stocks and shares NISA and a SIPP, or Self Invested Personal Pension account. The website is user-friendly and fully functional. The website does not disappoint, as other execution-only platform do. Users are given the necessary tools and market information to make their own trading decisions. Still, a few isolated deals per year do not justify the monthly fees payable to Hargreaves Lansdown. Having access to the online account comes at a price. When large amounts are involved, investors should consider trading regularly. Registering for the online account is straightforward. The form requires you to enter your personal information and client number. This number is provided in the account confirmation letter you receive by post.
Account features
Having an online account entitles you to many innovative website features. A stock market report and a sector report keep you up to date with the latest international influences on global stock markets.
A 'Top of the stocks' section reveals the most traded stocks in the previous week. It compares the percentage share of the deals and the value of transactions on total weekly dealings. Additionally, every registered member receives free market updates via e-mail. These include share research, broker comments and tips, as well as FTSE 100 faller and riser updates. The website also features a Knowledge Centre. This functions as a list of frequently asked questions and answers. Index tracker funds, investment trusts, split capital trusts, annuities and many other services are explained in detail.
A section of the website is dedicated to helpful investment ideas. The Wealth 150+ list and the Master Portfolios are featured heavily throughout the website. Master Portfolios are five ready-made investment portfolios dedicated to long-term investors. With funds from all the main industry sectors managed by specialists, they can suit any level of risk an investor may opt for. Five categories of portfolio style are included. The result of any query is a list of three suggestions based on investment size, risk adversity and preferred return timeframes and levels.
The live share price available on their website is free of charge and constantly updated. It gives you access to your portfolio at all times. Market cap, previous close, trade high and low and total volume are available. Alongside these figures, broker preference charts and recent graphs are at your disposal. Share prices are live, continuously updated and available for you to view and compare at any time, free of charge. Your portfolio valuation is included in the service.
The website gives you access to a wide selection of funds and it even enables you to deal in overseas shares. American, European, Canadian and British shares can be traded from the comfort of your own home. Gilts, investment trusts, corporate bonds and exchange traded funds are just some of the products you can manage online using the website.
Perhaps one of the most attractive features of the website is that you can set your own price for buying and selling particular shares as early as 30 days in advance. You will also be notified when your targeted value has been reached, so that you can limit your orders and minimise your losses.
Should you choose to opt for the automatic dividend reinvestment tool, you will have the added advantage of knowing that whenever your dividends reach your preferred level, they will be reinvested so that you may reap even larger future benefits. This is a low-cost dividend reinvestment scheme with a good deal of flexibility, which gives you peace of mind.
You can also take advantage of the Price Improvement Service, which can poll no less than thirty market markers at any one time, giving you the best price and ensuring higher revenues with considerable savings on your buys and sells.
Some of the other benefits of signing up with HL are the interactive charts, the share price alerts, the research reports, the sector reports and the free, unbiased share tips. Also, let's not forget the Shareholder Perks section, where you have a detailed account of the discounts and freebies offered to company shareholders for holding a certain amount of shares. Not only will you earn dividends for buying your shares through this award-winning stockbrokring platform, but you'll also be able to use your shareholder status to take advantage of cruise, shopping, flight and food discounts, among many others. Exhibits, company tours and shareholder meetings are also available for shareholders who own a certain amount of shares and hold certain types of shares, so browse through the section before deciding what company you'd like to invest in.
Access HL remotely
The HL Live mobile app is available for download from the company's website free of charge and is compatible with iOS and Android operated devices. It gives users free access to updated prices and indices, as well as the latest news and research available on the market. It features share, fund and ETF dealing capabilities, interactive performance charts and watchlists for personalised fund and share account users. Additionally, Vantage Account holders can login remotely at any time and securely using this app. To gain access to all these perks, simply download your HL Live app from Google Play or the App Store.
Disclaimer
Using a fund platform such as Hargreaves Lansdown allows you to hold funds managed by various fund managers in one place. Investments are held on your behalf in a 'nominee' account, meaning that you are entitled to your earnings as the beneficial owner, but are not the legal owner. Fund platform users are covered for up to £50,000 by the Financial Services Compensation Scheme, so investing any more than that will be a matter of trusting the platform.
Awards
Hargreaves Lansdown were voted 'What Investment' Reader's Award Winner for Best Share Dealing Service of 2012, 2013. The company was also recently dubbed a ISA Recommended Provider, alongside the UK's topmost Fund Supermarkets of May 2014. It was also named the Best Online Junior Stocks and Shares ISA Provider, the Best Mobile Trading Platform, the Best Financial Services Mobile Strategy/Campaign by MOMA, a Pension Adviser of the Year, and it was awarded various other prizes throughout the year. Sign up for your own account and find out why this fund supermarket is the best the industry can offer.
I CFD sono prodotti con leva e possono comportare la perdita del capitale. Tutto il trading comporta dei rischi. Solo il capitale di rischio sei disposto a perdere. Le performance passate non garantiscono risultati futuri.
Questo post è a scopo didattico e non dovrebbe essere considerato come un consiglio di investimento. Tutte le informazioni raccolte da http://www.hlmarkets.co.uk/ su 01/10/2021.