panoramica
PriorFX è un trading forex broker di servizi. Essi danno i commercianti l"accesso a una vasta gamma di strumenti in diversi mercati come valute, indici e delle materie prime.
Per aprire un conto live, è necessario un deposito minimo di almeno $50. In alternativa; PriorFX offerta un account demo che puoi usare per esercitarti e familiarizzare con la loro piattaforma.
Regolamentato da CySEC (Licence: 221/13 ). PriorFX mette tutti i fondi dei clienti in un conto bancario segregato e utilizza per questo banche tier-1. PriorFX è stata fondata dal 2013 , e ha la sede in Cyprus .
Prima di immergerci in alcuni degli aspetti più dettagliati degli PriorFX 's spread, commissioni, piattaforme e funzionalità di trading, potresti voler aprire PriorFX 's sito web in una nuova scheda facendo clic sul pulsante qui sotto per vedere le ultime informazioni direttamente da PriorFX.</p>
Apri un account demo VisitaPriorFX
Piena divulgazione: potremmo ricevere una commissione se ti iscrivi con un broker utilizzando uno dei nostri link.
Cosa sono PriorFX's gli spread & commissioni?
Come quasi tutti i broker, PriorFX preleva una commissione dallo spread, che è la differneza tra il prezzo di acquisto e di vendita di uno strumento.
Gli spread mostrati qui di seguito sono basati sui minimispread elencato sul PriorFX's sito . Le barre colorate mostrano quanto competitivi sono PriorFX' spread in confronto agli altri broker popolari presentati su BrokerNotes.
Spreads are dynamic and are for informational purposes only. Last updated: June 06, 2018.

Come puoi vedere, PriorFX 's lo spread minimo per il trading EUR/USD è di1.0 pips - che è relativamenteelevato confrontato allo spread medio EUR/USD di 0.82 pips. Di seguito è riportato un dettaglio di quanto ti costerebbe negoziare un lotto di EUR/USD con PriorFX vs. broker similari.
Vedi tutti gli Spread
Il tuo capitale è a rischio
Quanto PriorFX addebita per negoziare 1 lotto di EUR/USD?
Se dovessi comprare un lotto standard di EUR/USD (100k unità) con PriorFX ad un tasso di cambio di 1.1719 e poi venderlo il giorno successivo allo stesso prezzo, probabilmente pagherai $N/A. Ecco un'analisi approssimativa delle spese e in che modo si confronta XTB & City Index .
PriorFX

XTB

City Index

Spread di

:
N/A
$ 2.00
$ 5.00

Tipica tariffa overnight

:
N/A
$ 7.94
$ 20.60

Commissione

:
N/A
0
0
Total cost of a 100k trade:
N/A
$ 9.94
$ 25.6
Visita PriorFX
Visita XTB
Visita City Index
Tutte le tariffe/prezzi sono a scopo informativo e sono soggetti a modifiche. Ultimo aggiornamento: 09/03/2018. Il tuo capitale è a rischio
Cosa potete scambiare con PriorFX?
PriorFX offerte oltre diversi strumenti da scambiare, comprese oltre 30 coppie di valute. Abbiamo riassunto i diversi tipi di strumenti offerti daPriorFX sotto, insieme agli strumenti offerti da XTB eCity Index per confronto.
| FX / Valute | PriorFX | XTB | City Index |
| --- | --- | --- | --- |
| delle coppie forex offerte | 30 | 50 | 84 |
| coppie forex principali | Yes | Yes | Yes |
| coppie forex minori | Yes | Yes | Yes |
| coppie forex esotici | Yes | Yes | Yes |
| criptovaluta | No | Yes | Yes |
| CFD su Materie Prime | PriorFX | XTB | City Index |
| --- | --- | --- | --- |
| delle materie prime offerte | 5 | 0 | 26 |
| Metalli | Yes | Yes | Yes |
| Energie | No | Yes | Yes |
| Agricoli | No | Yes | Yes |
Il tuo capitale è a rischio
Com'è PriorFX l'esperienza di trading?
1)Piattaforme ed app
PriorFX offre la popolare piattaforma di trading forex MT4. Per vedere un elenco dei migliori broker MT4, guarda il nostro confronto dei broker MT4. La combinazione di piattaforme scaricabili sia per Mac che per Windows consente ai trader di fare trading con il proprio dispositivo preferito.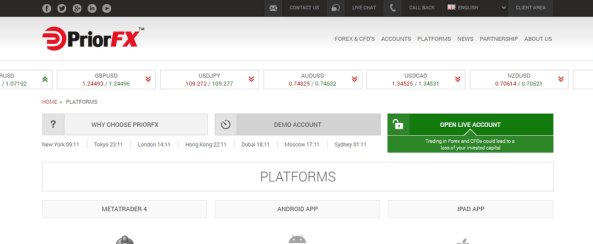 VediPriorFX 's Piattaforme
PriorFX offre anche app per dispositivi mobili per Android e iOS, rendendo più facile tenere d'occhio ed eseguire i tuoi scambi mentre sei in movimento.
VediPriorFX 's piattaforme
Il tuo capitale è a rischio
2)Esecuzione di Scambi
PriorFX ti permettono di eseguire uno scambio minimo di 0.01 Lot. Ciò può variare a seconda del conto che apri. PriorFX ti permettono di eseguire uno scambio massimo di di10,000 Lot. Dato che PriorFX offre l'esecuzione STP, puoi aspettarti degli spread più stretti con maggiore trasparenza sul prezzo che 're pagando per eseguire i tuoi scambi.
Come bel bonus PriorFX sono uno dei pochi broker che dichiarano di non avere requotes, quindi non devi preoccuparti dello slippage (i vostri scambi vengono ordinati ad un prezzo diverso da quello a cui li avete eseguiti il ) .
Come con la maggior parte dei broker, i requisiti di margine variano a seconda del trader, dei conti e degli strumenti.
PriorFXoffre anche una serie di utili funzionalità di gestione del rischio, come ad esempiostop loss (con trailing stop), ordine limit protezione contro il saldo negatico avvisi di prezzo and much more. You can see all of the account features offered by PriorFX and much more. You can see all of the account features offered by PriorFX qui.
Infine, abbiamo&rsquo elencato alcuni dei più popolari metodi di finanziamento che PriorFX offre ai suoi trader sulla destra.
3)Assistenza clienti
PriorFX supporta un ampia gamma di lingue include English, Russian, German, Hungarian, and Arabic
PriorFX hanno una valutazione dell'assistenza con doppia AA di BrokerNotes perché PriorFX offrono oltre tre lingue chat live e supporto telefonico.
4)Di cosa avrete bisogno per aprire un conto presso PriorFX
Dato che PriorFX è regolamentato da CySEC , ogni nuovo cliente deve superare alcuni controlli di conformità di base, per assicurarsi che abbia compreso i rischi del trading, e che possa operare. Quando apri un conto, ti verrà chiesto probabilmente quanto segue, quindi è utile avere queste informazioni a portata di mano:
Una copia scansionata a colori del passaporto, della patente di guida o della carta di identità
Una bolletta di un'utenza domestica o un estratto conto bancario degli ultimi tre mesi che mostra il tuo indirizzo
Dovrai anche rispondere ad alcune domande di conformità di base per confermare quanta esperienza di trading hai, quindi è meglio che tu ti tenga almeno 10 minuti circa per completare la procedura di apertura del conto
Mentre potrai esplorare PriorFX's direttamente la piattaforma, è importante notare che non sarai in grado di effettuare alcuna transazione fino a quando non avrai superato il controllo di conformità, che può richiedere diversi giorni, a seconda della tua situazione.
Per avviare il processo di apertura di un conto presso PriorFX puoi visitare il suo sito web qui.
I CFD sono prodotti con leva e possono comportare la perdita del capitale. Tutto il trading comporta dei rischi. Solo il capitale di rischio sei disposto a perdere. Le performance passate non garantiscono risultati futuri.
Questo post è a scopo didattico e non dovrebbe essere considerato come un consiglio di investimento. Tutte le informazioni raccolte da https://priorfx.com/ su agosto 23, 2018.