VOORDELEN
Houdt klantengelden gescheiden
Opgericht in 2008
Gereguleerd door Financial Conduct Authority
Min. storting van

$1
Om een live-account te openen, dient u een minimum storting te verrichten van $1. Als alternatief Ayondo biedt ook een oefen-account, om te oefenen en vertrouwd te raken met hun platform.
Gereguleerd door de Financial Conduck Authority, VK (FRN: 184333). Ayondo zet alle klantengelden op een gescheiden bankrekening en gebruikt hiervoor tier 1-banken. Ayondo werd opgericht in 2008, en hebben hun hoofdkantoor in .
Voordat we ingaan op enkele van meer gedetailleerde aspecten van website openen in een nieuw tabblad door op de onderstaande knop te klikken om de nieuwste informatie r Ayondo 's spreads, kosten, platforms en handelsfuncties, wilt u misschien de website van Ayondo 's openen in een nieuw tabblad door op de onderstaande knop te klikken om de nieuwste informatie rechtstreeks op de Ayondote bekijken.
Volledige openbaarmaking: we kunnen een commissie ontvangen als u zich aanmeldt bij een broker via een van onze links.
Wat zijn Ayondo's spreads en kosten?
Zoals de meeste brokers,, Ayondo halen ze hun transactiekosten uit de spread, het verschil tussen de aan- en verkoopprijs van een instrument.
De onderstaande spreads zijn gebaseerd op de minimalefixed spreads die vermeld worden op de Ayondo's website. De gekleurde balken laten zien hoe concurrerend de spreads zijn bij Ayondo' vergeleken met andere populaire brokers op BrokerNotes.
Spreads are dynamic and are for informational purposes only.

Zoals u kunt zien, is bij Ayondo 's de minimum spread voor het handelen in EUR/USD0.8 pips - wat relatieflaag vergeleken met de gemiddelde EUR/USD spread van 0.82 pips. Hieronder ziet u in een overzicht hoeveel het u zou kosten om één lot EUR/USD te verhandelen bij Ayondo vs. vergelijkbare brokers.
Bekijk alle Spreads
Hoeveel brengt Ayondo in rekening om 1 lot EUR/USD te verhandelen?
Als u één standaard lot EUR/USD (100.000 eenheden) bij Ayondo zou kopen tegen een wisselkoers van 1.1719 en deze de volgende dag tegen dezelfde prijs zou verkopen, dan zou u waarschijnlijk $ betalen8. Hier is een ruwe uitsplitsing van de kosten en hoe dit zich verhoudt ten op zichte van City Index & XTB .
Alle kosten/prijzen zijn voor informatieve doeleinden en kunnen worden gewijzigd. Laatst bijgewerkt
Waarin kunt u bij handelen Ayondo?
Ayondo biedt meer dan 181 verschillende tradinginstrumenten, waaronder meer dan 36 valutaparen. We hebben hieronder alle verschillende soorten instrumenten opgenomen die door Ayondo worden aangeboden alsmede de instrumenten van City Index en van XTB ter vergelijking samengevat.
| FX / Valuta's | Ayondo | City Index | XTB |
| --- | --- | --- | --- |
| van aangeboden forexparen | 36 | 84 | 48 |
| Major valutaparen | Yes | Yes | Yes |
| Minor valutaparen | Yes | Yes | Yes |
| Exotische valutaparen | Yes | Yes | Yes |
| cryptogeld | Yes | Yes | Yes |
| Grondstoffen CFD's | Ayondo | City Index | XTB |
| --- | --- | --- | --- |
| van aangeboden grondstoffen | 6 | 26 | 21 |
| Metalen | | Yes | Yes |
| Energieën | | Yes | Yes |
| Agrarische producten | | Yes | Yes |
Hoe zit het Ayondo met de handelservaring?
1)Platformen en apps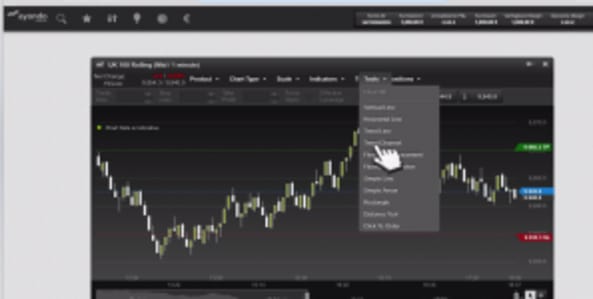 Ayondo bieden ook mobiele apps voor Android en iOS, waardoor het makkelijker wordt om de vinger aan de pols te houden en uw trades uit te voeren, terwijl u onderweg bent.
BekijkAyondo 's platforms
2)Trades Uitvoeren
Ayondo staat u toe om een minimum trade uit te voeren van . Dit kan variëren afhankelijk van het account dat u opent. Ayondo staat u toe om een maximum trade uit te voeren van.
Zoals bij de meeste brokers zijn de margevereisten afhankelijk van de handelaar, accounts en instrumenten.
Tenslotte hebben we een aantal populaire stortingsmethoden bij elkaar gezet die Ayondo het voor hun handelaren makkelijk maken.
3)Klantenservice
Ayondo ondersteunt eenbeperkt aantalwaaronder .
Ayondo heeft een A-beoordeling voor diens klantenservice van BrokerNotes gekregen, omdatAyondo ze meer dan drie talen ene-mail en telefonische ondersteuning bieden.
4)Wat hebt u nodig om een account te openen bij Ayondo
Gezien het feit dat Ayondo is gereguleerd door Financial Conduct Authority , dient iedere nieuwe klant te voldoen aan een aantal elementaire compliance controles om ervoor te zorgen dat u de handelsrisico's begrijpt en u mag handelen. Bij het openen van een account opent, wordt u waarschijnlijk om het volgende gevraagd, dus is het goed om deze bij de hand te hebben:
Een gescande kleurenkopie van uw paspoort, rijbewijs of nationale ID-kaart
Een nota van gas, water of electriciteit of bankafschrift niet ouder dan drie maanden waar uw adres op staat vermeld
U dient ook een paar basis compliance vragen te beantwoorden om er achter te komen hoeveel handelservaring u heeft, Dus u dient er rekening mee te houden dat het openen van een account minstens 10 minuten in beslag neemt.
Ondanks dat u het Ayondo's platform misschien meteen kunt verkennen, is het belangrijk om te weten dat u pas trades kunt uitvoeren als u voldoet aan de voorwaarden. Dit kan enkele dagen duren, afhankelijk van uw situatie.
Om de procedure voor het openen van een account bij Ayondo te starten kunt u hun website hier bezoeken.
A Review & Guide to Trading with Ayondo
The trading platform Ayondo was initiated in 2009 out of Germany. Espousing the ever-increasing popularity of the 'social trading' system, Ayondo aims to connect small- to medium-sized investors with their top-tier traders. Thus, this can be seen as being as much of an educational platform as a simple online trading system. For anyone who may wish to join this site, it is important to take a look at some of the key metrics before fully committing.
Underlying Assets
Ayondo offers a host of different instruments to trade. These include:
More than 30 currency pairs (Forex)
CFDs
Major Asian, European and American indices
Bonds
Precious metals
Larger blue-chip companies such as Coca-Cola and Starbucks
This is notably different than some other platforms which only specialise in one field or another. Thus, the average trader has a great deal of options to suit his or her individual tastes and levels of exposure.
Educational Services
Currently, Ayondo claims to offer over 1,000 'top-level' traders. However, it is important to note that only a handful have garnered an appreciable number of followers. This therefore calls into question the efficacy of the bulk of these investors. However, those who do have followers are said to provide steady returns; many of these have been with Ayondo for over two years. These traders can be followed based upon criteria such as their profit-loss ratio, followers or their trading frequency.
The performance of these traders is graphically displayed within the Ayondo interface, so determining who is the best suited can be quite easy. A complete transaction history can likewise be viewed and their overall performance is tracked alongside the major indices. This is particularly important to observe longitudinal results. While the 'interactive' aspect is not necessarily like the forums and live communication that is seen on other sites, the hard data provided can serve to provide much clarity and insight.
Time Delays and Slippage
These factors have been a concern with other social trading sites and are therefore worth mentioning. Slippage is defined as the difference between the levels that a top trader closes at and the figures that a follower receives upon execution. As both trades will be performed through the same platform, this proportion is actually kept to a minimum. Of course, part of this will be associated with the speed of the computer in question. Succinctly, both time delays and slippage are negligible.
Commissions and Fees
One of the most interesting aspects of Ayondo is that the client will not be charged any commissions or fees when following the trades of a broker. This arises from the fact that Ayondo receives remuneration from the Forex broker in question. These fees are derived from the spread so in many ways, everyone involved benefits. Another notable feature is that any trader who moves his or her current account to Ayondo will receive a cash bonus. Certain terms and conditions will apply.
On a final note in regards to monetary concerns, many analysts have noted that the entry levels to begin trading are quite amenable when compared to similar services. These can be 100 dollars, euros or pounds.
Trading Levels
As one progresses with Ayondo, there are different trading levels which will be enjoyed. These vary from 'Street Trader' to 'Institutional'. Additionally, the commissions that the trader will be paid FROM Ayondo will increase with each level (assuming that their performance remains constant; one can also be downgraded for poor trades). Once a trader has more than 500 dollars, pounds or euros in an account, he or she will receive what is known as a 'Money Trader's Badge'.
Interface and Functionality
Billed as 'Next Generation Trading', their TradeHub system is quite streamlined and easy to work with. It should therefore not take beginning long to pick up on the basic layout and functionality. The platform can be customised to the discrete preferences of the user; affording a faster trade execution. Cash balances and margins are clearly displayed as are the trading products. Filters can be adjusted to suit specific interests. OCO orders are likewise available and importantly, guaranteed stop-loss amounts are automatically included with a position. For those who are executing multiple trades or are following the maximum number of five 'top-tier' investors, such a fluid platform is essential. This software is also available for smartphone users.
The Verdict
Overall, Ayondo seems to be one of the fairest trading systems currently available. This is in no small part due to the fact that no commissions or fees will be charged to the trader. Combined with amenable entry levels and the ability to follow up to five experts, such social trading indeed has its benefits.
There are nonetheless a few drawbacks. As the number of top traders is still limited, overall results can be skewed in either direction. Another significant disadvantage is that the client is unable to view which trader has contributed the most to their performance in either direction. This may make interpreting results a bit difficult.
Nonetheless, Ayondo is still growing. Should the number of top traders continue to increase, this platform may very well become extremely diversified. As a fully functional demo account can be activated, it will be easy for the potential client to appreciate the overall functionality before making any final decision.
CFD's zijn hefboomproducten en kunnen leiden tot verlies van uw vermogen. Alle handel brengt risico met zich mee. Leg uitsluitend vermogen in dat u bereid bent te verliezen. In het verleden behaalde resultaten bieden geen garantie voor toekomstige resultaten.
Deze post is voor educatieve doeleinden en mag niet worden beschouwd als beleggingsadvies. Alle informatie verzameld van http://www.ayondo.com/ op 01/05/2019.