Overzicht
ETX Capital is een forex, CFD en spread betting broker. Ze geven handelaren de toegang tot de belangrijke markten zoals valuta, indices, grondstoffen en aandelen. Voor handelaren geïnteresseerd in cryptocurrencies zoals Bitcoin, ETX Capital is een van de weinige makelaars die cryptogeld CFD"s bieden.
Om een live-account te openen, dient u een minimum storting te verrichten van $100. Als alternatief ETX Capital biedt ook een oefen-account, om te oefenen en vertrouwd te raken met hun platform.
Gereguleerd door de Financial Conduck Authority, VK (FRN: 124721). ETX Capital zet alle klantengelden op een gescheiden bankrekening en gebruikt hiervoor tier 1-banken. ETX Capital werd opgericht in 2002, en hebben hun hoofdkantoor in UK.
Voordat we ingaan op enkele van meer gedetailleerde aspecten van website openen in een nieuw tabblad door op de onderstaande knop te klikken om de nieuwste informatie r ETX Capital's spreads, kosten, platforms en handelsfuncties, wilt u misschien de website van ETX Capital's openen in een nieuw tabblad door op de onderstaande knop te klikken om de nieuwste informatie rechtstreeks op de ETX Capitalte bekijken.
Open een oefen-account Bezoek ETX Capital
Volledige openbaarmaking: we kunnen een commissie ontvangen als u zich aanmeldt bij een broker via een van onze links.
Wat zijn ETX Capital's spreads en kosten?
Zoals de meeste brokers,, ETX Capital halen ze hun transactiekosten uit de spread, het verschil tussen de aan- en verkoopprijs van een instrument.
De onderstaande spreads zijn gebaseerd op de minimalespreads die vermeld worden op de ETX Capital's website. De gekleurde balken laten zien hoe concurrerend de spreads zijn bij ETX Capital' vergeleken met andere populaire brokers op BrokerNotes.
Spreads are dynamic and are for informational purposes only. Last updated: June 06, 2018.

Zoals u kunt zien, is bij ETX Capital's de minimum spread voor het handelen in EUR/USD0.6 pips - wat relatieflaag vergeleken met de gemiddelde EUR/USD spread van 0.82 pips. Hieronder ziet u in een overzicht hoeveel het u zou kosten om één lot EUR/USD te verhandelen bij ETX Capital vs. vergelijkbare brokers.
Bekijk alle Spreads
79,6% van de niet-professionele belegger rekeningen geld verliezen bij de handel in CFD's met ETX
Hoeveel brengt ETX Capital in rekening om 1 lot EUR/USD te verhandelen?
Als u één standaard lot EUR/USD (100.000 eenheden) bij ETX Capital zou kopen tegen een wisselkoers van 1.1719 en deze de volgende dag tegen dezelfde prijs zou verkopen, dan zou u waarschijnlijk $ betalenN/A. Hier is een ruwe uitsplitsing van de kosten en hoe dit zich verhoudt ten op zichte van XTB & City Index.
Alle kosten/prijzen zijn voor informatieve doeleinden en kunnen worden gewijzigd. Laatst bijgewerkt: 09/03/2018. 79,6% van de niet-professionele belegger rekeningen geld verliezen bij de handel in CFD's met ETX
Waarin kunt u bij handelen ETX Capital?
ETX Capital biedt meer dan 5,137 verschillende tradinginstrumenten, waaronder meer dan 60 valutaparen. We hebben hieronder alle verschillende soorten instrumenten opgenomen die door ETX Capital worden aangeboden alsmede de instrumenten van XTB en van City Index ter vergelijking samengevat.
| FX / Valuta's | ETX Capital | XTB | City Index |
| --- | --- | --- | --- |
| van aangeboden forexparen | 60 | 48 | 84 |
| Major valutaparen | Yes | Yes | Yes |
| Minor valutaparen | Yes | Yes | Yes |
| Exotische valutaparen | Yes | Yes | Yes |
| cryptogeld | Yes | Yes | Yes |
| Grondstoffen CFD's | ETX Capital | XTB | City Index |
| --- | --- | --- | --- |
| van aangeboden grondstoffen | 16 | 21 | 26 |
| Metalen | Yes | Yes | Yes |
| Energieën | Yes | Yes | Yes |
| Agrarische producten | Yes | Yes | Yes |
79,6% van de niet-professionele belegger rekeningen geld verliezen bij de handel in CFD's met ETX
Hoe zit het ETX Capital met de handelservaring?
1)Platformen en apps
ETX Capital biedt het populaire MT4 forex handelsplatform. Om een lijst van de top MT4-brokers te bekijken, zie onze vergelijking van MT4 brokers. De combinatie van downloadbare platforms voor zowel Mac als Windows stelt traders in staat te handelen met hun apparaat naar keuze.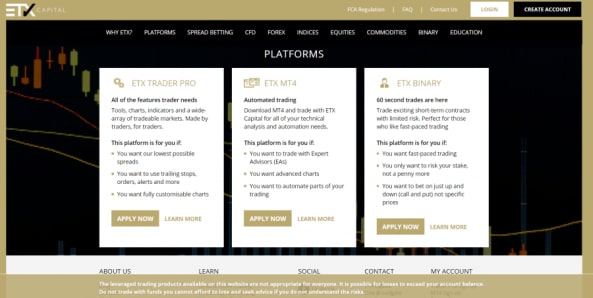 BekijkETX Capital 's Platformen
ETX Capital bieden ook mobiele apps voor Android en iOS, waardoor het makkelijker wordt om de vinger aan de pols te houden en uw trades uit te voeren, terwijl u onderweg bent.
BekijkETX Capital 's platforms
79,6% van de niet-professionele belegger rekeningen geld verliezen bij de handel in CFD's met ETX
2)Trades Uitvoeren
ETX Capital staat u toe om een minimum trade uit te voeren van 0.01 Lot. Dit kan variëren afhankelijk van het account dat u opent. De maximale handelsvereisten variëren afhankelijk van de handelaar en het instrument.

Als marketmaker ETX Capital kunnen lagere instapvereisten gelden in vergelijking met een ECN-broker die profiteert van een groter handelsvolume en doorgaans groter vermogen en minimale handelsvereisten heeft. Marketmakers hebben normaal gesproken een lagere minimum storting, kleinere minimale tradesvereisten en geen commissie op trades.
Zoals bij de meeste brokers zijn de margevereisten afhankelijk van de handelaar, accounts en instrumenten.
Tenslotte hebben we een aantal populaire stortingsmethoden bij elkaar gezet die ETX Capital het voor hun handelaren makkelijk maken.
3)Klantenservice
ETX Capital ondersteunt een breed scala aan talen waaronder English, French, Spanish, German, Polish, Czech, Greek and Mandarin.
ETX Capital heeft een AA-beoordeling voor diens klantenservice van BrokerNotes gekregen, omdat ETX Capital ze meer dan drie talen, e-mail en telefonische ondersteuning bieden.
4)Wat hebt u nodig om een account te openen bij ETX Capital
Gezien het feit dat ETX Capital is gereguleerd door Financial Conduct Authority, dient iedere nieuwe klant te voldoen aan een aantal elementaire compliance controles om ervoor te zorgen dat u de handelsrisico's begrijpt en u mag handelen. Bij het openen van een account opent, wordt u waarschijnlijk om het volgende gevraagd, dus is het goed om deze bij de hand te hebben:
Een gescande kleurenkopie van uw paspoort, rijbewijs of nationale ID-kaart
Een nota van gas, water of electriciteit of bankafschrift niet ouder dan drie maanden waar uw adres op staat vermeld
U dient ook een paar basis compliance vragen te beantwoorden om er achter te komen hoeveel handelservaring u heeft, Dus u dient er rekening mee te houden dat het openen van een account minstens 10 minuten in beslag neemt.
Ondanks dat u het ETX Capital's platform misschien meteen kunt verkennen, is het belangrijk om te weten dat u pas trades kunt uitvoeren als u voldoet aan de voorwaarden. Dit kan enkele dagen duren, afhankelijk van uw situatie.
Om de procedure voor het openen van een account bij ETX Capital te starten kunt u hun website hier bezoeken.
An insider look at trading with ETX Capital
If you're wondering how ETX Capital works or just want to see inside their platform, we've recorded this short 4-minute video walking through the process of creating an account on ETX Capital.
What trading platforms do ETX Capital offer?
ETX Capital offers three different platforms for traders, and MetaTrader 4 is one of them. MT4 is one of the leading online trading platforms and is a popular choice of forex traders. With the ETX Capital MT4 platform, you can trade a wide variety financial markets including indices, commodities, equities, currency markets and cryptocurrencies.
What are the benefits of trading with MT4?
The MT4 platform offers the following benefits:
You can use automated Expert Advisors (EAs)
You can trade micro lots
You can use hedging
You can use leverage
For traders who prefer automated trading, this is the platform for it. ETX Capital has an AutoTrader platform that facilitates the use of automated Expert Advisors (EAs). Traders using EAs can set parameters for their trades and then wait for the automated responses. The advantage that traders get with this option is that one does not have to be in front of a computer to open or close trades. With MT4 automated trades, ETX Capital is responsible for the hosting while the traders provide the Expert Advisors.
On The MT4 trading platform, ETX Capital has made sure that traders can take advantage of the all the opportunities available. The one-click trading feature is what makes this possible.
Another trading advantage that the ETX Capital MT4 platform offers is the ability to support multiple charts. Information is very crucial when trading and that is what charts provide. With multiple ones, traders get real-time data that they can use for decision making. The environment in different markets keeps changing, and it is essential to monitor them when trading. Real-time data shows all the fluctuations that may be taking place.
The ETX Capital MT4 platform has a watchlist feature. As the name suggests, this lists enables a trader to keep an eye on specific markets. With the drop and drag function on the platform, traders can add particular markets to the list.
Trading on the MT4 platform offers traders favourable leverage rates of up to 200:1. Such margins increase the potential returns that a trader can get. Traders can also use micro lots, meaning that it is possible to trade smaller.
MT4 on Mobile
ETX Capital has a mobile app for the MT4 platform. Even with automated trading, traders still appreciate mobile apps. Traders can download the app on Android devices and iPhones and iPads from Google Play Store and iTunes. Mobile apps are available in multiple languages.
CFD's zijn hefboomproducten en kunnen leiden tot verlies van uw vermogen. Alle handel brengt risico met zich mee. Leg uitsluitend vermogen in dat u bereid bent te verliezen. In het verleden behaalde resultaten bieden geen garantie voor toekomstige resultaten.
Deze post is voor educatieve doeleinden en mag niet worden beschouwd als beleggingsadvies. Alle informatie verzameld van https://www.etxcapital.com op augustus 23, 2018.