Hargreaves Lansdown is een gevestigde investeringen en tradng dienstverlener. Hargreaves Lansdown bieden een veelheid van financiële diensten, waaronder ISA"s, pensioenen, delen dealint, beleggingsfondsen, ETF"s, financieel advies en spread betting en CFD trading diensten.
VOORDELEN
Houdt klantengelden gescheiden
Opgericht in 1981
Gereguleerd door Financial Conduct Authority
Min. storting van

$200
Om een live-account te openen, dient u een minimum storting te verrichten van $200. Als alternatief Hargreaves Lansdown biedt ook een oefen-account, om te oefenen en vertrouwd te raken met hun platform.
Gereguleerd door de Financial Conduck Authority, VK (FRN: 115248). Hargreaves Lansdown zet alle klantengelden op een gescheiden bankrekening en gebruikt hiervoor tier 1-banken. Hargreaves Lansdown werd opgericht in 1981, en hebben hun hoofdkantoor in .
Voordat we ingaan op enkele van meer gedetailleerde aspecten van website openen in een nieuw tabblad door op de onderstaande knop te klikken om de nieuwste informatie r Hargreaves Lansdown's spreads, kosten, platforms en handelsfuncties, wilt u misschien de website van Hargreaves Lansdown's openen in een nieuw tabblad door op de onderstaande knop te klikken om de nieuwste informatie rechtstreeks op de Hargreaves Lansdownte bekijken.
Volledige openbaarmaking: we kunnen een commissie ontvangen als u zich aanmeldt bij een broker via een van onze links.
Wat zijn Hargreaves Lansdown's spreads en kosten?
Zoals de meeste brokers,, Hargreaves Lansdown halen ze hun transactiekosten uit de spread, het verschil tussen de aan- en verkoopprijs van een instrument.
De onderstaande commissies en spreads zijn gebaseerd op de minimalespreads die vermeld worden op de Hargreaves Lansdown's website. De gekleurde balken laten zien hoe concurrerend de spreads zijn bij Hargreaves Lansdown's vergeleken met andere populaire brokers op BrokerNotes.
Hargreaves Lansdown

EUR/USD

(Average: 0.7 pips)

Not offered

0.6 pips

+ $1.00

3.0 pips

GBP/USD

(Average: 1.1 pips)

Not offered

0.9 pips

+ $1.00

4.0 pips

USD/JPY

(Average: 1.1 pips)

Not offered

0.7 pips

+ $1.00

2.0 pips

AUD/USD

(Average: 0.8 pips)

Not offered

0.6 pips

+ $1.00

1.0 pips

USD/CHF

(Average: 2.3 pips)

Not offered

1.5 pips

+ $1.00

3.0 pips

USD/CAD

(Average: 2.9 pips)

Not offered

1.7 pips

+ $1.00

3.0 pips

NZD/USD

(Average: 3.6 pips)

Not offered

2.0 pips

+ $1.00

5.0 pips

EUR/GBP

(Average: 2.4 pips)

Not offered

0.9 pips

+ $1.00

4.0 pips
Spreads are dynamic and are for informational purposes only.
Zoals u kunt zien, is bij Hargreaves Lansdown's de minimum spread voor het handelen in EUR/USD pips - wat relatieflaag vergeleken met de gemiddelde EUR/USD spread van 0.70 pips. Hieronder ziet u in een overzicht hoeveel het u zou kosten om één lot EUR/USD te verhandelen bij Hargreaves Lansdown vs. vergelijkbare brokers.
Bekijk alle Spreads
Hoeveel brengt Hargreaves Lansdown in rekening om 1 lot EUR/USD te verhandelen?
Als u één standaard lot EUR/USD (100.000 eenheden) bij Hargreaves Lansdown zou kopen tegen een wisselkoers van 1.1719 en deze de volgende dag tegen dezelfde prijs zou verkopen, dan zou u waarschijnlijk $ betalen0. Hier is een ruwe uitsplitsing van de kosten en hoe dit zich verhoudt ten op zichte van IG & XTB .
Hargreaves Lansdown

IG

XTB

Spread van

:
$ 0.00
$ 6.00
$ 2.00

Commissie

:
$0.00
$0.00
$0.00
Total cost of a 100k trade:
$ 0.00
$ 6.00
$ 2.00

$6 meer

$2 meer

Bezoeken HL Markets
Bezoeken IG
Bezoeken XTB
Alle kosten/prijzen zijn voor informatieve doeleinden en kunnen worden gewijzigd. Laatst bijgewerkt
Waarin kunt u bij handelen Hargreaves Lansdown?
Hargreaves Lansdown biedt meer dan verschillende tradinginstrumenten, waaronder meer dan valutaparen. We hebben hieronder alle verschillende soorten instrumenten opgenomen die door Hargreaves Lansdown worden aangeboden alsmede de instrumenten van IG en van XTB ter vergelijking samengevat.
| FX / Valuta's | HL Markets | IG | XTB |
| --- | --- | --- | --- |
| van aangeboden forexparen | | 90 | 48 |
| Major valutaparen | Yes | Yes | Yes |
| Minor valutaparen | | Yes | Yes |
| Exotische valutaparen | | Yes | Yes |
| cryptogeld* | Yes | Yes | Yes |
| Grondstoffen CFD's | Hargreaves Lansdown | IG | XTB |
| --- | --- | --- | --- |
| van aangeboden grondstoffen | | 34 | 21 |
| Metalen | Yes | Yes | Yes |
| Energieën | Yes | Yes | Yes |
| Agrarische producten | Yes | Yes | Yes |
Hoe zit het Hargreaves Lansdown met de handelservaring?
1)Platformen en apps
Hargreaves Lansdown biedt een gebruiksvriendelijk handelsplatform op maat, beschikbaar zowel als downloadbaar programma en als browser gebaseerde WebTrader. Als u soms op zoek bent naar een MetaTrader-broker, bekijk dan onze vergelijking van MT4-brokers hier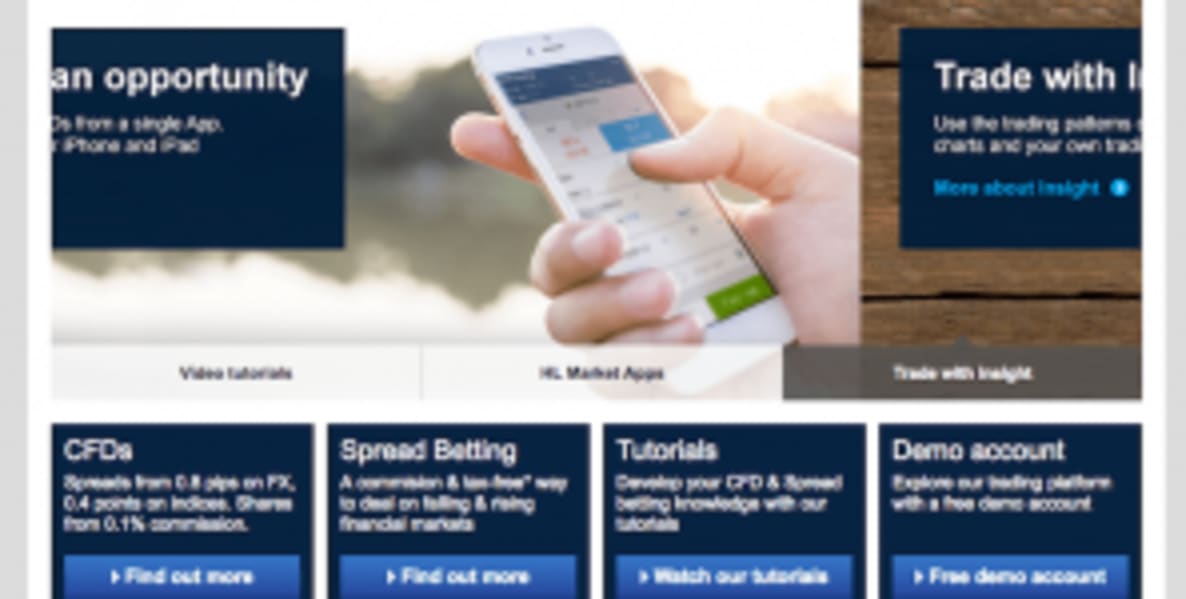 Hargreaves Lansdown bieden ook mobiele apps voor Android en iOS, waardoor het makkelijker wordt om de vinger aan de pols te houden en uw trades uit te voeren, terwijl u onderweg bent.
Bekijk HL Markets's platforms
2)Trades Uitvoeren
Hargreaves Lansdown staat u toe om een minimum trade uit te voeren van £1. Dit kan variëren afhankelijk van het account dat u opent. Hargreaves Lansdown staat u toe om een maximum trade uit te voeren vanVariable.

Als marketmaker Hargreaves Lansdown kunnen lagere instapvereisten gelden in vergelijking met een ECN-broker die profiteert van een groter handelsvolume en doorgaans groter vermogen en minimale handelsvereisten heeft. Marketmakers hebben normaal gesproken een lagere minimum storting, kleinere minimale tradesvereisten en geen commissie op trades.
Zoals bij de meeste brokers zijn de margevereisten afhankelijk van de handelaar, accounts en instrumenten.
Tenslotte hebben we een aantal populaire stortingsmethoden bij elkaar gezet die Hargreaves Lansdown het voor hun handelaren makkelijk maken.
Handelsfuncties:
Scalping toegestaan
Hedging toegestaan
Lage min. storting
Stortingsmethoden
Creditcards
Bankoverschrijving
3)Klantenservice
Hargreaves Lansdown ondersteunt een breed scala aan talen waaronder English, French, German, Spanish, and Portuguese.
Hargreaves Lansdown heeft een A-beoordeling voor diens klantenservice van BrokerNotes gekregen, omdatHargreaves Lansdown ze meer dan drie talen bieden
4)Wat hebt u nodig om een account te openen bij Hargreaves Lansdown
Gezien het feit dat Hargreaves Lansdown is gereguleerd door Financial Conduct Authority , dient iedere nieuwe klant te voldoen aan een aantal elementaire compliance controles om ervoor te zorgen dat u de handelsrisico's begrijpt en u mag handelen. Bij het openen van een account opent, wordt u waarschijnlijk om het volgende gevraagd, dus is het goed om deze bij de hand te hebben:
Een gescande kleurenkopie van uw paspoort, rijbewijs of nationale ID-kaart
Een nota van gas, water of electriciteit of bankafschrift niet ouder dan drie maanden waar uw adres op staat vermeld
U dient ook een paar basis compliance vragen te beantwoorden om er achter te komen hoeveel handelservaring u heeft, Dus u dient er rekening mee te houden dat het openen van een account minstens 10 minuten in beslag neemt.
Ondanks dat u het Hargreaves Lansdown's platform misschien meteen kunt verkennen, is het belangrijk om te weten dat u pas trades kunt uitvoeren als u voldoet aan de voorwaarden. Dit kan enkele dagen duren, afhankelijk van uw situatie.
Om de procedure voor het openen van een account bij Hargreaves Lansdown te starten kunt u hun website hier bezoeken.
A Review & Guide to Trading with Hargreaves Lansdown
Hargreaves Lansdown PLC is a successful financial service company based in Bristol. It is regulated by the Financial Conduct Authority.
Hargreaves Lansdown PLC is currently the UK's largest fund supermarket. It is a constituent of the FTSE 100. It trades on the London Stock Exchange with the ticker symbol HL., under the name of HARGREAVES LANS. It specialises in fund, pension, wealth and annuity management, stock brokerage and financial advice.
Its flagship Wealth 150 funds list is attracting hoards of investors. Competitors are following in the company's footsteps, dishing out attractive lists of their own. Wealth 150 has no less than 91 funds and Wealth 150+ comprises the best 28 from the previous list.
Transaction fees
Hargreaves Lansdown currently offer execution-only online stock trading compatible with two types of accounts. You can opt for either the share account or the active trader service. The choice is not a matter of personal preferences. You should bear in mind that the two accounts are different only in regards to trade volume and associated benefits. Transaction costs start at £11.95 and decrease with the number of deals. They are calculated based on the number of online or mobile app transactions completed the previous calendar month. Shares, investment trusts and exchange traded funds fall into this category. If 10 to 19 deals were completed, the dealing charge is £8.95 per deal. Investors who trade 20 or more assets will be charged £5.95 per deal. Phone and pot dealings are charged at 1 per cent, with a threshold of £20 minimum and £50 maximum. Dividend reinvestment is charged at 1 per cent, or a minimum of £1 and a maximum of £10. When dealing in equity regular savings, a charge of £1.5 per stock will be deducted monthly.
As of April 2014, it has become illegal for platforms to charge fund providers commissions. So, Hargreaves Lansdown no longer take 0.25 per cent out of the 1.5 per cent annual management fee for advising clients. Instead, Hargreaves Lansdown now charge tiered pricing. A fee of 0.45 per cent is applicable to the investor's holdings in open-ended funds, if they amount to no more than £250,000. Holdings between £250,000 and £1 million are charged 0.25 per cent. Those reaching £2 million are charged 0.25 per cent. Fees are not applied to holdings larger than £2 million. Cash investments are also exempt from any fees. When it comes to fund and share accounts, Hargreaves Lansdown do not charge any annual management fees. However, NISA accounts incur a fee of 0.45 per cent per year, with a maximum threshold of £45 yearly. Similarly, SIPP accounts charge the same percentage, but are capped at no more than £200 a year.
Additional charges
On top of the dealing charges mentioned above, limit orders placed online are charged £10 per deal. On the other hand, those placed online are free. All deals are subject to UK Stamp duty, which amounts to 0.5 per cent. In the case of residual shares, this amount is subsequently rounded up to the nearest £5. The Panel on Takeovers and Mergers levy applies, as well, to UK share deals above £10,000, and it amounts to £1.
Registering for an online account
You should be able to appreciate the advantages of having an Active Trader account immediately or after a few weeks. Your returns depend on the volume of your transactions. Completing 20 or more transactions per month saves you £6 per deal, as compared to dealing 9 or less.
Signing up for your very own Hargreaves Lansdown account is a straightforward matter. The account sign-up page takes you through the process of registering for various types of accounts. These include a fund and share account, a stocks and shares NISA and a SIPP, or Self Invested Personal Pension account. The website is user-friendly and fully functional. The website does not disappoint, as other execution-only platform do. Users are given the necessary tools and market information to make their own trading decisions. Still, a few isolated deals per year do not justify the monthly fees payable to Hargreaves Lansdown. Having access to the online account comes at a price. When large amounts are involved, investors should consider trading regularly. Registering for the online account is straightforward. The form requires you to enter your personal information and client number. This number is provided in the account confirmation letter you receive by post.
Account features
Having an online account entitles you to many innovative website features. A stock market report and a sector report keep you up to date with the latest international influences on global stock markets.
A 'Top of the stocks' section reveals the most traded stocks in the previous week. It compares the percentage share of the deals and the value of transactions on total weekly dealings. Additionally, every registered member receives free market updates via e-mail. These include share research, broker comments and tips, as well as FTSE 100 faller and riser updates. The website also features a Knowledge Centre. This functions as a list of frequently asked questions and answers. Index tracker funds, investment trusts, split capital trusts, annuities and many other services are explained in detail.
A section of the website is dedicated to helpful investment ideas. The Wealth 150+ list and the Master Portfolios are featured heavily throughout the website. Master Portfolios are five ready-made investment portfolios dedicated to long-term investors. With funds from all the main industry sectors managed by specialists, they can suit any level of risk an investor may opt for. Five categories of portfolio style are included. The result of any query is a list of three suggestions based on investment size, risk adversity and preferred return timeframes and levels.
The live share price available on their website is free of charge and constantly updated. It gives you access to your portfolio at all times. Market cap, previous close, trade high and low and total volume are available. Alongside these figures, broker preference charts and recent graphs are at your disposal. Share prices are live, continuously updated and available for you to view and compare at any time, free of charge. Your portfolio valuation is included in the service.
The website gives you access to a wide selection of funds and it even enables you to deal in overseas shares. American, European, Canadian and British shares can be traded from the comfort of your own home. Gilts, investment trusts, corporate bonds and exchange traded funds are just some of the products you can manage online using the website.
Perhaps one of the most attractive features of the website is that you can set your own price for buying and selling particular shares as early as 30 days in advance. You will also be notified when your targeted value has been reached, so that you can limit your orders and minimise your losses.
Should you choose to opt for the automatic dividend reinvestment tool, you will have the added advantage of knowing that whenever your dividends reach your preferred level, they will be reinvested so that you may reap even larger future benefits. This is a low-cost dividend reinvestment scheme with a good deal of flexibility, which gives you peace of mind.
You can also take advantage of the Price Improvement Service, which can poll no less than thirty market markers at any one time, giving you the best price and ensuring higher revenues with considerable savings on your buys and sells.
Some of the other benefits of signing up with HL are the interactive charts, the share price alerts, the research reports, the sector reports and the free, unbiased share tips. Also, let's not forget the Shareholder Perks section, where you have a detailed account of the discounts and freebies offered to company shareholders for holding a certain amount of shares. Not only will you earn dividends for buying your shares through this award-winning stockbrokring platform, but you'll also be able to use your shareholder status to take advantage of cruise, shopping, flight and food discounts, among many others. Exhibits, company tours and shareholder meetings are also available for shareholders who own a certain amount of shares and hold certain types of shares, so browse through the section before deciding what company you'd like to invest in.
Access HL remotely
The HL Live mobile app is available for download from the company's website free of charge and is compatible with iOS and Android operated devices. It gives users free access to updated prices and indices, as well as the latest news and research available on the market. It features share, fund and ETF dealing capabilities, interactive performance charts and watchlists for personalised fund and share account users. Additionally, Vantage Account holders can login remotely at any time and securely using this app. To gain access to all these perks, simply download your HL Live app from Google Play or the App Store.
Disclaimer
Using a fund platform such as Hargreaves Lansdown allows you to hold funds managed by various fund managers in one place. Investments are held on your behalf in a 'nominee' account, meaning that you are entitled to your earnings as the beneficial owner, but are not the legal owner. Fund platform users are covered for up to £50,000 by the Financial Services Compensation Scheme, so investing any more than that will be a matter of trusting the platform.
Awards
Hargreaves Lansdown were voted 'What Investment' Reader's Award Winner for Best Share Dealing Service of 2012, 2013. The company was also recently dubbed a ISA Recommended Provider, alongside the UK's topmost Fund Supermarkets of May 2014. It was also named the Best Online Junior Stocks and Shares ISA Provider, the Best Mobile Trading Platform, the Best Financial Services Mobile Strategy/Campaign by MOMA, a Pension Adviser of the Year, and it was awarded various other prizes throughout the year. Sign up for your own account and find out why this fund supermarket is the best the industry can offer.
CFD's zijn hefboomproducten en kunnen leiden tot verlies van uw vermogen. Alle handel brengt risico met zich mee. Leg uitsluitend vermogen in dat u bereid bent te verliezen. In het verleden behaalde resultaten bieden geen garantie voor toekomstige resultaten.
Deze post is voor educatieve doeleinden en mag niet worden beschouwd als beleggingsadvies. Alle informatie verzameld van http://www.hlmarkets.co.uk/ op 01/10/2021.