PRÓS
Segrega fundos de clientes
Estabelecido em 2008
Regulado por Financial Conduct Authority
Depósito mín. a partir de

$1
Para abrir uma conta ativa, precisará de um depósito mínimo de pelo menos $1. Em alternativa, Ayondo oferece uma conta de demonstração que pode usar para praticar e se familiarizar com a sua plataforma.
Regulado pela Autoridade de Conduta Financeira, Reino Unido (FRN: 184333). Ayondo coloca todos os fundos de clientes numa conta bancária segregada e usa bancos de nível 1 para este efeito. Ayondo iniciou a sua atividade em 2008, e está sediado em .
Antes de nos focarmos em alguns dos aspetos mais detalhados de Ayondo's spreads, comissões, plataformas e funções de negociação, poderá querer abrir o site Ayondo's num novo separador clicando no botão abaixo para ver as informações mais recentes diretamente de Ayondo.
Divulgação integral: podemos receber uma comissão se se registar num corretor usando um dos nossos links.
O que são Ayondo's spreads e comissões?
Tal como a maioria dos corretores,, Ayondo retira uma taxa do spread, que é a diferença entre o preço de compra e de venda de um instrumento.
As comissões e spreads abaixo apresentados baseiam-se nos spreadsmínimos listados no Ayondo's site. As barras coloridas mostram o grau de competitividade dos spreads Ayondo's em comparação com outros negociadores populares apresentados em BrokerNotes.
Ayondo

EUR/USD

(Average: 0.7 pips)

0.8 pips

0.7 pips

0.1 pips

GBP/USD

(Average: 1.1 pips)

1.8 pips

1.7 pips

0.1 pips

USD/JPY

(Average: 1.1 pips)

1.5 pips

0.6 pips

0.1 pips

AUD/USD

(Average: 0.8 pips)

1.5 pips

0.6 pips

0.2 pips

USD/CHF

(Average: 2.3 pips)

3.0 pips

2.3 pips

0.2 pips

USD/CAD

(Average: 2.9 pips)

2.5 pips

0.5 pips

0.3 pips

NZD/USD

(Average: 3.6 pips)

2.0 pips

2.8 pips

0.3 pips

EUR/GBP

(Average: 2.4 pips)

1.0 pips

0.5 pips

0.1 pips
Spreads are dynamic and are for informational purposes only.
Como pode ver, Ayondo's o spread mínimo para negociar EUR/USD é0.8 pips - que é relativamentealto comparado com o spread médio de EUR/USD de 0.70 pips. Segue-se uma repartição de quanto lhe custaria negociar um lote de EUR/USD com Ayondo vs. outros negociadores semelhantes.
Ver todos os Spreads
Quanto é que Ayondo cobra para negociar 1 lote de EUR/USD?
Se fosse comprar um lote standard de EU/USD (100 mil unidades) com Ayondo a uma taxa de câmbio de 1,1719 e depois vendê-lo no dia seguinte ao mesmo preço, provavelmente pagaria $8. Segue-se uma repartição aproximada das comissões e da forma como se compara a IG & XTB .
Ayondo

IG

XTB

Spread desde

:
$ 8.00
$ 6.00
$ 2.00

Comissão

:
$0.00
$0.00
$0.00
Total cost of a 100k trade:
$ 8.00
$ 6.00
$ 2.00

$2 menos

$6 menos

Visitar Ayondo
Visitar IG
Visitar XTB
Todos os encargos/preços são para efeitos informativos e são sujeitos a alterações. Última atualização
O que pode negociar com Ayondo?
Ayondo oferece mais de 181 diferentes instrumentos para negociar, incluindo mais de 36 pares de divisas. Resumimos todos os diferentes tipos de instrumentos oferecidos porAyondo abaixo, juntamente com os instrumentos oferecidos por IG eXTB para comparação.
| FX / Divisas | Ayondo | IG | XTB |
| --- | --- | --- | --- |
| de pares forex disponibilizados | 36 | 90 | 48 |
| Principais pares de moedas | Yes | Yes | Yes |
| forex pares menores | Yes | Yes | Yes |
| pares de moedas exóticas | Yes | Yes | Yes |
| criptomoeda* | Yes | Yes | Yes |
| CFDs de Mercadorias | Ayondo | IG | XTB |
| --- | --- | --- | --- |
| de mercadorias disponibilizadas | 6 | 34 | 21 |
| Metais | | Yes | Yes |
| Energias | | Yes | Yes |
| Agrícolas | | Yes | Yes |
Como é Ayondo a experiência de negociação?
1)Plataformas e aplicações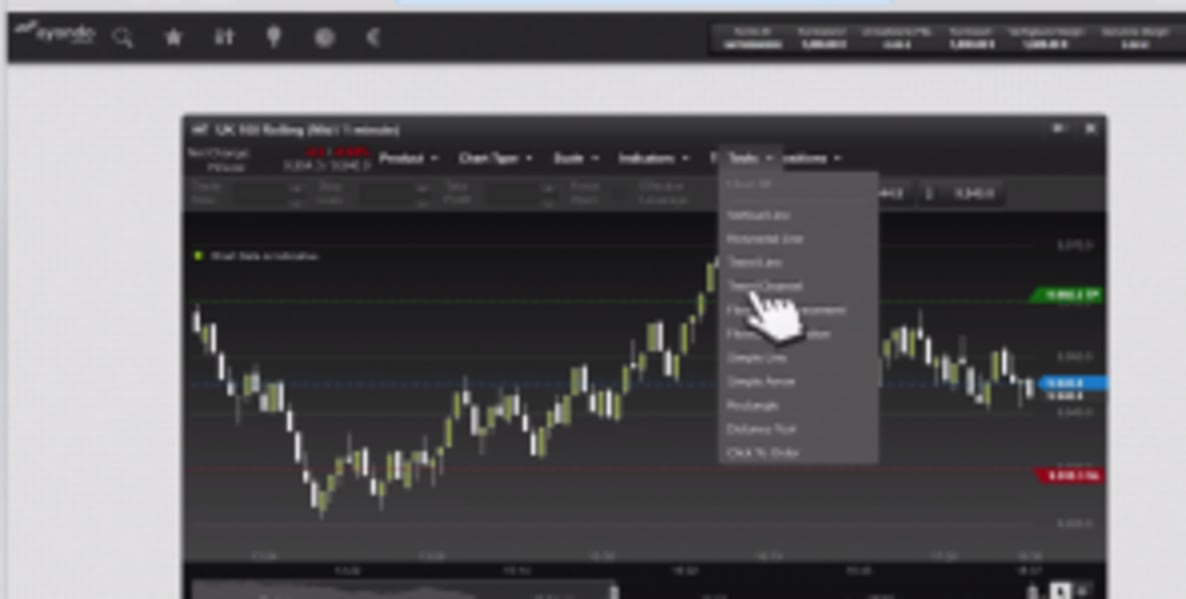 Ayondo também disponibilizam aplicações para Android e iOS, tornando mais fácil monitorizar e executar as suas negociações enquanto está em movimento.
Ver Ayondo's plataformas
2)Executar Negociações
Ayondo permitem-lhe executar um mínimo de negociação de . Isto pode variar de acordo com a conta que abrir. Ayondo permitem-lhe executar um máximo de negociação de.
Tal como acontece com a maioria dos corretores, os requisitos de margem variam dependendo do negociador, das contas e dos instrumentos.
Finalmente, listámos alguns dos métodos de financiamento mais populares que Ayondo oferece aos seus negociadores abaixo.
Métodos de financiamento:
3)Suporte ao cliente
Ayondo suporta umnúmero limitadoincluindo .
Ayondo tem uma classificação de suporte BrokerNotes A porqueAyondo oferece mais de três idiomas esuporte telefónico e por email.
4)O que vai precisar para abrir uma conta com Ayondo
Uma vez que Ayondo é regulado por Financial Conduct Authority , todos os novos clientes devem passar por algumas verificações de conformidade para garantir que compreende os riscos de negociação e que lhe é permitido negociar. Quando abrir uma conta, provavelmente ser-lhe-ão solicitados os seguintes elementos, que poderá já ter à mão:
Uma cópia a cores do seu passaporte, carta de condução ou documento nacional de identificação
Uma fatura de serviços ou extrato bancário dos últimos três meses que contenha a sua morada
Terá também de responder a algumas questões básicas de conformidade para confirmar o seu nível de experiência em negociação, pelo que será melhor reservar pelo menos 10 minutos para concluir o processo de abertura de conta.
Embora possa explorar de Ayondo's imediato a plataforma, é importante assinalar que não poderá realizar qualquer negociação até passar na verificação de conformidade, que pode demorar até vários dias, dependendo da sua situação.
Para iniciar o processo de abertura de conta com Ayondo pode visitar o seu site aqui.
A Review & Guide to Trading with Ayondo
The trading platform Ayondo was initiated in 2009 out of Germany. Espousing the ever-increasing popularity of the 'social trading' system, Ayondo aims to connect small- to medium-sized investors with their top-tier traders. Thus, this can be seen as being as much of an educational platform as a simple online trading system. For anyone who may wish to join this site, it is important to take a look at some of the key metrics before fully committing.
Underlying Assets
Ayondo offers a host of different instruments to trade. These include:
More than 30 currency pairs (Forex)
CFDs
Major Asian, European and American indices
Bonds
Precious metals
Larger blue-chip companies such as Coca-Cola and Starbucks
This is notably different than some other platforms which only specialise in one field or another. Thus, the average trader has a great deal of options to suit his or her individual tastes and levels of exposure.
Educational Services
Currently, Ayondo claims to offer over 1,000 'top-level' traders. However, it is important to note that only a handful have garnered an appreciable number of followers. This therefore calls into question the efficacy of the bulk of these investors. However, those who do have followers are said to provide steady returns; many of these have been with Ayondo for over two years. These traders can be followed based upon criteria such as their profit-loss ratio, followers or their trading frequency.
The performance of these traders is graphically displayed within the Ayondo interface, so determining who is the best suited can be quite easy. A complete transaction history can likewise be viewed and their overall performance is tracked alongside the major indices. This is particularly important to observe longitudinal results. While the 'interactive' aspect is not necessarily like the forums and live communication that is seen on other sites, the hard data provided can serve to provide much clarity and insight.
Time Delays and Slippage
These factors have been a concern with other social trading sites and are therefore worth mentioning. Slippage is defined as the difference between the levels that a top trader closes at and the figures that a follower receives upon execution. As both trades will be performed through the same platform, this proportion is actually kept to a minimum. Of course, part of this will be associated with the speed of the computer in question. Succinctly, both time delays and slippage are negligible.
Commissions and Fees
One of the most interesting aspects of Ayondo is that the client will not be charged any commissions or fees when following the trades of a broker. This arises from the fact that Ayondo receives remuneration from the Forex broker in question. These fees are derived from the spread so in many ways, everyone involved benefits. Another notable feature is that any trader who moves his or her current account to Ayondo will receive a cash bonus. Certain terms and conditions will apply.
On a final note in regards to monetary concerns, many analysts have noted that the entry levels to begin trading are quite amenable when compared to similar services. These can be 100 dollars, euros or pounds.
Trading Levels
As one progresses with Ayondo, there are different trading levels which will be enjoyed. These vary from 'Street Trader' to 'Institutional'. Additionally, the commissions that the trader will be paid FROM Ayondo will increase with each level (assuming that their performance remains constant; one can also be downgraded for poor trades). Once a trader has more than 500 dollars, pounds or euros in an account, he or she will receive what is known as a 'Money Trader's Badge'.
Interface and Functionality
Billed as 'Next Generation Trading', their TradeHub system is quite streamlined and easy to work with. It should therefore not take beginning long to pick up on the basic layout and functionality. The platform can be customised to the discrete preferences of the user; affording a faster trade execution. Cash balances and margins are clearly displayed as are the trading products. Filters can be adjusted to suit specific interests. OCO orders are likewise available and importantly, guaranteed stop-loss amounts are automatically included with a position. For those who are executing multiple trades or are following the maximum number of five 'top-tier' investors, such a fluid platform is essential. This software is also available for smartphone users.
The Verdict
Overall, Ayondo seems to be one of the fairest trading systems currently available. This is in no small part due to the fact that no commissions or fees will be charged to the trader. Combined with amenable entry levels and the ability to follow up to five experts, such social trading indeed has its benefits.
There are nonetheless a few drawbacks. As the number of top traders is still limited, overall results can be skewed in either direction. Another significant disadvantage is that the client is unable to view which trader has contributed the most to their performance in either direction. This may make interpreting results a bit difficult.
Nonetheless, Ayondo is still growing. Should the number of top traders continue to increase, this platform may very well become extremely diversified. As a fully functional demo account can be activated, it will be easy for the potential client to appreciate the overall functionality before making any final decision.
CFDs são produtos alavancados e podem resultar na perda do seu capital. Toda a negociação envolve riscos. Apenas arrisque capital que esteja preparado para perder. O desempenho passado não garante resultados futuros.
Esta publicação tem fins educativos e não deve ser considerada como aconselhamento de investimento. Toda a informação recolhida de http://www.ayondo.com/ em 01/10/2021.