Visão geral
Para abrir uma conta ativa, precisará de um depósito mínimo de pelo menos $200. Em alternativa, eToro oferece uma conta de demonstração que pode usar para praticar e se familiarizar com a sua plataforma.
Regulado pela Autoridade de Conduta Financeira, Reino Unido (FRN: 583263), CySEC (Licence: 109/10), and ASIC (AFSL #491139). eToro coloca todos os fundos de clientes numa conta bancária segregada e usa bancos de nível 1 para este efeito. eToro iniciou a sua atividade em 2006, e está sediado em Cyprus, UK.
Antes de nos focarmos em alguns dos aspetos mais detalhados de eToro's spreads, comissões, plataformas e funções de negociação, poderá querer abrir o site eToro's num novo separador clicando no botão abaixo para ver as informações mais recentes diretamente de eToro.
Abrir uma conta de demonstração Visitar eToro
65% das contas de investidores de varejo perdem dinheiro quando da negociação de CFDs com este provedor
O que são eToro's spreads e comissões?
Tal como a maioria dos corretores,, eToro retira uma taxa do spread, que é a diferença entre o preço de compra e de venda de um instrumento.
Os spreads abaixo apresentados baseiam-se nos spreadsfixed mínimos listados no eToro's site. As barras coloridas mostram o grau de competitividade dos spreads eToro' em comparação com outros negociadores populares apresentados em BrokerNotes.
Spreads are dynamic and are for informational purposes only. Last updated: June 06, 2018.

Como pode ver, eToro's o spread mínimo para negociar EUR/USD é3.0 pips - que é relativamentealto comparado com o spread médio de EUR/USD de 0.82 pips. Segue-se uma repartição de quanto lhe custaria negociar um lote de EUR/USD com eToro vs. outros negociadores semelhantes.
Ver todos os Spreads
65% das contas de investidores de varejo perdem dinheiro quando da negociação de CFDs com este provedor
Quanto é que eToro cobra para negociar 1 lote de EUR/USD?
Se fosse comprar um lote standard de EU/USD (100 mil unidades) com eToro a uma taxa de câmbio de 1,1719 e depois vendê-lo no dia seguinte ao mesmo preço, provavelmente pagaria $N/A. Segue-se uma repartição aproximada das comissões e da forma como se compara a XTB & City Index.
Todos os encargos/preços são para efeitos informativos e são sujeitos a alterações. Última atualização: 09/03/2018. 65% das contas de investidores de varejo perdem dinheiro quando da negociação de CFDs com este provedor
O que pode negociar com eToro?
eToro oferece mais de 1,083 diferentes instrumentos para negociar, incluindo mais de 47 pares de divisas. Resumimos todos os diferentes tipos de instrumentos oferecidos poreToro abaixo, juntamente com os instrumentos oferecidos por XTB eCity Index para comparação.
| FX / Divisas | eToro | XTB | City Index |
| --- | --- | --- | --- |
| de pares forex disponibilizados | 47 | 48 | 84 |
| Principais pares de moedas | Yes | Yes | Yes |
| forex pares menores | Yes | Yes | Yes |
| pares de moedas exóticas | Yes | Yes | Yes |
| criptomoeda | Yes | Yes | Yes |
| CFDs de Mercadorias | eToro | XTB | City Index |
| --- | --- | --- | --- |
| de mercadorias disponibilizadas | 6 | 21 | 26 |
| Metais | Yes | Yes | Yes |
| Energias | Yes | Yes | Yes |
| Agrícolas | Yes | Yes | Yes |
65% das contas de investidores de varejo perdem dinheiro quando da negociação de CFDs com este provedor
Como é eToro a experiência de negociação?
1)Plataformas e aplicações
eToro oferece uma plataforma de negociação personalizada e orientada para o utilizador, disponível tanto como programa transferível ou como WebTrader baseado no navegador. Se procura um corretor MetaTrader, veja a nossa comparação de corretores MT4 aqui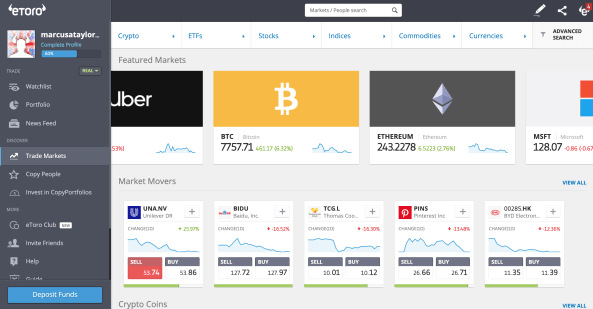 VereToro 's Plataformas
eToro também disponibilizam aplicações para Android e iOS, tornando mais fácil monitorizar e executar as suas negociações enquanto está em movimento.
VereToro 's plataformas
65% das contas de investidores de varejo perdem dinheiro quando da negociação de CFDs com este provedor
2)Executar Negociações
eToro permitem-lhe executar um mínimo de negociação de $25. Isto pode variar de acordo com a conta que abrir. eToro permitem-lhe executar um máximo de negociação de20% of equity. Uma vez que eToro oferece execução ECN, pode esperar spreads mais justos com mais transparência sobre o preço que está a pagar para executar as suas negociações.
Tal como acontece com a maioria dos corretores, os requisitos de margem variam dependendo do negociador, das contas e dos instrumentos.
Finalmente, listámos alguns dos métodos de financiamento mais populares que eToro oferece aos seus negociadores do lado direito.
3)Suporte ao cliente
eToro suporta um grande leque de idiomas incluindo English, German, Spanish, French, and Italian.
eToro tem uma classificação de suporte BrokerNotes AAA porque oferece um grande leque de idiomas, live chat, suporte telefónico e por email.
4)O que vai precisar para abrir uma conta com eToro
Uma vez que eToro é regulado por Financial Conduct Authority, CySEC, ASIC, todos os novos clientes devem passar por algumas verificações de conformidade para garantir que compreende os riscos de negociação e que lhe é permitido negociar. Quando abrir uma conta, provavelmente ser-lhe-ão solicitados os seguintes elementos, que poderá já ter à mão:
Uma cópia a cores do seu passaporte, carta de condução ou documento nacional de identificação
Uma fatura de serviços ou extrato bancário dos últimos três meses que contenha a sua morada
Terá também de responder a algumas questões básicas de conformidade para confirmar o seu nível de experiência em negociação, pelo que será melhor reservar pelo menos 10 minutos para concluir o processo de abertura de conta.
Embora possa explorar de eToro's imediato a plataforma, é importante assinalar que não poderá realizar qualquer negociação até passar na verificação de conformidade, que pode demorar até vários dias, dependendo da sua situação.
Para iniciar o processo de abertura de conta com eToro pode visitar o seu site aqui.
What is eToro's WebTrader?
The eToro Webtrader is a combined social trading application and web trading platform. First developed in 2011, social trading on eToro was initially performed using the OpenBook and CopyTrader software. OpenBook was used to search for traders to follow, while the CopyTrader was used to automatically copy their trades into the followers' accounts. Both OpenBook and CopyTrader are proprietary software products of eToro.
In 2015, eToro made the process of searching for top traders to follow as well as copying their trades much easier. OpenBook and CopyTrader were integrated into a single platform, the eToro WebTrader, which is the current platform offered by eToro today.
The web-based trading platform is built on JAVA technology and is accessible from any computer with an internet connection. It is a web-based application and no download is required. The platform allows the trader to access the platform from any of the popular web browsers like Chrome, Mozilla, Firefox and Internet Explorer.
The WebTrader contains a complete suite of technical indicators and interactive charts, and can also be used to trade selected stock indices, crude oil, cryptocurrencies and gold. eToro's WebTrader is synchronised with eToro's OpenBook social trading platform, enabling trader's to copy trades from successful traders listed on the leaderboard.
Trading on the eToro WebTrader is exclusively under market maker conditions, and trades are executed by a dealing desk.
What mobile apps do eToro offer?
eToro offers a mobile trading application for the iOS devices as well as the Android phones and tablets. The app can be downloaded from the respective app stores (iTunes and Google Play store).
What is eToro CopyFunds?
The eToro CopyFunds program is a managed portfolio account system where traders can simply put funds in a PAMM account and have a top trader make all the trading decisions. All a trader needs to do to participate is to fund the trading account, find a CopyFund that fits their investment objectives and strategy, and click to join the desired portfolio.
Traders have the choice to trade in two types of CopyFunds:
Top Trader CopyFunds, made up of eToro's best performing and most sustainable traders.
Market CopyFunds where assets comprising stocks, commodities or ETFs are bundled together under a chosen trading strategy.
With CopyFunds, traders can get a managed portfolio by simply copying a CopyFund that makes sense for them.
Frequently asked questions about eToro
The following section details some useful details about trading on eToro:
Do eToro charge a commission?
No, trading on eToro is commission-free.
What are eToro's trading hours?
The eToro platform is open for trading 24 hours a day, 5 days a week (Monday to Friday) from 9pm GMT on Sunday to 9pm GMT on Friday.
What leverage and margin do eToro offer?
eToro's maximum leverage is 1:400 (1:100 for commodities and stock indices). The minimum is 1:2 for currencies, stock indices, and commodities.
What's the minimum and maximum I can trade on eToro?
The minimum trade contract size on eToro is 1,000 units of the base currency, which is equivalent to a lot size of 0.01 lots for currencies, 10 units for commodities and 1 unit for stock indices. There is no limit to the maximum contract size that can be traded.
What is the market depth offered by eToro?
The market dealing model provided by eToro is market making, so market depth is Level I. However, the eToro OpenBook allows a trader to view what other traders on the eToro social medium are doing in the market, and trades of a successful trader can then be copied using eToro's CopyTrader facility.
What risk control features do eToro offer?
Even though there is the ability to adjust leverage on the eToro platform, the company now has a responsible trading policy that limits the total exposure of a trader in the market to 20% and sets the default leverage to 1:100.
How to trade on eToro
eToro is based on a social trading model. Therefore, the interface of the eToro Webtrader is different to most other platforms where the trader is confronted with charts and indicators. Rather, the interface looks like this:
The assets that the trader is interested in trading can be selected from the watchlist. The watchlist is part of the trader's navigation bar and is shown below. This is where the trader can select the asset to be traded.
The bid and ask prices, the line graph of the asset's recent price movement as well as the market sentiment (percentage of buying and selling interests) is shown on the watchlist.
Trading an Asset: What Does the Social Community Say?
Once an asset is clicked for trading, a new window opens. This showcases the views of members of the eToro social trading community in the FEED section. This allows a trader to access the views and sentiment of other eToro traders before making a trading decision.
You can also see the chart for the selected asset by clicking on CHARTS. You can see the example for the Bitcoin asset (BTC) below:
If you wanted to make the trade, you would click the 'Trade' button in the top right-hand corner of the screen. This will produce the trade selection interface shown below:
CFDs são produtos alavancados e podem resultar na perda do seu capital. Toda a negociação envolve riscos. Apenas arrisque capital que esteja preparado para perder. O desempenho passado não garante resultados futuros.
Esta publicação tem fins educativos e não deve ser considerada como aconselhamento de investimento. Toda a informação recolhida de www.etoro.com em Agosto 23, 2018.