Visão geral
ETX Capital é um forex, CFD e espalhar apostas (UK) corretor. Eles dão os comerciantes acesso aos principais mercados como moedas, índices, commodities e ações. Para os comerciantes interessados ​​em cryptocurrencies como Bitcoin, ETX Capital é um dos poucos corretores que oferecem CFDs criptomoeda.
Para abrir uma conta ativa, precisará de um depósito mínimo de pelo menos $100. Em alternativa, ETX Capital oferece uma conta de demonstração que pode usar para praticar e se familiarizar com a sua plataforma.
Regulado pela Autoridade de Conduta Financeira, Reino Unido (FRN: 124721). ETX Capital coloca todos os fundos de clientes numa conta bancária segregada e usa bancos de nível 1 para este efeito. ETX Capital iniciou a sua atividade em 2002 , e está sediado em UK .
Antes de nos focarmos em alguns dos aspetos mais detalhados de ETX Capital 's spreads, comissões, plataformas e funções de negociação, poderá querer abrir o site ETX Capital 's num novo separador clicando no botão abaixo para ver as informações mais recentes diretamente de ETX Capital.
Abrir uma conta de demonstração Visitar ETX Capital
Divulgação integral: podemos receber uma comissão se se registar num corretor usando um dos nossos links.
O que são ETX Capital's spreads e comissões?
Tal como a maioria dos corretores,, ETX Capital retira uma taxa do spread, que é a diferença entre o preço de compra e de venda de um instrumento.
Os spreads abaixo apresentados baseiam-se nos spreadsmínimos listados no ETX Capital's site. As barras coloridas mostram o grau de competitividade dos spreads ETX Capital' em comparação com outros negociadores populares apresentados em BrokerNotes.
Spreads are dynamic and are for informational purposes only. Last updated: June 06, 2018.

Como pode ver, ETX Capital 's o spread mínimo para negociar EUR/USD é0.6 pips - que é relativamentebaixo comparado com o spread médio de EUR/USD de 0.82 pips. Segue-se uma repartição de quanto lhe custaria negociar um lote de EUR/USD com ETX Capital vs. outros negociadores semelhantes.
Ver todos os Spreads
79,6% das contas de investidores de varejo perdem dinheiro quando da negociação de CFDs com ETX
Quanto é que ETX Capital cobra para negociar 1 lote de EUR/USD?
Se fosse comprar um lote standard de EU/USD (100 mil unidades) com ETX Capital a uma taxa de câmbio de 1,1719 e depois vendê-lo no dia seguinte ao mesmo preço, provavelmente pagaria $20.1. Segue-se uma repartição aproximada das comissões e da forma como se compara a XTB & City Index .
ETX Capital

XTB

City Index

Spread desde

:
$ 6.00
$ 2.00
$ 5.00

Taxa de overnight típica

:
$ 14.10
$ 7.94
$ 20.60

Comissão

:
0
0
0
Total cost of a 100k trade:
$ 20.1
$ 9.94
$ 25.6

-10 menos

$5.50 mais

Visitar ETX Capital
Visitar XTB
Visitar City Index
Todos os encargos/preços são para efeitos informativos e são sujeitos a alterações. Última atualização: 09/03/2018. 79,6% das contas de investidores de varejo perdem dinheiro quando da negociação de CFDs com ETX
O que pode negociar com ETX Capital?
ETX Capital oferece mais de 5,137 diferentes instrumentos para negociar, incluindo mais de 60 pares de divisas. Resumimos todos os diferentes tipos de instrumentos oferecidos porETX Capital abaixo, juntamente com os instrumentos oferecidos por XTB eCity Index para comparação.
| FX / Divisas | ETX Capital | XTB | City Index |
| --- | --- | --- | --- |
| de pares forex disponibilizados | 60 | 48 | 84 |
| Principais pares de moedas | Yes | Yes | Yes |
| forex pares menores | Yes | Yes | Yes |
| pares de moedas exóticas | Yes | Yes | Yes |
| criptomoeda | Yes | Yes | Yes |
| CFDs de Mercadorias | ETX Capital | XTB | City Index |
| --- | --- | --- | --- |
| de mercadorias disponibilizadas | 16 | 21 | 26 |
| Metais | Yes | Yes | Yes |
| Energias | Yes | Yes | Yes |
| Agrícolas | Yes | Yes | Yes |
79,6% das contas de investidores de varejo perdem dinheiro quando da negociação de CFDs com ETX
Como é ETX Capital a experiência de negociação?
1)Plataformas e aplicações
ETX Capital disponibilizam a popular plataforma de negociação forex MT4. Para ver uma lista dos principais corretores MT4, veja a nossa comparação de corretores MT4. A combinação de plataformas transferíveis tanto para Mac como para Windows permite aos negociadores utilizar o dispositivo da sua preferência.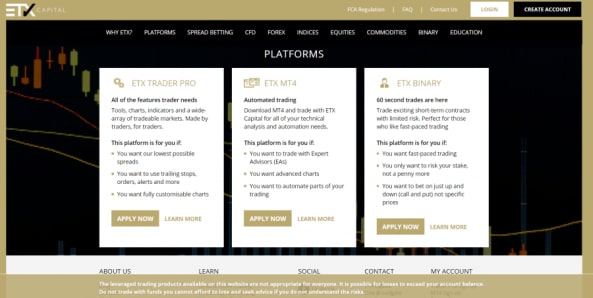 VerETX Capital 's Plataformas
ETX Capital também disponibilizam aplicações para Android e iOS, tornando mais fácil monitorizar e executar as suas negociações enquanto está em movimento.
VerETX Capital 's plataformas
79,6% das contas de investidores de varejo perdem dinheiro quando da negociação de CFDs com ETX
2)Executar Negociações
ETX Capital permitem-lhe executar um mínimo de negociação de 0.01 Lot. Isto pode variar de acordo com a conta que abrir. Os requisitos máximos de negociação variam dependendo do negociador e do instrumento.

Enquanto criador de mercado, ETX Capital poderá ter requisitos de entrada inferiores em comparação com um corretor ECN que beneficia de um volume mais elevado de negociação e tipicamente tem mais capital e requisitos mínimos de negociação. Os criadores de mercado têm tipicamente depósitos mínimos mais baixos, menores requisitos mínimos de negociação e não têm comissões sobre as negociações.
Tal como acontece com a maioria dos corretores, os requisitos de margem variam dependendo do negociador, das contas e dos instrumentos.
Finalmente, listámos alguns dos métodos de financiamento mais populares que ETX Capital oferece aos seus negociadores do lado direito.
3)Suporte ao cliente
ETX Capital suporta um grande leque de idiomas incluindo English, French, Spanish, German, Polish, Czech, Greek and Mandarin.
ETX Capital tem uma classificação de suporte BrokerNotes AA porque ETX Capital oferece mais de três idiomas suporte telefónico e por email.
4)O que vai precisar para abrir uma conta com ETX Capital
Uma vez que ETX Capital é regulado por Financial Conduct Authority , todos os novos clientes devem passar por algumas verificações de conformidade para garantir que compreende os riscos de negociação e que lhe é permitido negociar. Quando abrir uma conta, provavelmente ser-lhe-ão solicitados os seguintes elementos, que poderá já ter à mão:
Uma cópia a cores do seu passaporte, carta de condução ou documento nacional de identificação
Uma fatura de serviços ou extrato bancário dos últimos três meses que contenha a sua morada
Terá também de responder a algumas questões básicas de conformidade para confirmar o seu nível de experiência em negociação, pelo que será melhor reservar pelo menos 10 minutos para concluir o processo de abertura de conta.
Embora possa explorar de ETX Capital's imediato a plataforma, é importante assinalar que não poderá realizar qualquer negociação até passar na verificação de conformidade, que pode demorar até vários dias, dependendo da sua situação.
Para iniciar o processo de abertura de conta com ETX Capital pode visitar o seu site aqui.
An insider look at trading with ETX Capital
If you're wondering how ETX Capital works or just want to see inside their platform, we've recorded this short 4-minute video walking through the process of creating an account on ETX Capital.
What trading platforms do ETX Capital offer?
ETX Capital offers three different platforms for traders, and MetaTrader 4 is one of them. MT4 is one of the leading online trading platforms and is a popular choice of forex traders. With the ETX Capital MT4 platform, you can trade a wide variety financial markets including indices, commodities, equities, currency markets and cryptocurrencies.
What are the benefits of trading with MT4?
The MT4 platform offers the following benefits:
You can use automated Expert Advisors (EAs)
You can trade micro lots
You can use hedging
You can use leverage
For traders who prefer automated trading, this is the platform for it. ETX Capital has an AutoTrader platform that facilitates the use of automated Expert Advisors (EAs). Traders using EAs can set parameters for their trades and then wait for the automated responses. The advantage that traders get with this option is that one does not have to be in front of a computer to open or close trades. With MT4 automated trades, ETX Capital is responsible for the hosting while the traders provide the Expert Advisors.
On The MT4 trading platform, ETX Capital has made sure that traders can take advantage of the all the opportunities available. The one-click trading feature is what makes this possible.
Another trading advantage that the ETX Capital MT4 platform offers is the ability to support multiple charts. Information is very crucial when trading and that is what charts provide. With multiple ones, traders get real-time data that they can use for decision making. The environment in different markets keeps changing, and it is essential to monitor them when trading. Real-time data shows all the fluctuations that may be taking place.
The ETX Capital MT4 platform has a watchlist feature. As the name suggests, this lists enables a trader to keep an eye on specific markets. With the drop and drag function on the platform, traders can add particular markets to the list.
Trading on the MT4 platform offers traders favourable leverage rates of up to 200:1. Such margins increase the potential returns that a trader can get. Traders can also use micro lots, meaning that it is possible to trade smaller.
MT4 on Mobile
ETX Capital has a mobile app for the MT4 platform. Even with automated trading, traders still appreciate mobile apps. Traders can download the app on Android devices and iPhones and iPads from Google Play Store and iTunes. Mobile apps are available in multiple languages.
CFDs são produtos alavancados e podem resultar na perda do seu capital. Toda a negociação envolve riscos. Apenas arrisque capital que esteja preparado para perder. O desempenho passado não garante resultados futuros.
Esta publicação tem fins educativos e não deve ser considerada como aconselhamento de investimento. Toda a informação recolhida de https://www.etxcapital.com em Agosto 23, 2018.