Hargreaves Lansdown é um investimento e serviços tradng prestador estabelecido. Hargreaves Lansdown oferecem uma infinidade de serviços financeiros, incluindo as normas de auditoria, pensões, participação dealint, fundos de investimento, ETFs, aconselhamento financeiro e espalhar apostando e CFD serviços de negociação.
PRÓS
Segrega fundos de clientes
Estabelecido em 1981
Regulado por Financial Conduct Authority
Depósito mín. a partir de

$200
CONTRAS
Taxa de inatividade
Gama limitada de instrumentos
Não regulado pela ASIC (Ver alternativas)
Para abrir uma conta ativa, precisará de um depósito mínimo de pelo menos $200. Em alternativa, Hargreaves Lansdown oferece uma conta de demonstração que pode usar para praticar e se familiarizar com a sua plataforma.
Regulado pela Autoridade de Conduta Financeira, Reino Unido (FRN: 115248). Hargreaves Lansdown coloca todos os fundos de clientes numa conta bancária segregada e usa bancos de nível 1 para este efeito. Hargreaves Lansdown iniciou a sua atividade em 1981, e está sediado em .
Antes de nos focarmos em alguns dos aspetos mais detalhados de Hargreaves Lansdown's spreads, comissões, plataformas e funções de negociação, poderá querer abrir o site Hargreaves Lansdown's num novo separador clicando no botão abaixo para ver as informações mais recentes diretamente de Hargreaves Lansdown.
Divulgação integral: podemos receber uma comissão se se registar num corretor usando um dos nossos links.
O que são Hargreaves Lansdown's spreads e comissões?
Tal como a maioria dos corretores,, Hargreaves Lansdown retira uma taxa do spread, que é a diferença entre o preço de compra e de venda de um instrumento.
As comissões e spreads abaixo apresentados baseiam-se nos spreadsmínimos listados no Hargreaves Lansdown's site. As barras coloridas mostram o grau de competitividade dos spreads Hargreaves Lansdown's em comparação com outros negociadores populares apresentados em BrokerNotes.
Hargreaves Lansdown

EUR/USD

(Average: 0.7 pips)

Not offered

0.6 pips

+ $1.00

3.0 pips

GBP/USD

(Average: 1.1 pips)

Not offered

0.9 pips

+ $1.00

4.0 pips

USD/JPY

(Average: 1.1 pips)

Not offered

0.7 pips

+ $1.00

2.0 pips

AUD/USD

(Average: 0.8 pips)

Not offered

0.6 pips

+ $1.00

1.0 pips

USD/CHF

(Average: 2.3 pips)

Not offered

1.5 pips

+ $1.00

3.0 pips

USD/CAD

(Average: 2.9 pips)

Not offered

1.7 pips

+ $1.00

3.0 pips

NZD/USD

(Average: 3.6 pips)

Not offered

2.0 pips

+ $1.00

5.0 pips

EUR/GBP

(Average: 2.4 pips)

Not offered

0.9 pips

+ $1.00

4.0 pips
Spreads are dynamic and are for informational purposes only.
Como pode ver, Hargreaves Lansdown's o spread mínimo para negociar EUR/USD é pips - que é relativamentebaixo comparado com o spread médio de EUR/USD de 0.70 pips. Segue-se uma repartição de quanto lhe custaria negociar um lote de EUR/USD com Hargreaves Lansdown vs. outros negociadores semelhantes.
Ver todos os Spreads
Quanto é que Hargreaves Lansdown cobra para negociar 1 lote de EUR/USD?
Se fosse comprar um lote standard de EU/USD (100 mil unidades) com Hargreaves Lansdown a uma taxa de câmbio de 1,1719 e depois vendê-lo no dia seguinte ao mesmo preço, provavelmente pagaria $0. Segue-se uma repartição aproximada das comissões e da forma como se compara a IG & XTB .
Hargreaves Lansdown

IG

XTB

Spread desde

:
$ 0.00
$ 6.00
$ 2.00

Comissão

:
$0.00
$0.00
$0.00
Total cost of a 100k trade:
$ 0.00
$ 6.00
$ 2.00

$6 mais

$2 mais

Visitar HL Markets
Visitar IG
Visitar XTB
Todos os encargos/preços são para efeitos informativos e são sujeitos a alterações. Última atualização
O que pode negociar com Hargreaves Lansdown?
Hargreaves Lansdown oferece mais de diferentes instrumentos para negociar, incluindo mais de pares de divisas. Resumimos todos os diferentes tipos de instrumentos oferecidos porHargreaves Lansdown abaixo, juntamente com os instrumentos oferecidos por IG eXTB para comparação.
| FX / Divisas | HL Markets | IG | XTB |
| --- | --- | --- | --- |
| de pares forex disponibilizados | | 90 | 48 |
| Principais pares de moedas | Yes | Yes | Yes |
| forex pares menores | | Yes | Yes |
| pares de moedas exóticas | | Yes | Yes |
| criptomoeda* | Yes | Yes | Yes |
| CFDs de Mercadorias | Hargreaves Lansdown | IG | XTB |
| --- | --- | --- | --- |
| de mercadorias disponibilizadas | | 34 | 21 |
| Metais | Yes | Yes | Yes |
| Energias | Yes | Yes | Yes |
| Agrícolas | Yes | Yes | Yes |
Como é Hargreaves Lansdown a experiência de negociação?
1)Plataformas e aplicações
Hargreaves Lansdown oferece uma plataforma de negociação personalizada e orientada para o utilizador, disponível tanto como programa transferível ou como WebTrader baseado no navegador. Se procura um corretor MetaTrader, veja a nossa comparação de corretores MT4 aqui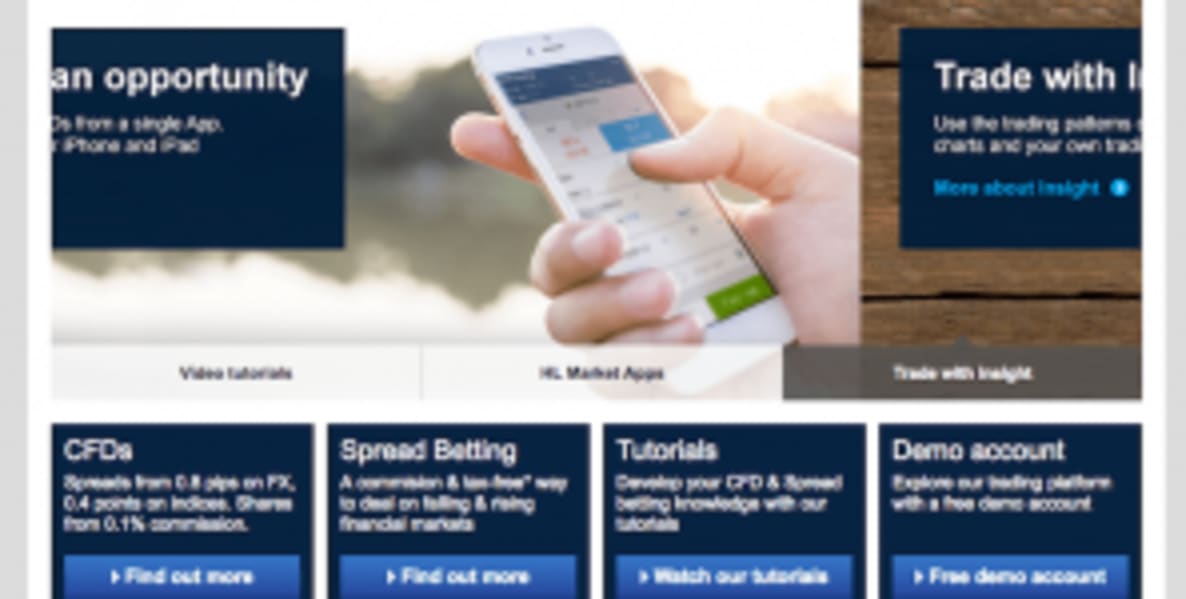 Hargreaves Lansdown também disponibilizam aplicações para Android e iOS, tornando mais fácil monitorizar e executar as suas negociações enquanto está em movimento.
Ver HL Markets's plataformas
2)Executar Negociações
Hargreaves Lansdown permitem-lhe executar um mínimo de negociação de £1. Isto pode variar de acordo com a conta que abrir. Hargreaves Lansdown permitem-lhe executar um máximo de negociação deVariable.

Enquanto criador de mercado, Hargreaves Lansdown poderá ter requisitos de entrada inferiores em comparação com um corretor ECN que beneficia de um volume mais elevado de negociação e tipicamente tem mais capital e requisitos mínimos de negociação. Os criadores de mercado têm tipicamente depósitos mínimos mais baixos, menores requisitos mínimos de negociação e não têm comissões sobre as negociações.
Tal como acontece com a maioria dos corretores, os requisitos de margem variam dependendo do negociador, das contas e dos instrumentos.
Finalmente, listámos alguns dos métodos de financiamento mais populares que Hargreaves Lansdown oferece aos seus negociadores abaixo.
Funções de Negociação:
Permite scalping
Permite cobertura
Depósito mín. baixo
Métodos de financiamento:
Cartões de crédito
Transferência Bancária
3)Suporte ao cliente
Hargreaves Lansdown suporta um grande leque de idiomas incluindo English, French, German, Spanish, and Portuguese.
Hargreaves Lansdown tem uma classificação de suporte BrokerNotes A porqueHargreaves Lansdown oferece mais de três idiomas.
4)O que vai precisar para abrir uma conta com Hargreaves Lansdown
Uma vez que Hargreaves Lansdown é regulado por Financial Conduct Authority , todos os novos clientes devem passar por algumas verificações de conformidade para garantir que compreende os riscos de negociação e que lhe é permitido negociar. Quando abrir uma conta, provavelmente ser-lhe-ão solicitados os seguintes elementos, que poderá já ter à mão:
Uma cópia a cores do seu passaporte, carta de condução ou documento nacional de identificação
Uma fatura de serviços ou extrato bancário dos últimos três meses que contenha a sua morada
Terá também de responder a algumas questões básicas de conformidade para confirmar o seu nível de experiência em negociação, pelo que será melhor reservar pelo menos 10 minutos para concluir o processo de abertura de conta.
Embora possa explorar de Hargreaves Lansdown's imediato a plataforma, é importante assinalar que não poderá realizar qualquer negociação até passar na verificação de conformidade, que pode demorar até vários dias, dependendo da sua situação.
Para iniciar o processo de abertura de conta com Hargreaves Lansdown pode visitar o seu site aqui.
A Review & Guide to Trading with Hargreaves Lansdown
Hargreaves Lansdown PLC is a successful financial service company based in Bristol. It is regulated by the Financial Conduct Authority.
Hargreaves Lansdown PLC is currently the UK's largest fund supermarket. It is a constituent of the FTSE 100. It trades on the London Stock Exchange with the ticker symbol HL., under the name of HARGREAVES LANS. It specialises in fund, pension, wealth and annuity management, stock brokerage and financial advice.
Its flagship Wealth 150 funds list is attracting hoards of investors. Competitors are following in the company's footsteps, dishing out attractive lists of their own. Wealth 150 has no less than 91 funds and Wealth 150+ comprises the best 28 from the previous list.
Transaction fees
Hargreaves Lansdown currently offer execution-only online stock trading compatible with two types of accounts. You can opt for either the share account or the active trader service. The choice is not a matter of personal preferences. You should bear in mind that the two accounts are different only in regards to trade volume and associated benefits. Transaction costs start at £11.95 and decrease with the number of deals. They are calculated based on the number of online or mobile app transactions completed the previous calendar month. Shares, investment trusts and exchange traded funds fall into this category. If 10 to 19 deals were completed, the dealing charge is £8.95 per deal. Investors who trade 20 or more assets will be charged £5.95 per deal. Phone and pot dealings are charged at 1 per cent, with a threshold of £20 minimum and £50 maximum. Dividend reinvestment is charged at 1 per cent, or a minimum of £1 and a maximum of £10. When dealing in equity regular savings, a charge of £1.5 per stock will be deducted monthly.
As of April 2014, it has become illegal for platforms to charge fund providers commissions. So, Hargreaves Lansdown no longer take 0.25 per cent out of the 1.5 per cent annual management fee for advising clients. Instead, Hargreaves Lansdown now charge tiered pricing. A fee of 0.45 per cent is applicable to the investor's holdings in open-ended funds, if they amount to no more than £250,000. Holdings between £250,000 and £1 million are charged 0.25 per cent. Those reaching £2 million are charged 0.25 per cent. Fees are not applied to holdings larger than £2 million. Cash investments are also exempt from any fees. When it comes to fund and share accounts, Hargreaves Lansdown do not charge any annual management fees. However, NISA accounts incur a fee of 0.45 per cent per year, with a maximum threshold of £45 yearly. Similarly, SIPP accounts charge the same percentage, but are capped at no more than £200 a year.
Additional charges
On top of the dealing charges mentioned above, limit orders placed online are charged £10 per deal. On the other hand, those placed online are free. All deals are subject to UK Stamp duty, which amounts to 0.5 per cent. In the case of residual shares, this amount is subsequently rounded up to the nearest £5. The Panel on Takeovers and Mergers levy applies, as well, to UK share deals above £10,000, and it amounts to £1.
Registering for an online account
You should be able to appreciate the advantages of having an Active Trader account immediately or after a few weeks. Your returns depend on the volume of your transactions. Completing 20 or more transactions per month saves you £6 per deal, as compared to dealing 9 or less.
Signing up for your very own Hargreaves Lansdown account is a straightforward matter. The account sign-up page takes you through the process of registering for various types of accounts. These include a fund and share account, a stocks and shares NISA and a SIPP, or Self Invested Personal Pension account. The website is user-friendly and fully functional. The website does not disappoint, as other execution-only platform do. Users are given the necessary tools and market information to make their own trading decisions. Still, a few isolated deals per year do not justify the monthly fees payable to Hargreaves Lansdown. Having access to the online account comes at a price. When large amounts are involved, investors should consider trading regularly. Registering for the online account is straightforward. The form requires you to enter your personal information and client number. This number is provided in the account confirmation letter you receive by post.
Account features
Having an online account entitles you to many innovative website features. A stock market report and a sector report keep you up to date with the latest international influences on global stock markets.
A 'Top of the stocks' section reveals the most traded stocks in the previous week. It compares the percentage share of the deals and the value of transactions on total weekly dealings. Additionally, every registered member receives free market updates via e-mail. These include share research, broker comments and tips, as well as FTSE 100 faller and riser updates. The website also features a Knowledge Centre. This functions as a list of frequently asked questions and answers. Index tracker funds, investment trusts, split capital trusts, annuities and many other services are explained in detail.
A section of the website is dedicated to helpful investment ideas. The Wealth 150+ list and the Master Portfolios are featured heavily throughout the website. Master Portfolios are five ready-made investment portfolios dedicated to long-term investors. With funds from all the main industry sectors managed by specialists, they can suit any level of risk an investor may opt for. Five categories of portfolio style are included. The result of any query is a list of three suggestions based on investment size, risk adversity and preferred return timeframes and levels.
The live share price available on their website is free of charge and constantly updated. It gives you access to your portfolio at all times. Market cap, previous close, trade high and low and total volume are available. Alongside these figures, broker preference charts and recent graphs are at your disposal. Share prices are live, continuously updated and available for you to view and compare at any time, free of charge. Your portfolio valuation is included in the service.
The website gives you access to a wide selection of funds and it even enables you to deal in overseas shares. American, European, Canadian and British shares can be traded from the comfort of your own home. Gilts, investment trusts, corporate bonds and exchange traded funds are just some of the products you can manage online using the website.
Perhaps one of the most attractive features of the website is that you can set your own price for buying and selling particular shares as early as 30 days in advance. You will also be notified when your targeted value has been reached, so that you can limit your orders and minimise your losses.
Should you choose to opt for the automatic dividend reinvestment tool, you will have the added advantage of knowing that whenever your dividends reach your preferred level, they will be reinvested so that you may reap even larger future benefits. This is a low-cost dividend reinvestment scheme with a good deal of flexibility, which gives you peace of mind.
You can also take advantage of the Price Improvement Service, which can poll no less than thirty market markers at any one time, giving you the best price and ensuring higher revenues with considerable savings on your buys and sells.
Some of the other benefits of signing up with HL are the interactive charts, the share price alerts, the research reports, the sector reports and the free, unbiased share tips. Also, let's not forget the Shareholder Perks section, where you have a detailed account of the discounts and freebies offered to company shareholders for holding a certain amount of shares. Not only will you earn dividends for buying your shares through this award-winning stockbrokring platform, but you'll also be able to use your shareholder status to take advantage of cruise, shopping, flight and food discounts, among many others. Exhibits, company tours and shareholder meetings are also available for shareholders who own a certain amount of shares and hold certain types of shares, so browse through the section before deciding what company you'd like to invest in.
Access HL remotely
The HL Live mobile app is available for download from the company's website free of charge and is compatible with iOS and Android operated devices. It gives users free access to updated prices and indices, as well as the latest news and research available on the market. It features share, fund and ETF dealing capabilities, interactive performance charts and watchlists for personalised fund and share account users. Additionally, Vantage Account holders can login remotely at any time and securely using this app. To gain access to all these perks, simply download your HL Live app from Google Play or the App Store.
Disclaimer
Using a fund platform such as Hargreaves Lansdown allows you to hold funds managed by various fund managers in one place. Investments are held on your behalf in a 'nominee' account, meaning that you are entitled to your earnings as the beneficial owner, but are not the legal owner. Fund platform users are covered for up to £50,000 by the Financial Services Compensation Scheme, so investing any more than that will be a matter of trusting the platform.
Awards
Hargreaves Lansdown were voted 'What Investment' Reader's Award Winner for Best Share Dealing Service of 2012, 2013. The company was also recently dubbed a ISA Recommended Provider, alongside the UK's topmost Fund Supermarkets of May 2014. It was also named the Best Online Junior Stocks and Shares ISA Provider, the Best Mobile Trading Platform, the Best Financial Services Mobile Strategy/Campaign by MOMA, a Pension Adviser of the Year, and it was awarded various other prizes throughout the year. Sign up for your own account and find out why this fund supermarket is the best the industry can offer.
CFDs são produtos alavancados e podem resultar na perda do seu capital. Toda a negociação envolve riscos. Apenas arrisque capital que esteja preparado para perder. O desempenho passado não garante resultados futuros.
Esta publicação tem fins educativos e não deve ser considerada como aconselhamento de investimento. Toda a informação recolhida de http://www.hlmarkets.co.uk/ em 01/10/2021.