Visão geral
Plus500 é um corretor de negociação de CFD. Os indivíduos podem negociar os principais mercados, como moedas, índices, commodities e ações com sua plataforma CFD. Para os comerciantes interessados ​​em cryptocurrencies como Bitcoin, Plus500 é um dos poucos corretores que também oferecem CFDs criptomoeda.
Para abrir uma conta ativa, precisará de um depósito mínimo de pelo menos $100. Em alternativa, Plus500 oferece uma conta de demonstração que pode usar para praticar e se familiarizar com a sua plataforma.
Regulado pela Autoridade de Conduta Financeira, Reino Unido (FRN: 509909), CySEC (Licence: 250/14), ASIC (AFSL #417727), and Licença de emissor de derivativos na Nova Zelândia, FSP Nº (FSP #486026). Plus500 coloca todos os fundos de clientes numa conta bancária segregada e usa bancos de nível 1 para este efeito. Plus500 iniciou a sua atividade em 2008 , e está sediado em Israel .
Antes de nos focarmos em alguns dos aspetos mais detalhados de Plus500 's spreads, comissões, plataformas e funções de negociação, poderá querer abrir o site Plus500 's num novo separador clicando no botão abaixo para ver as informações mais recentes diretamente de Plus500.
Abrir uma conta de demonstração Visitar Plus500
Full disclosure: We may receive a commission if you sign up with a broker using one of our links. Your capital is at risk. CFDs are leveraged products & 80.6% of traders lose money when trading CFDs.
O que são Plus500's spreads e comissões?
Tal como a maioria dos corretores,, Plus500 retira uma taxa do spread, que é a diferença entre o preço de compra e de venda de um instrumento.
Os spreads abaixo apresentados baseiam-se nos spreadsfixed mínimos listados no Plus500's site. As barras coloridas mostram o grau de competitividade dos spreads Plus500' em comparação com outros negociadores populares apresentados em BrokerNotes.
Spreads are dynamic and are for informational purposes only. Last updated: June 06, 2018.

Como pode ver, Plus500 's o spread mínimo para negociar EUR/USD é0.60 pips - que é relativamentebaixo comparado com o spread médio de EUR/USD de 0.82 pips. Segue-se uma repartição de quanto lhe custaria negociar um lote de EUR/USD com Plus500 vs. outros negociadores semelhantes.
Ver todos os Spreads
Il tuo capitale è a rischio
Quanto é que Plus500 cobra para negociar 1 lote de EUR/USD?
Se fosse comprar um lote standard de EU/USD (100 mil unidades) com Plus500 a uma taxa de câmbio de 1,1719 e depois vendê-lo no dia seguinte ao mesmo preço, provavelmente pagaria $15.4. Segue-se uma repartição aproximada das comissões e da forma como se compara a XTB & City Index .
Plus500

XTB

City Index

Spread desde

:
$ 6.00
$ 2.00
$ 5.00

Taxa de overnight típica

:
$ 9.40
$ 7.94
$ 20.60

Comissão

:
0
0
0
Total cost of a 100k trade:
$ 15.4
$ 9.94
$ 25.6

-5 menos

$10.20 mais

Visitar Plus500
Visitar XTB
Visitar City Index
Todos os encargos/preços são para efeitos informativos e são sujeitos a alterações. Última atualização: 09/03/2018. Il tuo capitale è a rischio
O que pode negociar com Plus500?
Plus500 oferece mais de 2,000 diferentes instrumentos para negociar, incluindo mais de 61 pares de divisas. Resumimos todos os diferentes tipos de instrumentos oferecidos porPlus500 abaixo, juntamente com os instrumentos oferecidos por XTB eCity Index para comparação.
| FX / Divisas | Plus500 | XTB | City Index |
| --- | --- | --- | --- |
| de pares forex disponibilizados | 61 | 48 | 84 |
| Principais pares de moedas | Yes | Yes | Yes |
| forex pares menores | Yes | Yes | Yes |
| pares de moedas exóticas | Yes | Yes | Yes |
| criptomoeda | Yes | Yes | Yes |
| CFDs de Mercadorias | Plus500 | XTB | City Index |
| --- | --- | --- | --- |
| de mercadorias disponibilizadas | 17 | 21 | 26 |
| Metais | Yes | Yes | Yes |
| Energias | Yes | Yes | Yes |
| Agrícolas | Yes | Yes | Yes |
Il tuo capitale è a rischio
Como é Plus500 a experiência de negociação?
1)Plataformas e aplicações
Plus500 oferece uma plataforma de negociação personalizada e orientada para o utilizador, disponível tanto como programa transferível ou como WebTrader baseado no navegador. Se procura um corretor MetaTrader, veja a nossa comparação de corretores MT4 aqui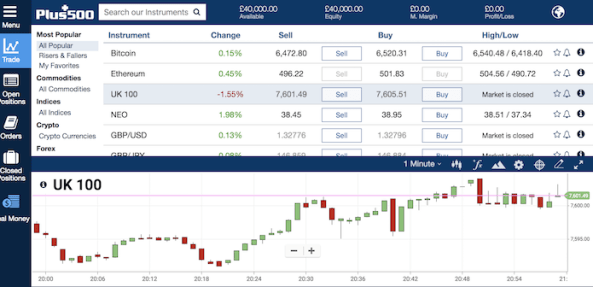 VerPlus500 's Plataformas
Plus500 também disponibilizam aplicações para Android e iOS, tornando mais fácil monitorizar e executar as suas negociações enquanto está em movimento.
VerPlus500 's plataformas
Il tuo capitale è a rischio
2)Executar Negociações
With Plus500,os requisitos mínimos e máximos de negociação variam dependendo do negociador e do instrumento.

Enquanto criador de mercado, Plus500 poderá ter requisitos de entrada inferiores em comparação com um corretor ECN que beneficia de um volume mais elevado de negociação e tipicamente tem mais capital e requisitos mínimos de negociação. Os criadores de mercado têm tipicamente depósitos mínimos mais baixos, menores requisitos mínimos de negociação e não têm comissões sobre as negociações.
Tal como acontece com a maioria dos corretores, os requisitos de margem variam dependendo do negociador, das contas e dos instrumentos.
Plus500oferece ainda um número de funcionalidades úteis de gestão de risco, tais comostop losses (com trailing stops), ordens com limite proteção contra saldo negativo alertas de preço e muito mais. Pode ver todas as funcionalidades de conta disponibilizadas porPlus500 aqui.
Finalmente, listámos alguns dos métodos de financiamento mais populares que Plus500 oferece aos seus negociadores do lado direito.
3)Suporte ao cliente
Plus500 suporta um grande leque de idiomas incluindo English, French, Italian, Spanish, Portuguese, German, Dutch, Polish, Arabic, Hebrew, Danish, Norwegian, Czech, Slovak, Bulgarian and Chinese.
Plus500 tem uma classificação de suporte BrokerNotes AAA porque oferece um grande leque de idiomas, live chat, suporte telefónico e por email.
4)O que vai precisar para abrir uma conta com Plus500
Uma vez que Plus500 é regulado por Financial Conduct Authority (FRN 509909) and Cyprus Securities and Exchange Commission (License No. 250/14) , todos os novos clientes devem passar por algumas verificações de conformidade para garantir que compreende os riscos de negociação e que lhe é permitido negociar. Quando abrir uma conta, provavelmente ser-lhe-ão solicitados os seguintes elementos, que poderá já ter à mão:
Uma cópia a cores do seu passaporte, carta de condução ou documento nacional de identificação
Uma fatura de serviços ou extrato bancário dos últimos três meses que contenha a sua morada
Terá também de responder a algumas questões básicas de conformidade para confirmar o seu nível de experiência em negociação, pelo que será melhor reservar pelo menos 10 minutos para concluir o processo de abertura de conta.
Embora possa explorar de Plus500's imediato a plataforma, é importante assinalar que não poderá realizar qualquer negociação até passar na verificação de conformidade, que pode demorar até vários dias, dependendo da sua situação.
Para iniciar o processo de abertura de conta com Plus500 pode visitar o seu site aqui.
An insider look at trading with Plus500
If you're wondering how Plus500 works or just want to see inside their platform, you can watch the following video by Plus500.
What trading platforms do Plus500 offer?
Plus500 offers its clients access to several trading platform applications, compatible with different dekstop, smartphone and tablet devices. These are as follows:
Plus500 Webtrader (web-based trading application). This can run on Google Chrome, Internet Explorer and Mozilla Firefox.
iOS Trading application for iPhones and iPads
Android Trader for Android-based devices
Windows trader, which is the desktop application that can be downloaded onto computers that run on Microsoft Windows.
Windows 10 Trader, specifically built to run on Windows computers that run on Windows 10 software.
Windows phone app.
Plus500 WebTrader Interface
The Plus500 Webtrader has a simplified interface which features the asset groups, which can be accessed by the Trade button on the top of the page. It is also possible to view active and closed positions on the navigation bar, just to the right of the Trade button.
The assets that the trader can trade are listed, with each listing showing the Bid and Ask prices as well as the highest and lowest prices for the day. Traders can choose to Buy or Sell an asset by clicking the respective buttons located beside the Bid and Ask prices. The chart for the selected asset is shown below the asset prices. Traders can switch between line charts, bar charts or candlestick charts using the appropriate buttons just located above the chart window.
How to trade on Plus500
To trade an asset, simply click Buy next to the ask price, or Sell next to the bid price (the prices listed to the left). When these buttons are clicked, a small window opens which shows the asset, the current price, the amount to be invested in the trade, the required margin as well as the stop loss and take profit prices.
Each of these settings can be adjusted, after which the trader can click the trade execution button (which in this snapshot is SELL).
What risk management tools do Plus500 offer?
The following are the risk management tools available on the platforms of Plus500.
Account Leverage
With Plus500, the trader can adjust the leverage as desired. So it is possible to use a leverage of 1:20 in one trade, and 1:50 in another.
'Close at Profit' [Limit] or 'Close at Loss' [Stop loss] rates
These are basically instructions to close out trades at the stop loss or take profit levels which have been pre-defined during trade setup.
Guaranteed Stop
A guaranteed stop loss protects the trader's capital in the event of a large market gap or a massive slippage. On Plus500, you can use a guaranteed stop only for certain assets. A checkbox will be displayed beside any instrument that supports this facility. A Guaranteed Stop must be selected while setting up a new trade. It cannot be used for active positions.
Price alerts
It is possible to set price alerts to provide notifications when the asset has hit a certain buy or sell price. This function can be seen in the instrument list as a bell icon. Click on this bell open a "Price Alert" screen. The price alert is given to the trader in the form of an SMS, email or push notification.
For instance, if gold is trading at $1205 an ounce, and you think there will be a trade re-entry opportunity at a price of $1,050, you can set a price alert for this price. If the price of gold retreats to this level, you get a notification on the new price. This can be a useful facility for those trading with limit orders.
Trailing Stop
A trailing stop is a trade protection facility that automatically protects a position from reverse movements while locking in profits when the price moves in the direction of the trade. It is not guaranteed.
A trailing stop moves with the trade when it is in profit territory. In other words, it chases the trade. If the market reverses against the position, it freezes and can also close out the position when the market price hits the trailing stop level.
CFDs são produtos alavancados e podem resultar na perda do seu capital. Toda a negociação envolve riscos. Apenas arrisque capital que esteja preparado para perder. O desempenho passado não garante resultados futuros.
Esta publicação tem fins educativos e não deve ser considerada como aconselhamento de investimento. Toda a informação recolhida de http://www.plus500.co.uk/ em Agosto 23, 2018.
Our trust rating is calculated as follows:
To achieve a B rating:
The broker must be regulated
To achieve an A rating:
Everything above, plus:

The broker must have been established for more than 10 years
Must use segregated bank accounts to hold client funds
Must use Tier-1 bank accounts to hold client funds
To achieve an AA rating:
Everything above, plus:
Must be in the top 100,000 most popular websites according to Alexa
To achieve an AAA rating:
Everything above, plus:
Must not have received any fines in the past five years
Standard accounts typically allow you to trade in standard lots (100,000 unites of the base currency).
This is the minimum amount of money you have to deposit to open an account.
A stop loss is an order to sell a security when it reaches a certain price, and is designed to help traders manage risk. Stop losses are not guaranteed.
Negative balance protection prevents your account balance from going below zero by closing your losing trades automatically.
Micro accounts allow you to trade micro lots (1,000 units of the base currency).
Mini accounts allow you to trade mini lots (10,000 units of the base currency).
A zero spread account allows you to trade by paying only a commission per trade rather than paying a spread.
Scalping is a trading strategy whereby a trader attempts to profit from small price changes.
Not all brokers allow hedging (opening two or more positions with negative correlations with the aim of offsetting your risk) as this can increase the broker's risk.
Brokers that offer STP (Straight Through Processing) execution route their clients' orders directly to their liquidity providers who have access to the interbank market (and the most competitive spreads).
Expert advisors (sometimes called 'EAs' for short or robo advisors) are software algorithms that enable traders to automate research and trading on the MetaTrader platforms.
An ECN broker (electronic communications network broker) connects buy/sell orders with a network of liquidity providers, banks, and other brokerages. ECN brokers typically offer variable spreads and have the added benefit of tolerating most trading strategies, including scalping.
Multi account manager (MAM) accounts are suitable for money managers that manage multiple client accounts.
Managed accounts allow you to instruct a manager to trade on your behalf and are designed for those who want to participate in the markets but don't have the time to do so.
Paying interest is forbidden according to islam. As such, islamic trading accounts do not allow the account owner to earn/pay interest. These accounts are sometimes referred to as swap-free accounts.
Spreads are indicative only. Visit Broker website for more details.
MetaTrader 4 is a popular platform used for trading Forex, analysing financial markets and using Expert Advisors.
WebTrader enables you to trade online through your web browser on any computer without having to download any software.
Micro accounts allow you to trade micro lots (1,000 units of the base currency).
VIP accounts are designed for the most active traders, and typically include perks like lower spreads, a virtual private server (VPS) and a dedicated account manager. VIP accounts typically require a deposit size above $10,000
If a broker offers fixed spreads this means that their spreads will remain constant regardless of trading conditions.
If a broker offers variable spreads this means that their spreads will vary depending on trading conditions.
A market maker broker will buy/sell the opposite position of your trades. In other words, when you sell a position, the broker will buy it, and vis versa. Market maker brokers typically offer fixed spreads and have a better range of support and platform options.
Direct market access (sometimes called level 2 trading or DMA) allows you to submit buy or sell orders directly to the order book of an exchange. The main advantage of this is that you can achieve a slightly better price on your orders as there is no market maker involved to take a cut.
Between 54-87% of retail CFD accounts lose money. Based on 69 brokers who display this data.