For those interested in the world's stock markets and looking for some useful data, be sure to check out the statistics, charts, facts, trends and history below.
We've split the stock market information into the following sections:
Global Stock Market Size, Stats and Trends
The total market capitalisation of domestic companies listed on the world's stock markets was calculated at US $65.661 trillion in 2018 by the World Bank. That's a total of $13.569 trillion less than 2017's global market capitalisation of $79.23 trillion.
To help place the global market cap into perspective, the World Bank's total estimate for the global Gross Domestic Product (GDP) was $80.935 trillion in 2018.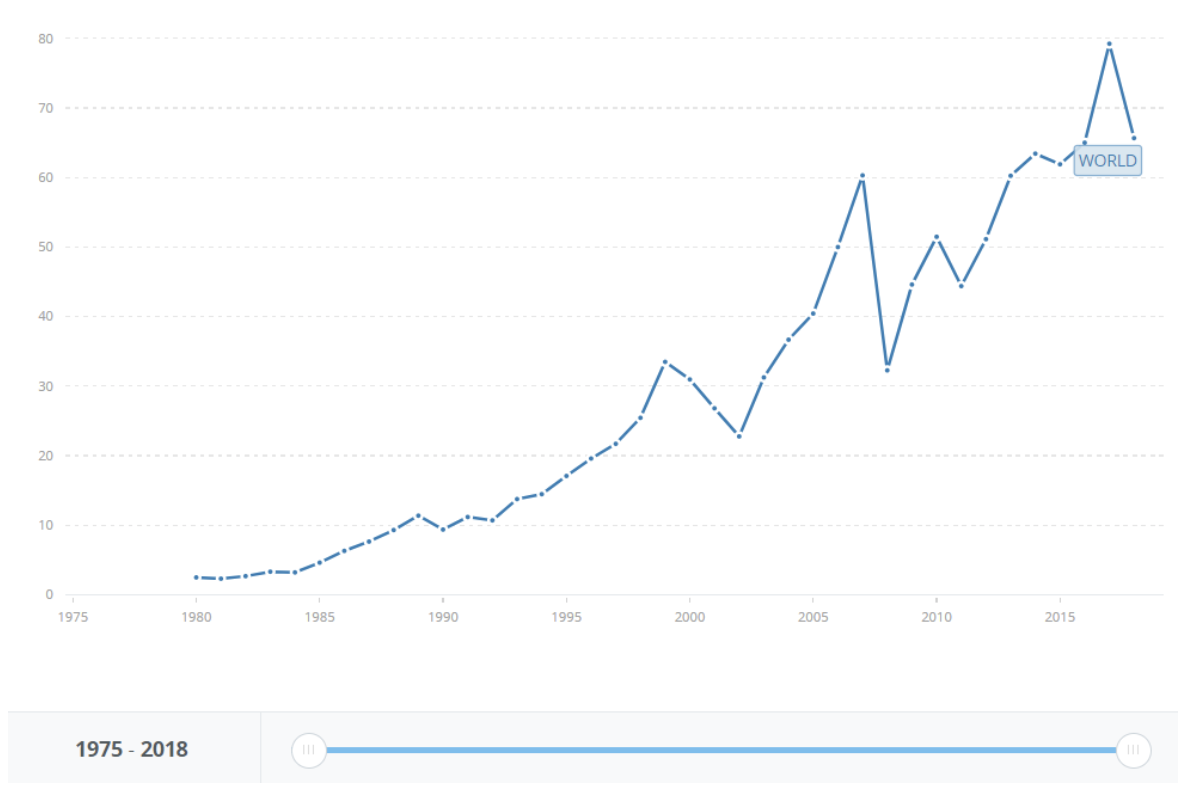 Graph of global domestic company capitalisation from 1975 to 2019. Source: World Bank.
The overall long-term trend in global stock market domestic company capitalisations has been moving upwards since 1975. After rising in 2017 to $79.23 trillion, this metric settled down to $65.661 trillion in 2018.
Looking at the data collected so far in 2019, this suggests that the global market cap has risen to roughly $85.80 trillion, indicating that that the uptrend remains intact. However, if another decline is seen later in 2019 or 2020, that uptrend could break to result in a neutral or declining general level of economic activity.
The average daily global turnover for the aggregated equities (stock) markets is roughly 1/27th of the much larger forex market and about half that of the global futures market turnover.
Daily market turnover for the forex, futures and equities markets. Source: Brokernotes.
Stock Market Stats by Country and Continent
There are presently 17 global stock exchanges with a market capitalisation of over $1 trillion that together amount to $76.31 trillion or roughly 87 %of the global market cap.
By far and away the largest exchanges by market cap are located in the USA, with the New York Stock Exchange (NYSE) sized at $23.21 trillion, with the NASDAQ following behind with $11.22 trillion.
| | | |
| --- | --- | --- |
| Rank | Stock Exchange | Market Cap |
| 1. | New York Stock Exchange | $23.21 trillion |
| 2. | NASDAQ Stock Exchange | $11.22 trillion |
| 3. | Tokyo Stock Exchange | $5.61 trillion |
| 4. | Shanghai Stock Exchange | $5.01 trillion |
| 5. | Hong Kong Stock Exchange | $4.31 trillion |
| 6. | Euronext Amsterdam Stock Exchange | $4.27 trillion |
| 7. | London Stock Exchange | $3.97 trillion |
| 8. | Shenzhen Stock Exchange | $3.36 trillion |
| 9. | Toronto Stock Exchange | $2.22 trillion |
| 10. | Bombay Stock Exchange | $2.18 trillion |
Market cap data and rankings as of June 2019. Source: the World Federation of Exchanges.
Outside the US, it's Asian exchanges which dominate, with the Tokyo, Shanghai and Hong Kong stock exchanges as the next largest, with $5.61, $5.01 and $4.31 trillion respectively. The largest European exchange by market cap is the Euronext Amsterdam Stock Exchange with $4.27 trillion.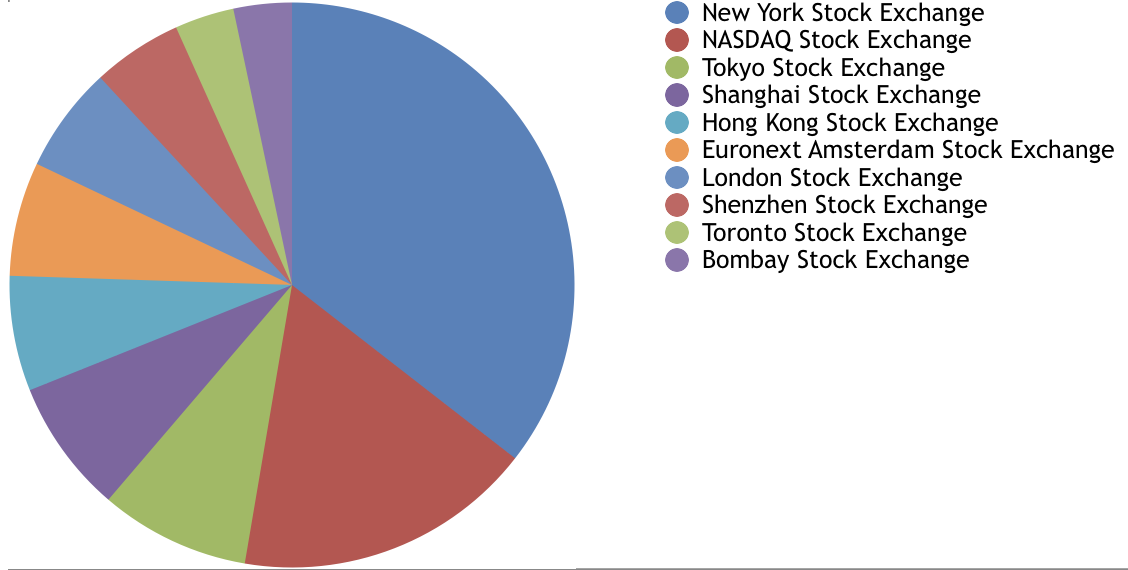 In addition to the top ten stock exchanges, there are still a number of global stock exchanges which are members of the exclusive high market capitalisation club, with caps in excess of $1 trillion. This distinguished list includes the India National Stock Exchange, Frankfurt Stock Exchange and Swiss Stock Exchange, among others.
| | |
| --- | --- |
| Stock Exchange | Market Cap |
| India National Stock Exchange | $2.16 Trillion |
| Frankfurt Stock Exchange | $1.87 Trillion |
| Swiss Stock Exchange | $1.6 Trillion |
| South Korea Stock Exchange | $1.47 Trillion |
| NASDAQ OMX AB | $1.43 Trillion |
| Australia Stock Exchange | $1.38 Trillion |
| Taiwan Stock Exchange | $1.04 Trillion |
Market cap data and rankings as of June 2019. Source: the World Federation of Exchanges.
Additionally, more than 93% of the global value of stock markets is shared between three continents: North America with 40.6%, Europe with 19.5% and Asia with 33.3%.
Individual Stock Stats
When it comes to the most actively traded US stocks, our most recent stats from 2015 reveal that the list is dominated, as could be expected, by a number of giant global companies. Bank of America, Apple, Microsoft and Facebook all change hands at some of the fastest rates on the market.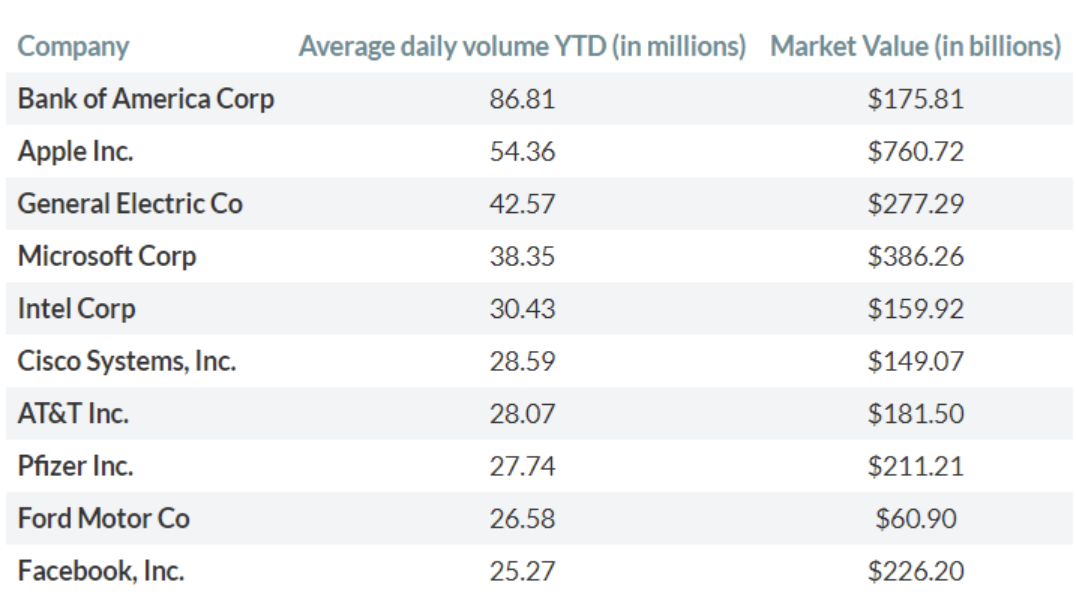 Table of the most actively traded stocks in 2015. Source: Marketwatch.
This is because, in general, the stocks of larger companies tend to enjoy a greater degree of liquidity correlating with its market capitalisation. However, this may not always be the case. Some high-priced stocks like those of Google and Amazon, can deter day traders, reducing the average daily volume seen in those stocks. On the other hand, cheaper stocks like those of Bank of America and Ford Motors Co. tend to be preferred by day traders, resulting in an average of higher daily volumes.
Globally, the majority of the most actively traded stocks are based in the United States, as per the MSCI World Index. A notable exception is Nestle that is based in Switzerland. Of the top 10 global stocks on this basis, roughly half are in the information technology or communication services sectors.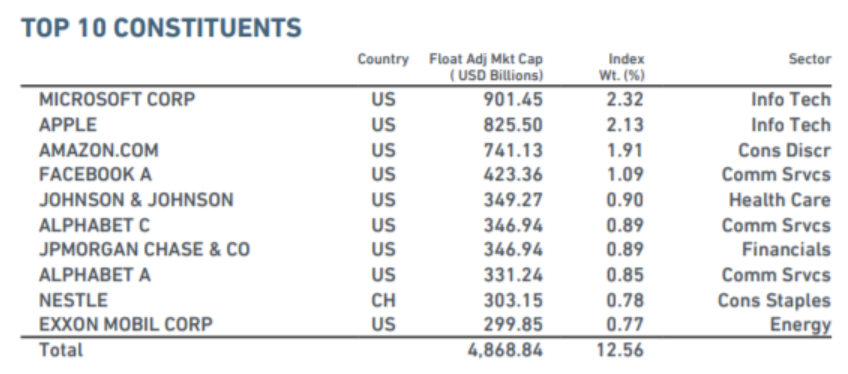 A table of the top 10 constituents of the MSCI World Index. Source: MSCI.
Returns on Stocks vs. Other Investments
The table below is a portion of the yearly market return data from the St. Louis Federal Reserve, which compiles detailed statistics on the returns of US stocks versus three month US Treasury bills (T-bills) and ten year Treasury bonds.


Annual Returns on Investments in
Year
S&P 500 w/ div.
3-mo T.Bill
10 Yr T-bond
2000
-9.03%
5.76%
16.66%
2001
-11.85%
3.67%
5.57%
2002
-21.97%
1.66%
15.12%
2003
28.36%
1.03%
0.38%
2004
10.74%
1.23%
4.49%
2005
4.83%
3.01%
2.87%
2006
15.61%
4.68%
1.96%
2007
5.48%
4.64%
10.21%
2008
-36.55%
1.59%
20.10%
2009
25.94%
0.14%
-11.12%
2010
14.82%
0.13%
8.46%
2011
2.10%
0.03%
16.04%
2012
15.89%
0.05%
2.97%
2013
32.15%
0.07%
-9.10%
2014
13.52%
0.05%
10.75%
2015
1.38%
0.21%
1.28%
2016
11.77%
0.51%
0.69%
2017
21.61%
1.39%
2.80%
2018
-4.23%
2.37%
-0.02%
Averages
6.35%
1.70%
5.27%
Subset of data showing yearly returns and averages for the S&P 500 stock index, 3
month Treasury bills and the 10 year Treasury bond. Source: St. Louis Federal Reserve.
The numbers indicate that over the period from 2000 to 2018, US stocks, as measured by the performance of the S&P 500 including dividends, returned an average of 6.35 percent. 

While returning over 1% higher than the average return on Treasury bonds of 5.27%, stocks compared very favourably with the three-month T-bills, which only showed an average return of 1.70% for the same time period.
Male vs. Female Stock Investors
The interaction between gender and stock investments is dynamic. The Financial Times report on the BritainThinks Survey conducted in 2016, investigated this relationship by surveying two thousand men and women. The survey highlighted some key differences between men and women in relation to money, investments, as well as investing in the stock market:
40% of women considered themselves to be less knowledgeable about investing than others, while only 30% of men felt that way.
51% of men polled claimed responsibility for coming up with investment ideas versus 40% of women.
Women were half as likely as men to agree that taking risks is important when investing to achieve investment returns.
On the other hand, the same survey revealed that these men and women polled equally in regards to:
Knowing the most when it comes to household finances.
Believing that the financial industry does not design products for people like them with around 40% of both genders responding in this manner.
Being strongly influenced by providing for their children's future when it comes to investment decisions. Around two thirds of both male and female respondents agreed with this.
Furthermore, Warwick Business School studied 2,800 men and women from the UK who were investing using Barclays' Smart Investor service and tracked their returns for three years. The females studied outperformed the FTSE 100 in that time frame and obtained better returns than the males in the study.
Specifically, the men only managed a mere 0.14% higher annual return than the FTSE 100 index, although the women did notably better by earning 1.94% above the index. That showed an impressive investment differential of 1.8% favouring the women.
Another study was performed by Britain's largest consumer investment platform, Hargreaves Lansdown, and also discovered that female investors returned more on average than their male counterparts by a margin of 0.81% on average over a three-year time frame.
Despite those impressive investment results, women seem to remain unfairly stigmatised as investors. For example, when Fidelity Investments performed their Women and Money Survey on US investors, they discovered that a mere nine percent of respondents thought men were worse at investing than women. Therefore, although the perception may largely remain that investment is male-dominated profession, women are slowly moving towards changing this reality.
The History of Stock Markets and Brokers
The history of brokers and stock markets dates back centuries. The first brokers seem to have arisen in 11th century France to manage and even trade farmer debts for banks. One of the first exchanges, or bourse, was recorded in the 13th century in Bruges, Belgium when a Mr. Van der Buerse held meetings of commodity traders at his Ter Buerse inn, that eventually became more formalized as the "Bruges Bourse". The idea caught on, and bourses then opened in Ghent in Belgium and Amsterdam in Holland.
The Dutch, however, seem to be the first to develop the idea of issuing stock in companies, allowing shareholders to share profits and invest in them. The Dutch East India Company became the first to issue bonds and stocks in 1602 on the Amsterdam Stock Exchange. It was not until 1688 that stock trading began in London. New York eventually followed suit in 1792 when the Buttonwood Agreement was signed in New York City on Wall Street between 24 brokers under a buttonwood tree. This group was eventually renamed the "New York Stock & Exchange Board".
In relation to securities, governments began trading securities as early as the 13th century in Venetia. The practice then spread to other Italian city states in the 14th century, developing into what we see today. It was however only later in the 19th century that futures exchanges became established, allowing futures contracts, and eventually options contracts, to be traded. Moreover, although stock and futures exchanges used the open outcry method for much of their existence, that has been shifting toward an electronic trading environment since the 1980's.
In brief, the extensive history of stock markets and brokers is an integral part of the development of our financial economy, and as technological innovations continue to shift trading online, we will continue to see more changes and developments to come.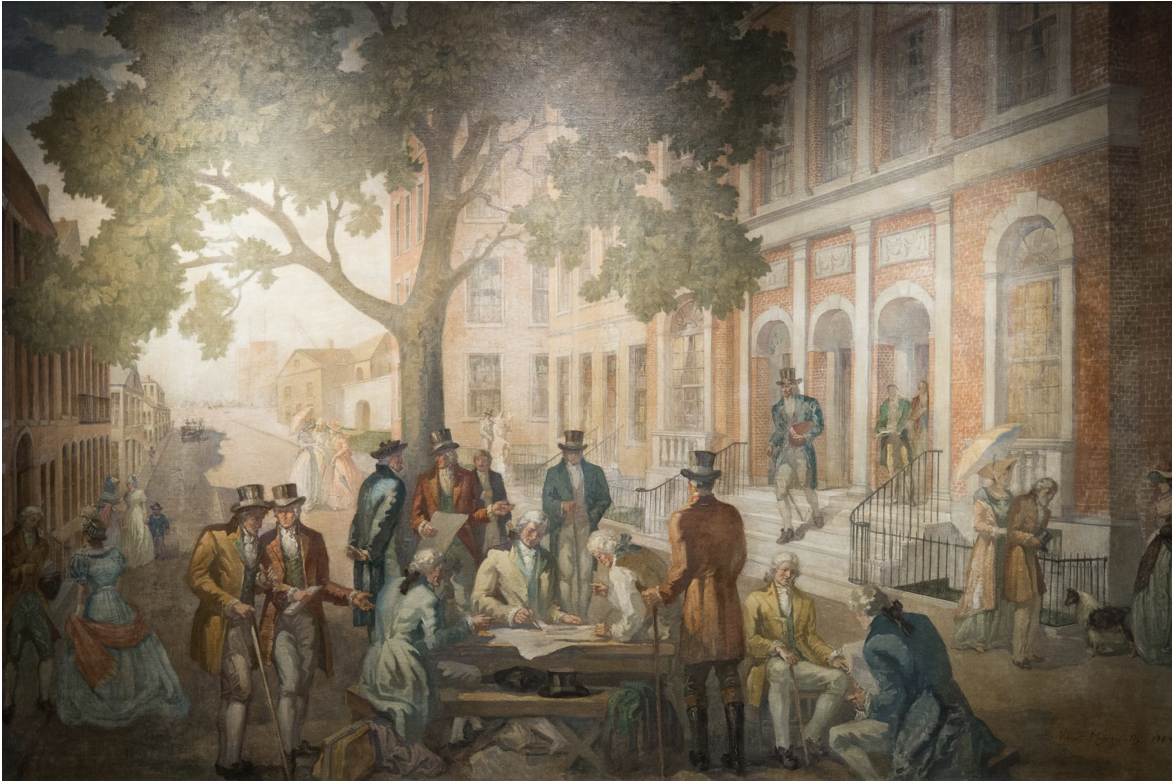 Brokers depicted meeting under a buttonwood tree on Wall Street to start what eventually became the NYSE. Source: Time.