Founded in 2007, the Australian based AxiTrader has since grown to become one of the largest Forex brokers in the world. It has done this by utilising some of the world's most popular trading platforms, giving traders access to the latest market data on forex, CFDs and indices in order to trade with consistently competitive rates.
Traders have access to a range of products including CFDs on a range of underlying financial instruments, including share indices, metals, foreign exchange and commodities. AxiTrader's web-based trading platform is also available in numerous languages.
AxiTrader also offers mobile compatible trading, with access across all major platforms and devices, as well as servers located in New York, close to the exchange, for faster trade execution. Its services also support Experts Advisors for automated trading, as well as the choice of Standard or Pro accounts in demo or live environments.
AxiTrader is authorised and regulated by the Financial Conduct Authority. All client funds are held in segregated trust accounts with top-tier banks.
Pros
Used by 221,000+ traders
Established in 2007
Regulated by Financial Conduct Authority and ASIC
Min. deposit from

$1
Cons
Limited range of instruments
To open a live account, you'll need a minimum deposit of at least $1. Alternatively, Axitrader offers a demo account that you can use to practice and familiarise yourself with their platform.
Regulated by the Financial Conduct Authority, UK (FRN: 509746), and ASIC (AFSL #318232). Axitrader puts all client funds in a segregated bank account and uses tier-1 banks for this. Axitrader has been established since 2007, and have a head office in Australia.
Before we dive into some of the more detailed aspects of Axitrader's spreads, fees, platforms and trading features, you may want to open Axitrader's website in a new tab by clicking the button below in order to see the latest information directly from Axitrader.
Full disclosure: We may receive a commission if you sign up with a broker using one of our links.
What are Axitrader's spreads & fees?
Like most brokers, Axitrader takes a fee from the spread, which is the difference between the buy and sell price of an instrument.
The commisions and spreads displayed below are based on the minimum spreads listed on Axitrader's website. The colour bars show how competitive Axitrader's spreads are in comparison to other popular brokers featured on BrokerNotes.
Axitrader

EUR/USD

(Average: 0.7 pips)

0.2 pips

0.7 pips

0.1 pips

GBP/USD

(Average: 1.1 pips)

0.6 pips

1.7 pips

0.1 pips

USD/JPY

(Average: 1.1 pips)

0.1 pips

0.6 pips

0.1 pips

AUD/USD

(Average: 0.8 pips)

0.1 pips

0.6 pips

0.2 pips

USD/CHF

(Average: 2.3 pips)

0.2 pips

2.3 pips

0.2 pips

USD/CAD

(Average: 2.9 pips)

0.2 pips

0.5 pips

0.3 pips

NZD/USD

(Average: 3.6 pips)

0.2 pips

2.8 pips

0.3 pips

EUR/GBP

(Average: 2.4 pips)

0.2 pips

0.5 pips

0.1 pips
Spreads are dynamic and are for informational purposes only.
As you can see, Axitrader's minimum spread for trading EUR/USD is 0.2 pips - which is relatively low compared to average EUR/USD spread of 0.70 pips. Below is a breakdown of how much it would cost you to trade one lot of EUR/USD with Axitrader vs. similar brokers.
See all Spreads
How much does Axitrader charge to trade 1 lot of EUR/USD?
If you were to buy one standard lot of EUR/USD (100k units) with Axitrader at an exchange rate of 1.1719 and then sell it the next day at the same price you would likely pay $1. Here's a rough breakdown of the fees and how this compares against IG & XTB .
Axitrader

IG

XTB

Spread from

:
$ 1.00
$ 6.00
$ 2.00

Commission

:
$0.00
$0.00
$0.00
Total cost of a 100k trade:
$ 1.00
$ 6.00
$ 2.00

$5 more

$1 more

Visit Axitrader
Visit IG
Visit XTB
All fees/prices are for informational purposes and are subject to change.
What can you trade with Axitrader?
Axitrader offers over 102 different instruments to trade, including over 80 currency pairs. We've summarised all of the different types of instruments offered by Axitrader below, along with the instruments offered by IG and XTB for comparison.
| FX / Currencies | Axitrader | IG | XTB |
| --- | --- | --- | --- |
| # of forex pairs offered | 80 | 90 | 48 |
| Major forex pairs | Yes | Yes | Yes |
| Minor forex pairs | Yes | Yes | Yes |
| Exotic forex pairs | Yes | Yes | Yes |
| Cryptocurrencies* | Yes | Yes | Yes |
| Commodity CFDs | Axitrader | IG | XTB |
| --- | --- | --- | --- |
| # of commodities offered | 6 | 34 | 21 |
| Metals | Yes | Yes | Yes |
| Energies | Yes | Yes | Yes |
| Agricultural | Yes | Yes | Yes |
What's the Axitrader trading experience like?
1) Platforms and apps
Axitrader offers the popular MT4 forex trading platform. To see a list of the top MT4 brokers, see our comparison of MT4 brokers. The combination of downloadable platforms for both Mac and Windows allows traders to trade with their device of choice.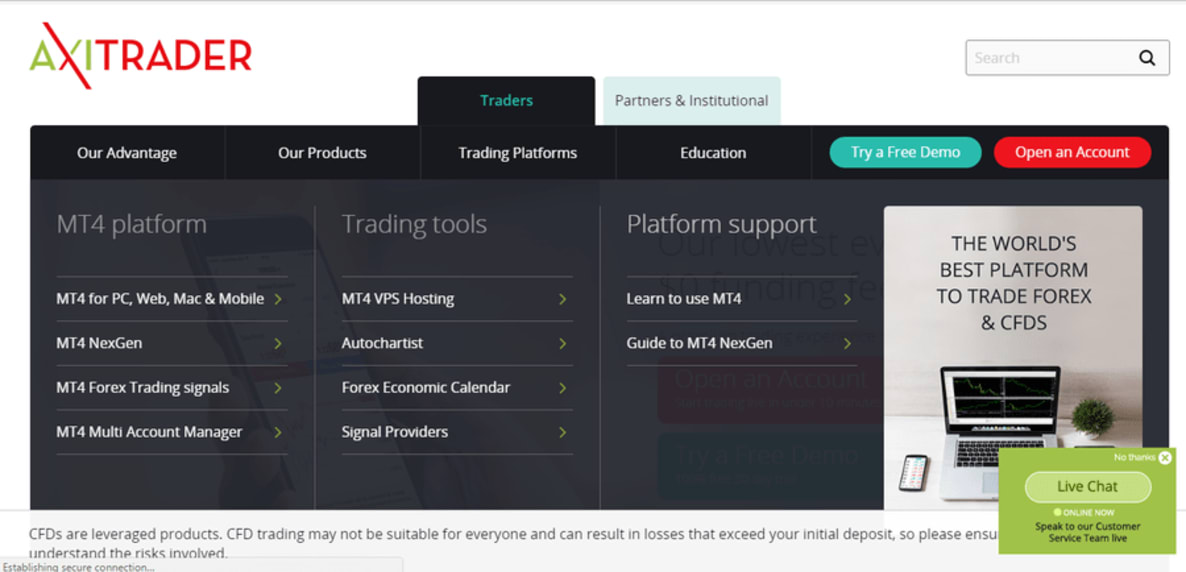 Axitrader also offer mobile apps for Android and iOS, making it easier to keep an eye on and execute your trades while you are on the move.
See Axitrader's platforms
2) Executing Trades
Axitrader allows you to execute a minimum trade of 0.01 Lot. This may vary depending on the account you open. Axitrader allows you to execute a maximum trade of 100 Lots. As Axitrader offer ECN and STP execution, you can expect very tight spreads with more transparency over the price you're paying to execute your trades.

As a market maker, Axitrader may have lower entry requirements compared to an ECN broker who benefits from a higher volume of trades and typically has larger capital and minimum trade requirements. Market makers typically have a lower minimum deposit, smaller minimum trade requirements and no commission on trades.
As a nice bonus, Axitrader are one of very few brokers that claim to have no requotes, so you don't have to worry about slippage (your trades being ordered at a different price to what you executed them at).
As with most brokers, margin requirements do vary depending on the trader, accounts and instruments. You can see the latest margin requirements on their website.
Finally, we've listed some of the popular funding methods that Axitrader offers its traders below.
Trading Features:
Allows scalping
Allows hedging
Offers STP
Low min deposit
Accounts offered:
Demo account
Micro account
Mini account
Standard account
Zero spread account
ECN account
Islamic account
Funding methods:
Credit cards
Bank Transfer
Skrill
Payoneer
Neteller
3) Client support
Axitrader support a wide range of languages including English, Chinese, Spanish, Thai, Italian, Polish, German, Vietnamese, Japanese, Russian, Romanian, and Arabic.
Axitrader has a BrokerNotes triple AAA support rating because they offer a wide range of languages and support options.
4) What you'll need to open an account with Axitrader
As Axitrader is regulated by Financial Conduct Authority and ASIC , every new client must pass a few basic compliance checks to ensure that you understand the risks of trading and are allowed to trade. When you open an account, you'll likely be asked for the following, so it's good to have these handy:
A scanned colour copy of your passport, driving license or national ID
A utility bill or bank statement from the past three months showing your address
You'll also need to answer a few basic compliance questions to confirm how much trading experience you have, so it's best to put aside at least 10 minutes or so to complete the account opening process.
While you might be able to explore Axitrader's platform straight away, it's important to note that you won't be able to make any trades until you pass compliance, which can take up to several days, depending on your situation.
To start the process of opening an account with Axitrader you can visit their website here.
About AxiTrader's Psyquation Platform
PsyQuation is a standalone trading analytics platform that's designed to improve trade performance and profitability. In principle, it works like a private trading coach that closely watches what you're doing and offers suggestions to help you do better with each subsequent trade.
To set it up, you simply connect to an existing MT4 trading account then carry on trading as normal. PsyQuation then uses Artificial Intelligence and Machine Learning to assess your individual trading history, combines it with a substantial pool of market and trading data, then presents trade recommendations tailored to your specific style and situation. You receive this information as an in-platform alert before you place a trade, giving you the opportunity to reconsider your trade execution based on the statistical probability of the trade's likelihood of success (according to the platform), with the ultimate goal being to reduce the number of trade mistakes you make.
Once you're up and running with PsyQuation you get assigned a unique PsyQuation Score. This sits on a 100 point scale and is derived from the way the platform considers your level of skill and risk plus your overall behaviour and history. As the PQ Score moves up or down over time you gain a simple and meaningful way of tracking overall performance, as well as letting you measure your performance against other traders on a leaderboard.
PsyQuation is available as a standard or premium version, with the premium version offering a suite of extra tools that currently includes more frequently updated intraday trade signals, more comprehensive forecasting and institutional grade quantitative data models. If you're a client of AxiTrader both the standard and premium versions of PsyQuation are available free of charge.
CFDs are leveraged products and can result in the loss of your capital. All trading involves risk. Only risk capital you're prepared to lose. Past performance does not guarantee future results. *Availability subject to regulation.
This post is for educational purposes and should not be considered as investment advice. All information collected from www.axitrader.com on 01/01/2022.