Since its creation in 2006, eToro has become a leading social trading platform for trading major financial markets including stocks, forex and cryptocurrencies. One of the reasons for the platform's popularity is the effort eToro has made to ensure its platform makes online trading accessible to as many people as possible.
eToro offers both short and long-term options for traders, all accessible through the CopyPortfolios™ service which allows traders to set up a diversified portfolio. eToro also offers trading instruments with a varying degree of associated risk, while the platform is also available on its web interface and mobile app.
In addition, eToro has also created the CopyTrader™ system which, allows individuals to copy the trades of other users, enabling its clients to potentially benefit from the collective experiences of its network of traders. Beginner traders will also receive a series of guidance when taking their first steps into online trading. For example, eToro offers new traders a free practice account enabling them to practice trading online without risking any real money.
eToro is fully regulated and conforms to the guidelines of CySEC, the FCA and ASIC, and has partnered with major financial institutions, such as Russia's Sberbank and China's Ping An Group, to promote online trading and financial education in these markets. This content does not apply to US users.
Pros
Used by 6,000,000+ traders
Established in 2006
Regulated by Financial Conduct Authority, CySEC, ASIC
Min. deposit from

$200
Cons
Doesn't allow scalping (See alternatives)
Inactivity Fee
Limited range of instruments
To open a live account, you'll need a minimum deposit of at least $200. Alternatively, eToro offers a demo account that you can use to practice and familiarise yourself with their platform.
Regulated by the Financial Conduct Authority, UK (FRN: 583263), CySEC (Licence: 109/10), and ASIC (AFSL #491139). eToro puts all client funds in a segregated bank account and uses tier-1 banks for this. eToro has been established since 2006, and have a head office in Cyprus, UK.
Before we dive into some of the more detailed aspects of eToro's spreads, fees, platforms and trading features, you may want to open eToro's website in a new tab by clicking the button below in order to see the latest information directly from eToro.
What are eToro's spreads & fees?
Like most brokers, eToro takes a fee from the spread, which is the difference between the buy and sell price of an instrument.
The commisions and spreads displayed below are based on the minimum spreads listed on eToro's website. The colour bars show how competitive eToro's spreads are in comparison to other popular brokers featured on BrokerNotes.
eToro

EUR/USD

(Average: 0.7 pips)

3.0 pips

0.1 pips

0.6 pips

+ $1.00

GBP/USD

(Average: 1.1 pips)

4.0 pips

0.1 pips

0.9 pips

+ $1.00

USD/JPY

(Average: 1.1 pips)

2.0 pips

0.1 pips

0.7 pips

+ $1.00

AUD/USD

(Average: 0.8 pips)

1.0 pips

0.2 pips

0.6 pips

+ $1.00

USD/CHF

(Average: 2.3 pips)

3.0 pips

0.2 pips

1.5 pips

+ $1.00

USD/CAD

(Average: 2.9 pips)

3.0 pips

0.3 pips

1.7 pips

+ $1.00

NZD/USD

(Average: 3.6 pips)

5.0 pips

0.3 pips

2.0 pips

+ $1.00

EUR/GBP

(Average: 2.4 pips)

4.0 pips

0.1 pips

0.9 pips

+ $1.00
Spreads are dynamic and are for informational purposes only.
As you can see, eToro's minimum spread for trading EUR/USD is 3.0 pips - which is relatively high compared to average EUR/USD spread of 0.70 pips. Below is a breakdown of how much it would cost you to trade one lot of EUR/USD with eToro vs. similar brokers.
See all Spreads
How much does eToro charge to trade 1 lot of EUR/USD?
If you were to buy one standard lot of EUR/USD (100k units) with eToro at an exchange rate of 1.1719 and then sell it the next day at the same price you would likely pay $36. Here's a rough breakdown of the fees and how this compares against IG & XTB .
eToro

IG

XTB

Spread from

:
$ 30.00
$ 6.00
$ 2.00

Commission

:
$0.00
$0.00
$0.00
Total cost of a 100k trade:
$ 30.00
$ 6.00
$ 2.00

$24 less

$28 less

Visit eToro
Visit IG
Visit XTB
All fees/prices are for informational purposes and are subject to change.
What can you trade with eToro?
eToro offers over 1,083 different instruments to trade, including over 47 currency pairs. We've summarised all of the different types of instruments offered by eToro below, along with the instruments offered by IG and XTB for comparison.
| FX / Currencies | eToro | IG | XTB |
| --- | --- | --- | --- |
| # of forex pairs offered | 47 | 90 | 48 |
| Major forex pairs | Yes | Yes | Yes |
| Minor forex pairs | Yes | Yes | Yes |
| Exotic forex pairs | Yes | Yes | Yes |
| Cryptocurrencies* | Yes | Yes | Yes |
| Commodity CFDs | eToro | IG | XTB |
| --- | --- | --- | --- |
| # of commodities offered | 6 | 34 | 21 |
| Metals | Yes | Yes | Yes |
| Energies | Yes | Yes | Yes |
| Agricultural | Yes | Yes | Yes |
What's the eToro trading experience like?
1) Platforms and apps
eToro offer a user-friendly custom trading platform, available as a browser based WebTrader. If you are looking for a MetaTrader broker, see our comparison of MT4 brokers here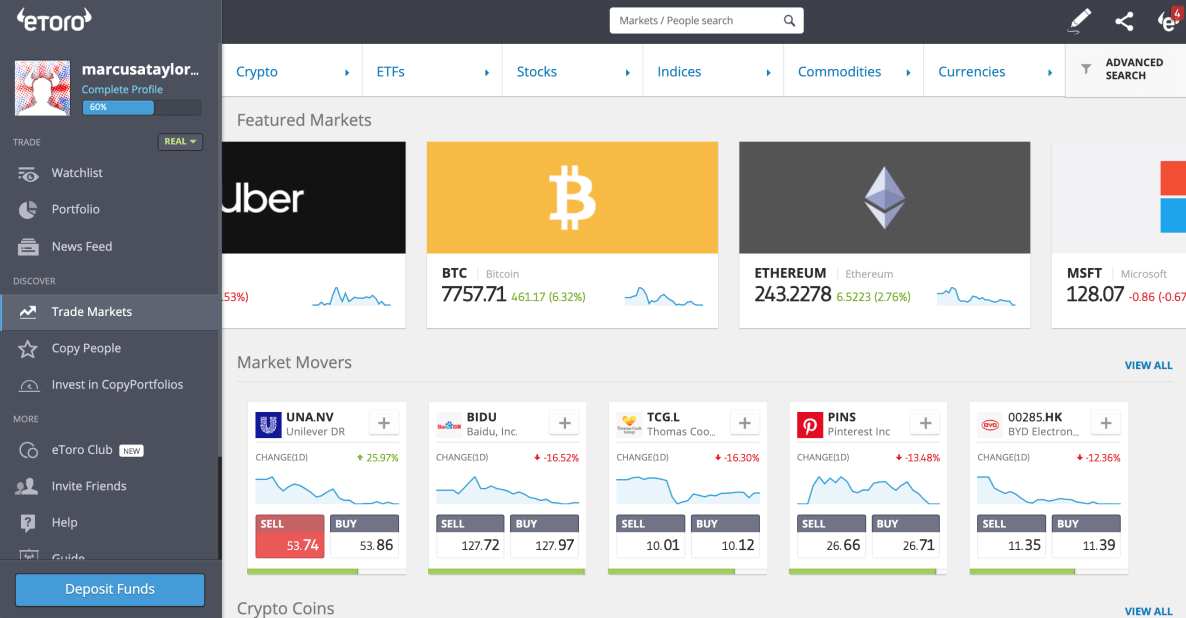 eToro also offer mobile apps for Android and iOS, making it easier to keep an eye on and execute your trades while you are on the move.
See eToro's platforms
2) Executing Trades
eToro allows you to execute a minimum trade of $25. This may vary depending on the account you open. eToro allows you to execute a maximum trade of 20% of equity. As eToro offer STP execution, you can expect tighter spreads with more transparency over the price you're paying to execute your trades.

As a market maker, eToro may have lower entry requirements compared to an ECN broker who benefits from a higher volume of trades and typically has larger capital and minimum trade requirements. Market makers typically have a lower minimum deposit, smaller minimum trade requirements and no commission on trades.
As with most brokers, margin requirements do vary depending on the trader, accounts and instruments. You can see the latest margin requirements on their website.
Finally, we've listed some of the popular funding methods that eToro offers its traders below.
Trading Features:
Offers STP
Low min deposit
Accounts offered:
Demo account
Micro account
Mini account
Standard account
Islamic account
Funding methods:
Credit cards
Bank Transfer
PayPal
Skrill
Payoneer
Neteller
3) Client support
eToro support a wide range of languages including English, German, Spanish, French, and Italian.
eToro has a BrokerNotes triple AAA support rating because they offer a wide range of languages and support options.
4) What you'll need to open an account with eToro
As eToro is regulated by Financial Conduct Authority, CySEC, ASIC , every new client must pass a few basic compliance checks to ensure that you understand the risks of trading and are allowed to trade. When you open an account, you'll likely be asked for the following, so it's good to have these handy:
A scanned colour copy of your passport, driving license or national ID
A utility bill or bank statement from the past three months showing your address
You'll also need to answer a few basic compliance questions to confirm how much trading experience you have, so it's best to put aside at least 10 minutes or so to complete the account opening process.
While you might be able to explore eToro's platform straight away, it's important to note that you won't be able to make any trades until you pass compliance, which can take up to several days, depending on your situation.
To start the process of opening an account with eToro you can visit their website here.
What is eToro's Platform?
The eToro platform is a combined social trading application and web trading platform. The social trading component of eToro was initially developed in 2011 separate to the standard web trading platform. The original web trading platform was used to search for traders to follow, while the CopyTrader was used to automatically copy their trades into the followers' accounts.
In 2015, eToro made the process of searching for top traders to follow as well as copying their trades much easier. The two platforms were integrated into a single platform, the eToro Platform, which is the current platform offered by eToro today.
The web-based trading platform is built on JAVA technology and is accessible from any computer with an internet connection. It is a web-based application and no download is required. The platform allows the trader to access the platform from any of the popular web browsers like Chrome, Mozilla, Firefox and Internet Explorer.
The platform contains a complete suite of technical indicators and interactive charts, and can also be used to trade selected stock indices, crude oil, cryptocurrencies and gold. eToro's platform is synchronised with eToro's social trading platform, enabling trader's to copy trades from successful traders listed on the leaderboard.
Trading on the eToro platform is exclusively under market maker conditions, and trades are executed by a dealing desk.
What mobile apps do eToro offer?
eToro offers a mobile trading application for iOS devices as well as Android phones and tablets. The app can be downloaded from the respective app stores (iTunes and Google Play store).
What is eToro CopyPortfolios?
The eToro CopyPortfolios program is a managed portfolio account system where traders can simply put funds in and have a top trader make all the trading decisions. All a trader needs to do to participate is to fund the trading account, find a CopyPortfolios that fits their investment objectives and strategy, and click to join the desired portfolio.
Traders have the choice to trade in two types of CopyPortfolios:
Top Trader CopyPortfolios, made up of eToro's best performing and most sustainable traders.
Market CopyPortfolios where assets comprising stocks, commodities or ETFs are bundled together under a chosen trading strategy. For example, eToro offers portfolios for trading cannabis stocks, clean energy stocks, vegan stocks, self-driving car stocks, CRISPR stocks, and more.
With CopyPortfolios, traders can get a managed portfolio by simply copying a CopyPortfolios that makes sense for them.
Frequently asked questions about eToro
The following section details some useful details about trading on eToro:
Do eToro charge a commission?
eToro does not have commission charges on trading, instead, they mark up the spread. Example trading fees for popular instruments with eToro:
1.5% for Bitcoin
5% for Bitcoin cash
0.09% spread per side for Stocks and ETFs
2 pips for Copper
45 pips for gold
3 pips for EUR/USD
6 pips for GBP/JPY
150 pips for UK100
600 pips for DJ30
What are eToro's trading hours?
The eToro platform is open for trading 24 hours a day, 5 days a week (Monday to Friday) from 9pm GMT on Sunday to 9pm GMT on Friday.
What leverage and margin do eToro offer?
The new leverage rate for retail investors are as follows:
30:1 for major currency pairs (such as EUR/USD)
20:1 for non-major currency pairs (such as NZD/USD), gold and major indices
10:1 for commodities with the exception of gold and non-major equity indices
5:1 for CFD stocks
2:1 for cryptocurrency CFD
What's the minimum and maximum I can trade on eToro?
The minimum trade contract size on eToro is 1,000 units of the base currency, which is equivalent to a lot size of 0.01 lots for currencies, 10 units for commodities and 1 unit for stock indices. There is no limit to the maximum contract size that can be traded.
What is the market depth offered by eToro?
The market dealing model provided by eToro is market making, so market depth is Level I. However, the eToro platform allows a trader to view what other traders on the eToro social medium are doing in the market, and trades of a successful trader can then be copied using eToro's CopyTrader facility.
What risk control features do eToro offer?
Even though there is the ability to adjust leverage on the eToro platform, the company now has a responsible trading policy that limits the total exposure of a trader in the market to 50% and sets the below leverage limitations :
30:1 for major currency pairs (such as EUR/USD)
20:1 for non-major currency pairs (such as NZD/USD), gold and major indices
10:1 for commodities with the exception of gold and non-major equity indices
5:1 for CFD stocks
2:1 for cryptocurrency CFD
How to trade on eToro
eToro is based on a social trading model. Therefore, the interface of the eToro Platform is different to most other platforms where the trader is confronted with charts and indicators. Rather, the interface looks like this:
The assets that the trader is interested in trading can be selected from the watchlist. The watchlist is part of the trader's navigation bar shown in the screenshot above.
The bid and ask prices, the line graph of the asset's recent price movement as well as the market sentiment (percentage of buying and selling interests) is shown on the watchlist.
Trading an Asset: What Does the Social Community Say?
Once an asset is clicked for trading, a new window opens. This showcases the views of members of the eToro social trading community in the feed section. This allows a trader to access the views and sentiment of other eToro traders before making a trading decision.
You can also see the chart for the selected asset by clicking on 'Chart'. You can see the example for the Bitcoin asset (BTC) below:
If you wanted to make the trade, you would click the 'Trade' button in the top right-hand corner of the screen. This will produce the trade selection interface shown below:
eToro is a multi-asset platform which offers both investing in stocks and
cryptoassets, as well as trading CFD assets.
Please note that CFDs are complex instruments and come with a high risk of losing money rapidly due to leverage. 67% of retail investor accounts lose money when trading CFDs with this provider. You should consider whether you understand how CFDs work, and whether you can afford to take the high risk of losing your money.
Cryptoassets are volatile instruments which can fluctuate widely in a very short timeframe and therefore are not appropriate for all investors. Other than via CFDs, trading cryptoassets is unregulated and therefore is not supervised by any EU regulatory framework.

Past performance is not an indication of future results.
eToro USA LLC does not offer CFDs and makes no representation and assumes no liability as to the accuracy or completeness of the content of this publication, which has been prepared by our partner utilizing publicly available non-entity specific information about eToro.
CFDs are leveraged products and can result in the loss of your capital. All trading involves risk. Only risk capital you're prepared to lose. Past performance does not guarantee future results. *Availability subject to regulation.
This post is for educational purposes and should not be considered as investment advice. All information collected from www.etoro.com on 01/01/2022.